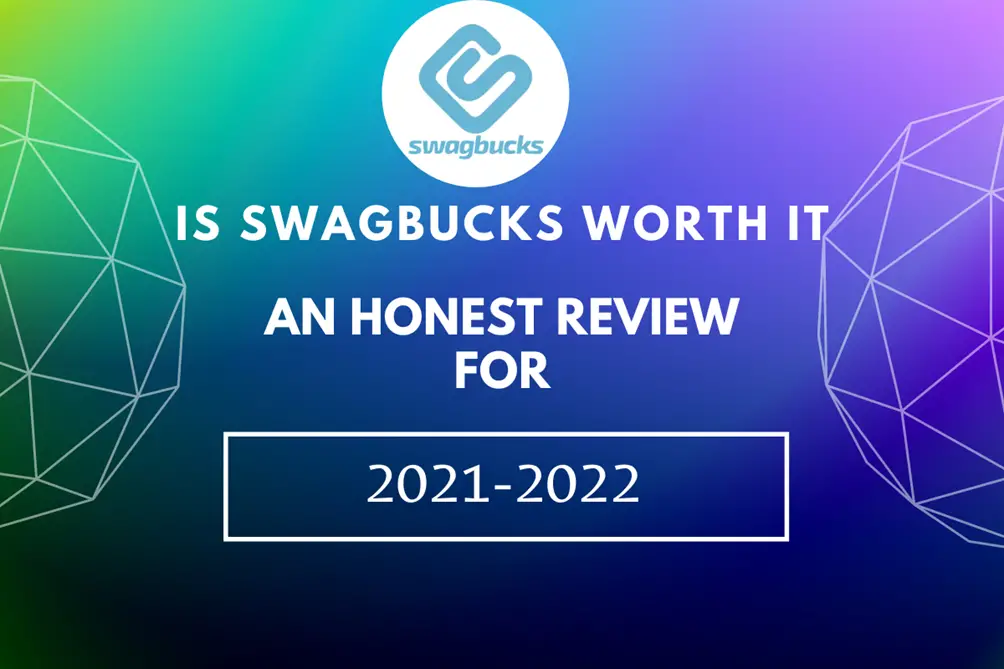 Well, the market is overwhelmed with the companies, apps, and programs that offer quick ways of earning money from home or guide you on how to earn money by using your computer or phone. Among those companies, Swagbucks is a popular name!
Suppose you are also trying to earn online money and wondering whether the Swagbuck will be worth your effort and time or not; no need to be worried. You can read this blog post from top to bottom to explore the reliability of Swagbucks.
Here we have an honest review for you! So, let's proceed on without further ado!
What Is Swagbucks?
Swagbucks is a legit money-making mobile app or site that you can join to earn Swagbucks points by performing simple tasks. After earning points, you will redeem them for gift cards or cash via your PayPal account.
The straightforward way to earn points from this program is using the search engine of Starbucks and doing daily web browsing. However, there are many other activities to earn money by using this free online program. Those activities include playing games, answering surveys, watching videos, shopping, discovering new online content, and many more.
Discover Swagbucks
A few of the more profitable strategies to earn SBs need more time and consideration. For example, the "Discover Deals" program pays you for taking risks or signing up for new credit cards.
When it comes to programs such as this, you have had to make sure you're not just buying anything for the sake of earning points. However, if you've been thinking about getting a new card or trying out a new meals delivery company, Swagbucks can help you get some cashback.
Some deals pay out a few hundred SBs, which might add up to a significant amount of money in your account.
Search Swagbucks
Swagbucks offers its very own search engine, but if you're using it rather than Yahoo, Google, or Bing, you may earn money from your daily searches. Downloading the Swagbucks chrome extension, which changes your default search to Swagbucks Search, will help you get into the habit. 
Because they don't have a set reward timetable for searches, it isn't easy to estimate how many points you'll get. Users earn significantly just several SBs in between all through a typical day of online browsing.
How Do You Earn Swagbucks?
When it comes to earning from Swagbucks, there are ample easier and simpler activities, but before that, you can follow the given steps;
Join Swagbucks 
Earn points by performing free online activities
Redeem your points to a retailer like Walmart; you or Amazon can also get cash via PayPal.
So, as far activities are concerned, the below-mentioned activist can make you earn points to redeem them as cash:
Watch Swagbucks TV (videos)
You can earn 1 Starbucks point on every six videos, but many times due to promotions or bonuses, you can also earn 2 Starbucks on every six videos.  You can conveniently watch such videos on your mobile; even you can watch Movie Trailers to earn SB.
Daily Poll 
A daily poll is another way to earn 1 SB by voting each day. It is a kind of little multiple-choice question, where you are free to pick any of the options.
Daily "Crave"
Daily crave is earning the Swagbucks points by auto-surfing websites. On the first 2-3 takes, you can get Swagbucks points.
Searching the Web
Via searching the web option, you can earn Swagbucks points. Starbucks is powered by Search by Yahoo.
Special Offers
Well, many brands partner with Swagbucks to offer discounts or membership trials. Hence, you can also earn Starbucks points by taking the edge of this offer.
Cashback Shopping
The cashback also has a cashback shopping portal; you can earn points by shopping through this option.
Playing Games
For winning the Swagbucks point, you can also play games. It is a superb way for game enthusiasts as they can enjoy and earn simultaneously. Some of the most engaging games that can help you in making Swagbucks points are:
Bejeweled Champions
Mahjongg Dimensions
Vegas Nights
Super Plinko
Wheel of Fortune
Dynomite
Pyramid Solitaire
Refer Friends
You can also refer the Swagbucks to your friends, and by this option, you can win 10% of your friend's Swagbucks earnings for life.
Daily Bonuses 
By earning a sufficient amount of coins daily, you can get bonuses.
Take Surveys
You may be familiar with Survey Junkie, which compensates you for your time spent completing product research surveys.
Swagbucks offers a service similar to this. Every day, a list of surveys in return for SBs will appear on your dashboard. You'll be given an estimate of how long it will take you to complete the task, as well as the quantity of SBs you can earn. For a single survey, you shouldn't hope to pay over 100 SBs ($1).
So get Swagbucks points, you can also take surveys, and there is a huge list of third-party market research surveys you can take for Swagbucks.
How Does Swagbucks Work?
After signing up for your Swagbucks account, you can collect points, and these points are redeemed in the following two ways:
● Gift Cards
You can cash your Swagbucks points for a Visa gift card, Amazon gift card, or gift cards to places like Walmart, Home Depot, Target, Old Navy, Kohl's, and many other leading retailers.
● PayPal
If you want to get cash instead of a gift, you can transfer your Swagbucks into your PayPal account. Aside from transferring into PayPal, you can also shop online. Well, PayPal charges the transfer fee).
Note: Unlike other online competitors that have criteria of 18 years, you can use Swagbucks when you are 13 years; in addition, you earn $20 when you sign up for your account.  
Tips for Getting the Most Out of Your Swagbucks Earnings
If you're going to the trouble of earning Swagbucks, you'll want to get the most bang for the buck.
While a $3 gift voucher here and a $10 PayPal transaction there may not seem like much, thinking intelligently about how you may use your rewards can help make those perks more exciting.
Maximize the joy of your Swagbucks experiences by following a couple of these pointers:
Earn Money for a Specific Goal
Gift cards to sites like Amazon, Lowe's, and even gas stations are available in the Swagbucks Rewards Store. You'll undoubtedly find something you enjoy, but why not narrow your search?
You may, for example, begin now and expect to spend your rewards for holiday shopping. You may well have a hundred bucks on Amazon before the holidays arrive! Alternatively, if you're considering a summertime road trip, concentrate on collecting gift cards to help pay for some of your petrol expenses.
● It will Help if you Reward Yourself
Do you have a limited amount of flexibility in your weekly income? Utilize your rewards to treat yourself or your household to a small pleasure, such as a supper out or a special event.
● Sell Your Gift Vouchers – Good Idea
You could want to explore trading your gift cards digitally, but this is generally not the greatest option because you won't earn the entire face value. Furthermore, with so many options, you'll be able to select a card you'd like to use – or you can payout via PayPal.
Moreover, you can boost your earnings of SWAGBUCKS with the following steps:
So, what's the Swagbucks-to-real-money exchange rate? The majority of times, 1 Swagbuck equals 1 penny. To pay out your account, you'll need to have at least 300 Swagbucks. As a result, 300 Swagbucks would be converted into $three in PayPal cash or gift vouchers.
To put things in perspective, consider the following:
You can gain 40 to 100 SB rewards by doing a 5- to 10-minute survey.
This might theoretically compete with the state minimum wage in terms of labor: You can earn 100 SB ($1) in ten minutes, which equates to $6 per hour ($1.25 less than the federal minimum wage). This earnings potential, however, seems unlikely. Continue reading to learn why this isn't the case.
Swagbucks Hacks
Below are some hacks that can ease your Swagbucks money earning process, and even you can triple your money by using these hacks.
You can activate your cashback on your browser extension; the feature will pop up automatically if the extension is already installed. 
For finding the coupon codes, you can use the Honey browser extension and save something in your checkout process.
For buying discount gifts, you can use Gift Card Granny as it can reduce your purchase cost.
What is Swagbucks Local, and How does it Work?
Swagbucks Local is a different mobile app (from their main Swagbucks app) that rewards you with money back when you shop in a physical location.
It's comparable to Yelp and other restaurant cashback schemes, and I utilize it to get the most money back at eateries. You create an account, link a credit card, or go about your business.
You get cashback when you are using a credit card at a participating restaurant! You don't have to do anything else. So simple.
What can you Purchase with Swagbucks?
Swagbucks are worth a penny each. You can frequently exchange 100 SB for $1 in gift vouchers or cash (or 2,500 SB for a $25 Paypal deposit).
There are frequently "sales" — when you can acquire discounted gift cards. For example, a Visa $100 Digital Reward is worth 9,900 SB, while a $50 Barrel Barrel gift card is for 4,900 SB.
Many people always prefer the $25 Amazon rewards card. Each month, you get a 12% saving from the first $25 gift card redemption, making a $25 Amazon.com Gift Card merely 2,200 SB. In this house, Amazon gift cards are as valuable as cash.
Swagbucks Mobile Apps
Swagbucks also offers seven different apps that help you earn Swagbucks points by performing different tasks.
Swagbucks Live (iOS and Android): App for the game show
Swagbucks Mobile (Android and iOS and): Answer surveys, shop, and watch videos
Swagbucks Answer (Android and iOS): Take surveys
MovieCli.ps (only for Android): Watch trailers and movie clips 
EntertaiNow (only for Android): Watch videos
Swagbucks Watch (only for Android): Watch videos
Sportly (only for Android): Watch videos about your favorite sports
Among these all apps, the most popular one is Swagbucks Mobile. In the Google Play Store, the Swagbucks app has got 4.0 stars, but on the Apple store 4.4, and over 40,000 reviews on each.
Why Does Swagbucks Make Making Money Easier?
Swagbucks, of course, offers a slick app for ios & Android users to do online surveys. You may use the app to track your Swagbucks, complete surveys, and purchase gift vouchers; in short, it offers you easy accessibility to the Swagbucks webpage.
There are now app-specific ways of earning SBs. Swagbucks LIVE allows users to earn SBs by viewing movie trailers and properly answering trivia questions.
And, so that you know, the Google Play market occasionally has a bogus Swagbucks app. Make sure you're getting the real deal!
Is Swagbucks Worth the Effort?
Like with so many things in this life, it relies on how much your effort is worth.
It's a terrific method to convert your web browsing time into profitable online surfing time for most folks trying to make an additional buck or two. Making handsome money is difficult first, but getting a couple of extra gift cards each time is a pleasant bonus. When you think that you're already doing this, you really should make some money doing what you're currently doing online.
It serves as an optimization technique. One wouldn't go for a walk seeking pennies on the ground, but if the person came across one, he'd bend over to take it. He doesn't want to waste time, so if he has to wait anywhere, he'll try to earn a few pennies by watching a video or a few bucks by completing a survey.
You can collect Swagbucks by shopping using their portal, for example. There are many portals available, but most people prefer Swagbucks since it's a well-known fact that they can cash it out.  Some points to ponder upon: You won't get rich, but you can make money in your spare time.
You may earn Swagbucks without putting in any extra effort if you install the toolbar and use their extensions. It's even simpler than collecting pennies from the street.
You can get a $5 incentive for signing up for a short period.
IS IT SAFE AND LEGAL TO Have SWAGBUCKS?
How Effective is Swagbucks? 
It turns out that it is true and that it works. Swagbucks' parent firm, Prodege LLC, has an A rating from the Better Business Bureau. Swagbucks is not a ruse.
Some may believe it to be too worth a try. People are perplexed about how you may obtain free cash, Visa, or Amazon vouchers simply by shopping, conducting surveys, or viewing videos.
Yes, this concept contradicts our long-held beliefs about exchanging our time and abilities for money.
Here's why it's effective: When you see an ad or are driven to an online shopping website and make a purchase, money moves hands all the time. Swagbucks distributes a portion of its earnings to you.
Swagbucks is a genuine way to earn money online while also saving money when shopping.
Swagbucks also offers a customer support section that responds to questions via the Activity Ledger ticketing system. Anticipate a 10-day average response time from Swagbucks, so don't expect a speedy response.
As an aside, if you're ever unsure whether or not something is a fraud, subject it to the following test: Does it require you to put any about your money upfront for any reason until you can join? If that's the case, it's almost certainly a con.
Swagbucks may be joined for free, and anyone with a personal email, therefore it passes the scam test!
Pros of Swagbucks
Provides many reward options
Several ways to earn and increase points
Easy to use site
The cashback options are beneficial
In-store cashback is a fantastic deal
The browser extension works pretty well
Cons of Swagbucks
Though it is a solid platform to earn money; still, some of the offers require a lot of effort to earn points.
The payment clearance method is slow.
Our Summary
Swagbucks has a user base of almost 10 million people and has paid out over $430 million in prizes. The platform's diversity is one of my favorite features. Incorporating the service into your everyday routine should be a breeze, with so many opportunities to earn SB rewards.
Swagbucks isn't a replacement for your main job, but if you're searching for a low-key side hustle that can earn you $40 to $60 per month, check it out right now!