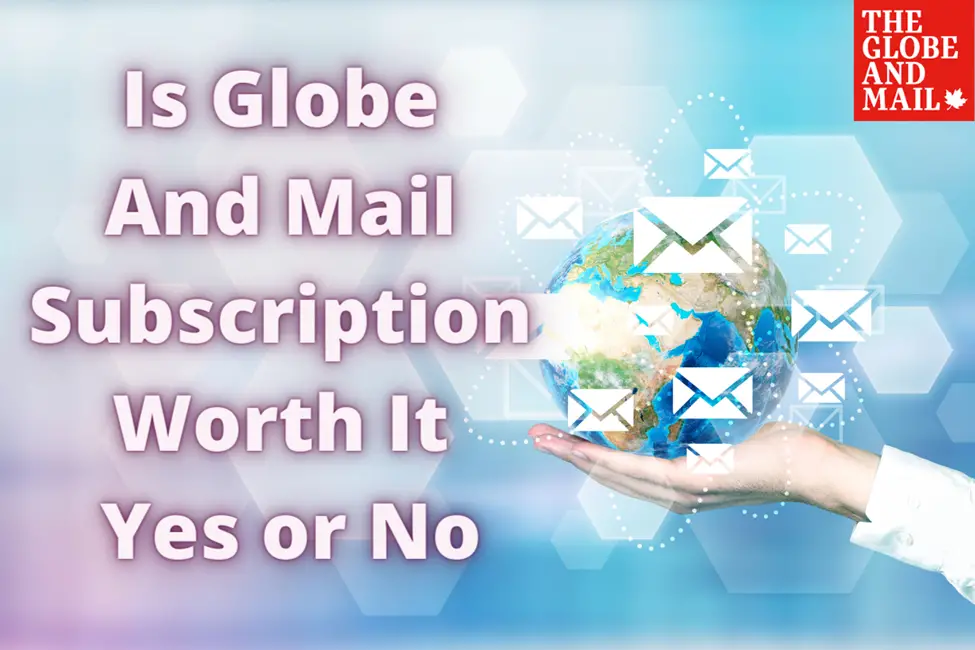 Without any doubt, there are numerous local and international ways of getting the news to stay updated. Similarly, Globe and Mail newspaper is one of the unbiased and credible newspapers of Canada. This newspaper includes many well-written articles and offers both print and digital subscriptions.
Globe And Mail Subscription price is negligible; in the beginning, you get a promo, and your subscription costs only $1.99 for the first 24 weeks, but later it exceeds. Though in this era, many people prefer to get cost-free news, but many times it's worth paying to get something reliable and a lot better.
The content of Globe And Mail pays off its subscription price and that is why the number of its readers is exceeding every day. Meanwhile, there are a few people who are also canceling their subscriptions due to several reasons.
Do you also want to get a newspaper subscription? Are you confused about whether you should get Globe And Mail Subscription or not? Well, no need to be worried; this blog post has covered Globe And Mail in detail.
So, you can crack this blog post to make your decision easier and worthier!
Why Is Globe And Mail Famous?
The Globe and Mail newspaper is one of the most famous and widely read Canadian newspapers with a long and storied history. Unlike other newspapers that focus on local and regional news, the G&M newspaper covers news and stories from all across Canada; thus, people from different parts of Canada take a keen interest in it.
Globe and Mail is a venerable Canadian institution, so every subscriber finds it reliable and trusts its news.
The Globe and Mail is Canada's most-read newspaper on weekdays and Saturdays because it provides you discounts on both digital and print newspapers, so you can subscribe to any option. Though this Canadian newspaper falls behind the Toronto Star in its weekly circulation, still in 2015, this Canadian newspaper had approximately 2 million readers.
The weekly circulation of the Toronto Star is slightly more than G&M because it also produces its Sunday edition. By some, the G&M is regarded as Canada's "newspaper of record."
Here is a table that will assist you in, understanding what the Globe and Mail offer:
| | |
| --- | --- |
| Product | Globe And Mail       |
| Rating | 4.0 |
| Belongs To | National Newspaper of Canada – only for $1.99 per week for 24 weeks. |
| Provinces | All |
| Eligibility | TBD |
| Special Features | Globe Investor ToolsDigital access only2,800 new stories per month Subscription charged weekly Subscriber-exclusive experiences, tools, and guides |
| Monthly Fee | $27.96 |
| Annual Fee | N/A |
| Type Of Content | Newspaper |
| Current Promo | For the first 24 weeks, its cost is $1.99 per week |
| Promo End Date | N/A |
The Valuable Perks Of Globe And Mail Subscription
The Globe and Mail subscription provides its complimentary member benefits; the members of G&M get exclusive access to tools, guides, and events.
 You can also become a member of Globe and Mail subscription and get the following advantages:
The exclusive events of Globe and Mail let you participate in informative discussions with network experts and journalists.
The calculators and financial tools assist you in making smarter decisions about retirement and personal finance.
You also get Ebooks and guides on essential topics like finance, cooking, mental health, books, etc.
Newsletters that include a wide range of relevant topics are delivered to your inbox.
You also get the Globe and Mail App access for Android and IOS.
Globe2Go is a digital replica of our daily newspaper, you can get it on any device but it depends upon your subscription package.
 You can also bookmark and save your favorite articles for easy access in the future.
Audio features facilitate you in listening to an audio version of the article.
Your Use Of A Service
Whenever you are using a product or service, the G&M terms along with their Privacy Policy are applied. If you have paid a fee for some services, then you will get a separate Subscription Agreement with any certain authorized third parties (for instance, the financial exchanges) and The Globe and Mail.
If you keep using G&M's particular service, then you are supposed to accept the Terms and Conditions of the G&M. This way, a legally binding agreement will be developed between you and The Globe and Mail.
Please don't use the service if you do not agree with the privacy policy, Terms, and Conditions, or any Subscription Agreement.
Types Of Users And Levels Of Access
You, the subscriber, are responsible for using your purchased Services and Content; moreover, to whom you have provided the access, and the use of Services also depends upon you.
However, there are different types of users of the Services; you can drill down to understand the permissions and access they hold.
● Anonymous Users
Anonymous users have limitations in using G&M, so they cannot access or view all elements of the Services.
● Non-Registered Users
Non-Registered users can enter email addresses to entertain only a few services and have a few limitations on their interaction and access with the services.
● Registered Users
Registered users are those who create a registered account on Globe And Mail; the registration enhances their access to different Services (such as newsletter delivery and commenting), but still, their access and interaction are limited.
● Subscribers
Subscribers are those who have created a registration account and perhaps paid fees for a few services. So, they get the privilege to use the service for which they have paid and subscribed.
Registered Users, Non-Registered Users, Anonymous Users, or Subscribers together are "Users." The user's information is governed by the Globe And Mail's Privacy Policy.
Creating A Registration Account
For creating the registration account on Globe and Mail, you can visit http://www.theglobeandmail.com/. You have to show your consent to collect and use your personal information, which is required to create registration and subscription of Globe and Mail.
At the time of the registration process, it is necessary to provide complete, accurate, and updated information—no need to pretend to be anybody else or spoof anyone else's identity. Try to keep your information up to date.
As far as login and password are concerned, make them unique and keep them confidential. You can also create your Globe and Mail account by using a third-party account, such as Facebook, Twitter, or LinkedIn.
Every Globe and Mail account is for a single user; if you want to share your account with your family member, you have to share your login information and allow them to view your account as well as account information. In this case, only you will be responsible for all the activities and transactions that will occur through your account.
However, if you notice any unauthorized use or access to your account, you need to notify the customer service operator of Globe and Mail.
If any activity is found that goes against the terms and conditions of the Globe and Mail, your account will terminate or suspend right away. The most common reasons behind account terminations are the provision of incorrect data and old information; your account will also be suspended if it is breached or in arrears.
Subscribing To A Service
The Globe and Mail not only provide you agreement of subscription (of a service), but it also reserves the right to terminate or reject your subscription order at any time.
Subscription Agreement
There are different Content and Services of Globe and Mail that are only to you when you accept a Subscription Agreement with an authorized third party or The Globe and Mail.
During the subscription process, you can get an agreement or link to the Agreement for your review. The information that you provide to fulfill a subscription order is used in The Globe's Privacy Policy; moreover, your personal data is always confidential.
Fees
If you want to access a service or you want to pay the fee, the Globe and Mail reserve all rights. You will not be able to charge the fee unless you have not subscribed to the relevant service. For subscribing to the service, your age matters too. Your age should be according to the majority in your jurisdiction.
The service fee that includes applicable taxes, access fee, administration fee, accepted billing frequencies, payment methods, etc. is accepted at the time of subscription. Whether you are going to pay one-time, monthly, every four weeks, or annually is also decided by subscribing. All fees are decided in Canadian dollars.
You will be invoiced or billed automatically around the periodic anniversary date if you have picked the periodic subscriptions.
You are also responsible for maintaining the complete and accurate information of billing and delivery. If you want to get any modification in delivery or billing, you need to contact Globe and Mail instantly; otherwise, you can face unwanted interruptions.
All in all, for subscribing to a Service, you are supposed to pay the subscription fees in the specified time. Furthermore, you also need to choose the given payment method and charge at the provided frequency.
Term
If you have chosen a periodic subscription to your favorite service, the subscription will continue until it is canceled.
Modification By You
You customize your service according to your need, but the delivery date, frequency of billing, products, and some other particulars of the service cannot be changed. According to the Subscriber Agreement and specified terms and conditions, reconciliation, refunds, or recharges will be applied right.
 Modifications By The Globe And Mail
If Globe and Mail make any modifications (fees, material changes, method of payment), you will get advance notice. If you are not willing to accept the revised fee, you can cancel the service according to the subscription agreement or Terms and Conditions.
Cancellation And Refunds
There is no refund for the amount that is less than $5 CDN. Similarly, there is no refund on a one-time purchase subscription. The G&M reserves the right to issue the credits and refunds.
Promotions
The Globe and Mail also offer promotions from time to time, such as sweepstakes, contests, discounts, and trials, or other promotions.
At the time of promotion offer, rules and regulations, terms and conditions, eligibility, and other details are provided. The Globe and Mail also have a right to cancel, terminate, modify, or revoke any inapplicable promotion at any time.
Globe And Mail Product Rating: 4.0 Stars
The Globe and Mail collect news from all across Canada, from coast to coast, and besides having the focus on investing topics and business, it also has several other sections – life, real estate, sports, arts, etc. The current feature section covers the news of the day and gets more focus than all other sections.
Along with these favorable features, Globe And Mail's drawback is that it is not published on Sunday.
Rating Methodology
The rating methodology of Globe And Mail is very straightforward. It is done by breaking down a service or product into its component features and then comparing it with the other similar products of the Canadian market. Each feature is scored out of 5, the average of scores becomes our final rating, out of 5 stars.
The Pros And Cons Of A Globe And Mail Digital Subscription
Pros of Globe And Mail Subscription:
There is a long list of pros and benefits for subscribing to the Globe and Mail; those pros are:
The introductory price is significantly less, so you can enjoy full access to the Globe and Mail's digital version at only $1.99 per week for the first 24 weeks. This way, it costs only $50 for six months of access.
Along with the digital subscription, you also get access to everything the Globe and Mail publishes. In addition, you get a chance to read over 2,800 new stories each month on your tablet, laptop, or smartphone.
It includes many exclusive benefits for being a member of digital subscriptions – you get access to guides, tools, unique experiences, and more.
Portfolio, Stock Reports, Watchlists, Stock Screener are the valuable tools included in Globe and Mail subscriptions.
Globe and Mail recognize our busy lives, and to make it easier; it offers you a variety of Globe and Mail newsletters for a subscription. So, you will get the most crucial news of the day to your inbox.
 Newsletters cover many things: Evening Updates, Top Business Headlines, Politics Briefing, Breaking News, and more.
Additionally, Globe and Mail also make audio versions of their articles that you can listen to in French, English, and Mandarin.
You can queue your desired articles by bookmarking them and then listen to your set playlist when you are on your commute, taking your pooch out for a long walk, or when you are making dinner.
In a nutshell, the Globe and Mail is one of the top-notch Canadian distributors and offers discounts on print and digital subscriptions.
Cons of Globe And Mail Subscription:
There are also a few drawbacks of Globe and Mail that you need to consider before subscribing:
The starting subscription price of Globe and Mail is only $1.99 per week, but after 24 weeks, the regular subscription price jumps a bit high from $1.99 and goes at $6.99 per week. However, at this price, the Globe and Mail newspaper's quality and reliability are appreciable.                                                                                                                                                                    
Many Canadian newspapers are published all week long; however, there is no Sunday edition of Globe and Mail, which is a bit disappointing for news junkies.
Frequently Asked Questions
Who Owns The Globe And Mail?
The Woodbridge Company, the Thompson family's investment arm, owns the Globe and Mail newspaper. The Globe and Mail were founded in 1844. About five different western and central Canadian cities publish this Globe and Mail newspaper.
How often are the Globe and Mail published?
The publishing days of Globe and Mail are Monday through Saturday, but there is no Sunday edition of this newspaper.
How Much Is A Globe And Mail Digital Subscription?
If you want to subscribe to the Globe and Mail digital version, it will cost $1.99 per week for 24 weeks, but after 24 weeks, the subscription price rises to $6.99.
Our Summary
Globe And Mail is a prestigious and influential newspaper in Canada. The newspaper subscription includes many significant benefits and heart-winning features. Its content is reliable, valid, and informative.
Along with these perks, there are a few downsides, too, as it is steep-priced and doesn't publish on Sunday. However, Globe and Mail subscription is recommended by many users as its features pay off every penny.
For more information, you can unfold the factors mentioned above in this blog post and decide on your own whether you want to get a subscription or not.