Receiving a Phi Kappa Phi scholarship is an honor and acknowledgment for students. Still, due to a lack of awareness, many students wonder whether it is worth it.
Some of the students are even curious to know how it can improve their CV. A few even think about whether they should choose Phi Kappa Phi or not.
Well, if you are invited to receive a membership in Phi Kappa Phi, you have been recognized for your character and accomplishments.
It means you have earned membership in the society and should feel proud of the recognition for your academic endeavors. Phi Kappa Phi is also suitable for students' resumes, networking, etc. 
There are many more advantages to avail of the Phi Kappa Phi scholarship; if you want to understand more about it – the criteria to apply or the amount you need to pay – you can read this article until the end.
Here you go!
The Key Takeaway
Phi Kappa Phi membership not only provides opportunities and priceless skills but also provides money. Additionally, they also offer a variety of awards in honor of artistry, learning, and literacy.
If you want to be a Phi Kappa Phi member, the national cost portion starts at $72, while the chapter fees vary as it covers the reception and local dues.
There are specific requirements to avail of this scholarship:
Phi Kappa Phi Requirements
| | |
| --- | --- |
| Juniors | You should rank in the top 7.5 percent in your class. |
| Seniors | You should rank in the top 10 percent of your class. |
| Graduate students | You should rank in the top 10 percent of your class. |
How Is Phi Kappa Phi Honor Society Different Than Other Societies?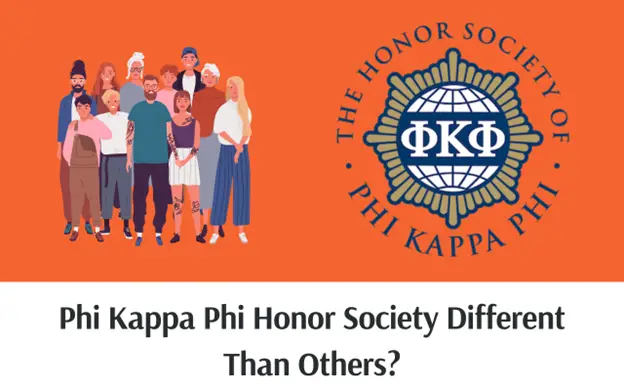 For most legitimate honor societies, you need to pay a certain amount at the commencement, such as for the inauguration ceremony, pin certificate, the subscription fee for one-year publication, scholarships funds, etc., and the remaining are future payments (that are optional).
If you want to support the society's mission and are willing to provide financial aid, you can keep sending the money; otherwise, there is no need.
Phi Kappa Phi is the largest, oldest, and most selective all-discipline honor society that differs from other honor societies as it attracts members from all academic disciplines. Moreover, it represents the brightest and the best from the scholars' community.
Honor society looks excellent on a CV as you organize and promote scholarly activities on campus (conferences and speakers).
Additionally, it helps you carry on the tradition of recognizing those who achieve academic excellence and become capable of fellowships and monetary awards. Overall, this Phi Kappa Phi aims to identify you and appreciate your spark and talent.
Ways To Utilize Phi Kappa Phi
There are various perks to joining an Honor Society, as it promotes academic excellence. Phi Kappa Phi Honor Society is one where your membership is like any non-profit organization.
You can entertain the scholarship in two ways:
You can be passive, accept the invite, mention it on your CV, hang the certificate on your wall, and get busy in your life.
You can also go on the more active end, where you prefer to join the action. For instance, you can take ownership of your membership and assist the organization in achieving its goals.
Phi Kappa Phi is legit, and regardless of which mode you join, you should be happy with your success and achievements.
How Much Do You Need To Pay To Be A Phi Kappa Phi Honor Society Member?
If candidates want to be a member of Phi Kappa Phi, they need to pay specific national and chapter fees. The national portion starts at $72 for the payment of a pin, a certificate, and national dues for a year. Chapter fees cover the banquet and reception costs and local dues.
History Of Phi Kappa Phi Honor Society
Phi Kappa Phi was established in 1776 and became an essential and effective honors society for liberal arts colleges. Before that, no such society used to serve universities in technological, professional, and liberal education at once.
They changed society in 1897; its founder Urann had a mission to found an organization that could unite a campus defined by inclusiveness. His goal was to create a society including high-rank men belonging to all classes and groups of society.
Pearl Clayton Swain was the first woman to initiate in society in 1899.
Later, it states that this society's mission is not to take the place of the older societies; instead, they aim to highlight the broader educational programs introduced by the government while establishing the land-grant system.
Another great initiative took place in 1925 when the society stated that it discouraged discrimination based on creed or color.
Benefits Of Phi Kappa Phi Honor Society
The Phi Kappa Phi Honor Society offers plenty of benefits to assist members throughout their professional and academic lives.
Academic Recognition
Phi Kappa Phi is highly selective; its membership is a valid stamp of excellence and recognition by professional and graduate school admissions committees.
Award Opportunities
The Society awards above $1 million annually to members, students, institutions, and chapters. In addition, the UW-Madison chapter provides summer research projects and Zillman Summer Research Fellowship.
Career Resources
Members of Phi Kappa Phi offer many resources to assist members in developing and advancing their careers.
Discounts and Promotions
Active members can access exclusive discounts and special offers on products and services offered by more than 30 corporate partners.
Financial Literacy
Phi Kappa Phi's financial partners deliver tools and advice for savvy money management to assist you along the way.
Graduate School Resources
The resources of Phi Kappa Phi help members find the perfect match tools from The Princeton Review, US News Grad Compass, and more.
Internship Opportunities
Phi Kappa Phi hosts an Internship Board which connects members to internship opportunities.
Networking Opportunities
The Phi Kappa Phi Society covers exclusive members-only, where you can quickly network and connect with other members.
Podcasts
Podcasts are also offered to members as they assist them in their professional and academic lives. These podcasts include financial planning, career guidance, and graduate school.
Society Publications
Phi Kappa Phi publishes an award-winning e-newsletter quarterly magazine; moreover, it keeps members updated on worldly news and society.
What Are The Requirements To Acquire Phi Kappa Phi?
Phi Kappa Phi membership is a heavily-earned achievement. Admission is invitation-only and demands nomination approval by a chapter. The requirements for support include the following:
Criterias For Juniors
Juniors should have finished at least 72 credit hours, including 24 semester hours at their current institution, with the achievement of the top 7.5 percent of their class.
Criterias For Seniors
Seniors must have acquired at least 90 credit hours, including 24 semester hours at their current organization, and achievement in the top 10 percent of their class.
Criteria For Graduate Students
As far as graduate students are concerned, they must have done at least 18 graduate hours or the equivalent at their institution; additionally, they should stand in the top 10 percent of their class.
Phi Kappa Phi affirms to have over 100,000 active members in starting, approximately 30,000 new members annually and recently has 300 college-oriented chapters.
Our Summary
The Phi Kappa Phi Honors Society was founded in 1897 to acknowledge superior scholarship without restricting study area; additionally, it promotes education unity and democracy.
The Phi Kappa Phi is considered the nation's oldest, most distinguished, and selective all-discipline honor society. Therefore, the standards for election are incredibly high.
Still, the Phi Kappa Phi works to encourage academic excellence in higher education in all fields and to engage the scholars' community in service to others.
Honoring the achievers who have excelled in scholarship, regardless of the field, will motivate others to work for excellence.
It is really worth it to avail this opportunity; you can read the article thoroughly to understand the requirements and advantages of the Phi Kappa Phi Honor Society.