Looking to buy performance fabric from Pottery Barn and want to know whether it will be worth it or not? Well, performance fabrics are somewhat expensive; therefore, it is crucial to know everything before making a purchase.
Right now, one of the best sources considered to get this fabric is Pottery barn. So, is the Performance fabric there any good?
Pottery Barn Performance fabric is definitely worth it. It is easy to clean and is really soft in texture. You can use it to beautify both the interior or outer furniture. Furthermore, performance fabric is durable and will stay with you for a very long time.
Want to know more? In this review, we are discussing what type of Performance fabric you can get from Pottery barn and complete details of why it is worth it. So, stick to the end.
Key Takeaways
You can get fabric for any furniture you want at a reasonable price.
Performance fabrics are long-lasting, and you can even use them for a lifetime if you take care of them properly.
Most of the fabrics are also water resistant, kid & pet-friendly, cost-effective, and suitable for both indoors & outdoors.
Let's dive into the details!
Pottery Barn Fabric – Here's What You Need To Know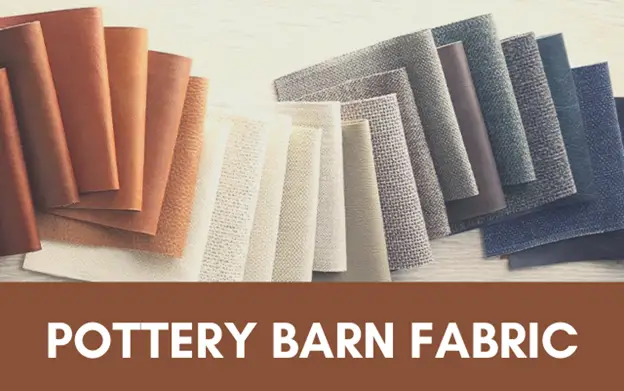 Pottery barn performance fabric is one of the best ones you can get because of all the benefits it offers. Out of them, the best advantage is that this fabric can endure all the wear and tear of daily life easily. That is why those who own them have heaps of praise for this fabric. (More on the benefits later).
Right now, there are two famous performance fabrics: Performance Slub Cotton and Performance Fabric from Perennials. Both of them are excellent choices, and you can use both to notch up your house.
To help you make a decision, we are now discussing the top ones and their main characteristics:
Performance Tweed
Performance tweed is very similar to linen. It has a really soft texture and looks elegant too. At the pottery barn, you can get it in different colors as well.
Performance Canvas
It is a great choice if you own a white sofa. It is because it doesn't get any stains easily and is also water-resistant. So, use it as an upholstery and upscale your sofas and chairs.
EverydayVelvet
It is one of the gorgeous fabrics you will see. In addition to captivating looks, it is super soft and is really worth the money.
EverydaySuede
EverydaySuede is a handmade fabric that is imported from Italy. It is made with microfiber, so it is really soft and easy to clean.
Perennial Fabric
Perennial is one of the most expensive items at the pottery barn. But it is worth the price as it will stay in the exact shape and colors for a very long time. If you take good care of it, it can even last a lifetime.
In addition to them, there are dozens more you can get at Pottery barn. That's why this platform is the first choice of thousands of people to get the fabric they need.
But that's not it. There's a lot more.
Now, let's have a look at why Pottery barn performance fabric is worth it. 
Why Is Pottery Barn Performance Fabric Worth it?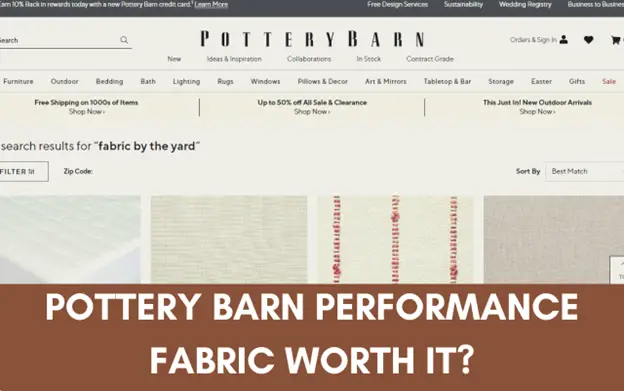 There are lots of reasons which make buying a pottery barn's performance fabric a great investment.
1. Doesn't Get Stained Easily
One of the best things that make Pottery barn performance fabric desirable is that it does not get stained easily.
We all love to eat when we sit on a sofa or couch. But the problem is, we can sometimes drop ketchup or spill a drink on it.
When this happens, and you have performance fabric on your sofa, then you can get away with stains most of the time. Even if this fabric gets a spot, you can easily get rid of it.
The best way to clean any stain is by using water, soap, and a brush.
Soak the fabric in soap water.
Use a brush to scratch off any dirt.
Let the performance fabric get dry.
2. Durability
When you buy Performance fabric, then forget about buying any other fabric for years. It is because this one won't go bad easily.
The performance fabric is a durable fabric that has the ability to stay in the exact shape without wearing away. It is because it is usually made with synthetic fibers that have the power to withstand stresses.
3. Available in Different Colors
Another reason which makes pottery barn worth it is that you can purchase the performance fabric in different colors. The blue and brown ones are in high demand, but you can get fabrics of almost every color.
You will just have to search for what you are looking for in the search bar on the top left side, and everything will be on your screen. 
4. Water Resistant
Performance fabric at pottery barn is water resistant as they are manufactured with synthetic fibers. These fibers do not soak up any water and will keep the inside dry. So you'll not have to worry about dropping a glass of water or spilling coffee.
5. Pet Friendly
For some reason, pets hate fabrics and try to damage them (performance fabric is no exception, either). But thankfully, this fabric is pet friendly. Your cats and dogs can strike this one as many times as they want, and there will be no damage at all.
Similarly, pets often leave hairs everywhere. Performance fabric does not get affected by them either. You can easily clean off these hairs without any hassle using a brush.
In the case of many other fabrics, the pet hair gets entangled with the fabric fibers, causing lots of frustration. But with the performance fabric you get from a pottery barn, everything is easy and smooth. 
6. Kid Friendly
Kids love to do all kinds of mischief. In doing so, they can make the fabrics dirty, which gives a really bad look. Imagine your kids drawing anything on the sofa cover or spilling their meal on the chairs.
No matter what, performance fabric cannot get damaged most of the time by kids' actions. That is why it is called a kid-friendly fabric.
7. Suitable For Both Indoors and Outdoors
The performance fabric at the pottery barn is suitable for both indoor and outdoor furniture. You can put this upholstery anywhere you want and make the surroundings beautiful.
You can even buy the handcrafted ones or those that are certified non-toxic to make sure you get the top-quality thing.
8. Cost Effective
Performance fabrics are not as expensive as people think. When you compare their prices with the benefits they offer, it is clear that they are cost-effective.
So, if you buy a product that is worth a few hundred bucks to a few thousand, but you can use it for a lifetime, then it is definitely a great deal.
Furthermore, you can even set filters when it comes to pricing. You can choose from under $25 to over $10,000 to get things within your budget.
9. Can Track Your Orders
When you place an order of Performance fabric on a Pottery barn, the company lets you track your order. You will just have to go to the shipment tracking page and type in your order number.
You will then see the current location of the ordered fabric and at what time you will receive it.
10. Fast Shipping
Another thing to love about Pottery Barn is that the shipping speed is super fast. You can expect the ordered product to arrive at your doorstep within a few business days only. In addition, the company also lets international users place orders too.
The time of shipping on international orders depends on which country you are residing in and what their policies are about shipment abroad.
11. Can Return Orders
Finally, Pottery Barn also gives you the opportunity to return the order if you are eligible for it. The company does not accept the returns of mattresses, gift cards, and items with no receipts.
There are two ways to return an order back to Pottery barn:
Via Phone call (Call 1.888.779.5176 and discuss the whole situation). 
Via USPS
So, these are the main reasons which make Pottery Barn performance fabric worth it.
The Last Words
All in all, Pottery barn performance fabric is without any doubt worth it. It is durable as it is made with the finest fibers. It is also water-resistant and pet & kid friendly too.
Furthermore, it does not get stained easily either. Even if it does, you can easily clean off any spot in no time.
The best part? You can use performance fabric for both indoor and outdoor furniture. So, due to these reasons (and a lot more), it is safe to say that Pottery Barn is indeed worth the money.