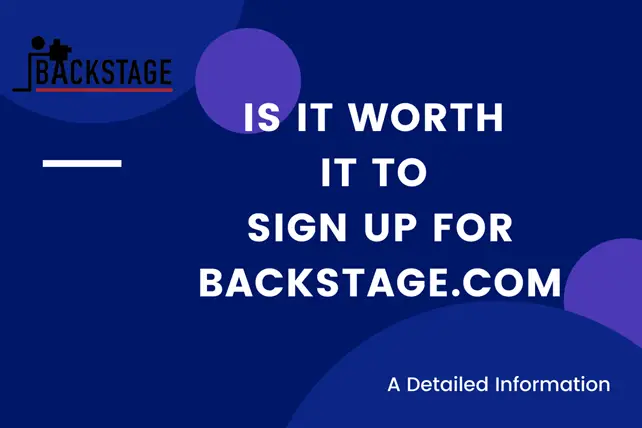 Are you an aspiring actor waiting for your big hit? If that is the case, you must not be oblivious of Backsatge.com. Numerous people with their decorating dreams of being super actors come to the doorstep of this exclusive platform. 
Do you want to know why? You can stay along with us to explore!
Well, a heartthrob Chris Evans has always been one of Hollywood's top celebrities, with multiple awards and credentials and a long list of commercially successful films to his credit. However, Captain America's star credits his success to a well-known Hollywood resource: Backstage.
Thanks to the magazine's ongoing casting notices, here is one of a lengthy list of celebrities who landed their first breakthrough. Backstage was among the first portals to list chances when the entertainment business began to provide resources online.
It's a fantastic approach to take charge of your career. However, not being a member prevents you from receiving email notifications when new opportunities become available, as well as many other membership perks.
If you are determined to join the acting academy for your improvement, let's talk about the critical essentials of Backstage. As it is going to be a long read, grab the pack of popcorns, sit back and read:
What Is the Process of Using Backstage.com?
Backstage is a well-known name among performers at all levels of their careers. However, the platform can also help voiceover performers and models and find the desired job. Backstage.com organizes its job openings into different categories to make things easy to keep track of castings in your area.
There's even an area for casting calls for cruise ships and reality shows. The best part is that the information is free, albeit you will need to join to apply for chances. However, if you're a member of SAG or have an agent, you can peruse the Backstage.com casting ads for free.
Backstage.com, like its print counterpart, is a database of casting opportunities. You don't have to pay anything and may start checking the notifications every day. However, the most significant advantages come from acquiring a membership, which allows you to create a profile and respond to casting opportunities directly.
You can go to Backstage.com's website and check through the casting announcements to get started. You may quickly decide whether there are sufficient possibilities in your area that match your skillset to justify spending for membership based on those listings.
Go to the top of any tab, click Join, and select your membership options if you wish to join. 
Now the next step ought to be to establish a profile once you've joined up. If you don't already have a portrait, it's worth investing in one from a professional headshot photographer. However, if you understand the fundamentals of compelling headshot photography, you can snap a headshot yourself. Modern smartphone cameras can provide reasonably high-quality images that you can utilize until you can afford to hire a professional photographer.
Although your profile may lead to you getting noticed, you'll almost certainly have to do some legwork to find a job. Make it a habit to check to cast postings daily, and set up alerts to be the first to know when a great beginning becomes available.
As you begin applying for roles and landing auditions, you'll discover that the site's community-based features are critical to honing your skill and landing the positions you seek.
Is Backstage.Com A Paid Service?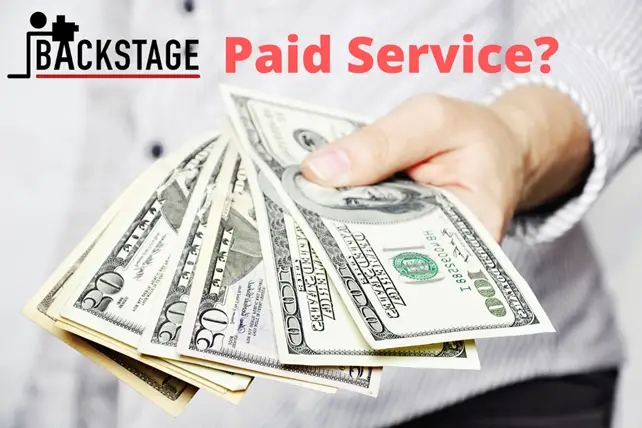 Yes, it is a Paid Backstage service.
Although you can look at casting notices, you'll need to create a profile to subscribe to the jobs you see.
A whole year of membership costs $119.88, which works out to $9.99 per month. You may sign up for a monthly subscription for $19.95 per month if you only want to get started making money before committing to a long-term membership.
However, looking for work is merely one of your advantages. The opportunity to create a portfolio, which is then accessible by casting agents or anybody else looking for talent, is one of the best features of the Backstage website. You can include a photo, reel, skills list, credits, and more on your profile. You can edit your profile anytime and you can apply for auditions using your completed profile.
Anyone can sign up for email notifications when new jobs that meet your interests are listed once you have a subscription. Filmmakers and other influencers can also contact you through the network, increasing the likelihood that someone will contact you if they require additional information.
Backstage.com is an excellent resource for connecting with individuals in your business, in addition to employment tools. Because professional life can be a challenging journey, having a few buddies along for the ride might be beneficial. You can utilize Backstage.com to track down someone you met at an audition and contact them.
The site's Community section is a terrific location to ask questions and get help from seasoned veterans and novices alike. Performers are encouraged to provide information on various casting possibilities in the Gig & Tell section. For example, if you're considering working on a cruise, you may read evaluations from other passengers to help you decide whether it's a job worth pursuing.
Backstage in Print
You've probably seen the print edition of Backstage on newsagents around town if you live in New York City or Los Angeles. It was once the only method to keep up with casting announcements. Therefore it was well worth the money. An annual membership to Backstage, on the other hand, is extremely pricey, and you won't get the genuine updates that Backstage.com provides. 
The backstage magazine is available for $149.95 per year as a subscription, or you can grab a copy at any bookshop or newsstand that sells it. You can also join the call sheet in print, which is released twice a year. Paying to the print version via Amazon, which provides subscriptions for $79 per year, might save you a lot of money.
Although the choice between print and online is personal, there are other advantages to a Backstage.com subscription that you won't find in the magazine. Casting agents can use the website to submit casting news at the last moment instead of waiting for the print magazine. If you don't have an agent and aren't a union member, you can use the online version to enter your information.
Some people, though, prefer to obtain a copy of the newspaper as needed. As a result, it's probably a better choice for people who hunt for acting possibilities on a sporadic basis, perhaps when their schedule allows. On the other hand, the website is by far the better bargain if you plan to pay for an annual subscription.
After you've gotten your hands on all of the essentials of Backstage.com, their tale deserves to be told. Continue reading to find out more.
Origin of Backstage.com
In the year 1960, two pals who had worked previously together at a journal started their own. Back Stage was the title at the time, with the subtitle "A New Complete Service Weekly for the Entertainment Industry."
The early editions provided casting news, as well as industry trends and a catalog of Broadway musicals. Backstage has been a go-to tool for casting agencies and production companies throughout its decades in the industry. In contrast, anyone looking for work is likely to post an ad on Craigslist.
Backstage.com. Casting agencies are aware that the listings are viewed by over 250,000 actors, making it likely that they will be capable of filling those positions fast. Backstage now has over 700,000 subscribers, making it a valuable tool for anyone working in the entertainment world.  NBC, Actors' Equity, HBO, Nickelodeon, and Disney are some of the more than 160,000 producers looking for talent on Backstage. All this makes it the perfect meeting spot for industry insiders of all stripes.
What Are the Benefits of Using a Casting Database?
However, a casting database isn't the only resource available to budding actors; it's one of the best. You'll need to get out and apply if you want to gain a job, as crucial as honing your art is. You can log in at any moment to view what's going on in your area if you have a casting database subscription. Many other artists are likely to check the listings each day, giving you an advantage over them, especially if you don't yet have an agency that can apply for such opportunities on your account.
Since 1960, Backstage.com has been launching the fortunes of actors and performers.
Backstage has been the go-to resource for performers looking for jobs and talent-seekers looking to move their projects ahead for more than 50 years. Our 100,000+ members constitute a formidable community of entertainment professionals that take advantage of our unlimited submissions, the most effective casting tools, and the most significant number of performance jobs of any casting service.
I'm sure you're wondering if Backstage is real.
Yes, It is legit.
Backstage is a genuine place! Since 1960, they've assisted thousands of actors in obtaining roles in various productions, including Broadway musicals, Hollywood films, and more. Our staff of seasoned casting specialists thoroughly vets every work Backstage to assure authenticity, legitimacy, and most importantly, your safety.
There are numerous con artists out there, but take comfort in knowing that Backstage does everything it can to provide a safe and secure atmosphere for artists and performers to follow their goals.
In the performance art scene, Backstage has a stellar reputation. Here's a collection of stories showing Backstage users who have been cast as a result of using our site, as well as testimonials and reviews from several well-known actors who use Backstage to help promote their careers! If you're serious about performing, we think Backstage is well worth your time.
Is It Necessary To Pay For Backstage Auditions?
You never have to pay to audition with Backstage. In reality, the activity is against the law. Backstage's premium membership offers you access to:
Dozens of casting notices have been vetted for safety and legitimacy by their team of casting professionals.
Thousands of people looking for talent use a polished talent portfolio and a position in the Backstage talents database.
The chance to speak quietly and safely with casting directors;
Unlimited entries to projects to assist you in finding a job.
Why Choose Backstage Over One Of Its Rivals?
Backstage.com continued to grow, adding more online-only casting notices, entertainment-industry listings, feature articles, and reviews. Numerous competitors challenged the trademark during this time, but it prevailed as the industry leader. There are a few significant distinctions that distinguish Backstage from other casting portals:
The Scale of Platform
Backstage is the leading casting portal on the internet, with hundreds of notices for jobs in New York City, Los Angeles, Atlanta, London, and other significant acting centers. From Broadway musical theatre to substantial roles in indie films, supporting work in Hollywood films, voiceover work, and more, Backstage offers a diverse range of parts and production styles for performers of all types. It will be hard to locate that many authentic casting notices on any of their competitors' websites.
●     Casting That You Can Rely On
 Every notice is screened for correctness and legitimacy by a team of seasoned casting specialists at Backstage. If we detect a scam, they respond swiftly to defend your safety!
●     Features Of The Platform
They've designed their site to incorporate the most up-to-date technology and resources that actors need to swiftly identify and apply for the correct parts. Their search feature features a highly configurable filtering system to help you find what you're looking for exactly. Their actor profiles are incredibly high quality, and their encrypted messaging system allows you to contact casting directors securely and confidentially.
A Backstage membership covers everything. From publishing media to qualifying for roles, other casting platforms include hidden fees. Backstage wants its actors to get excel, so they let you post an unlimited quantity of media and apply with as many roles as you'd like—for no extra charge.
●     Professional Articles & Guides
Their website offers users a screenshot gallery of articles and guides written by industry professionals, a genuine talent profile, and a community where they can debate all acting.
As we move forward towards the conclusion, why not do a quick recap and some quick questions to keep your head from becoming jumbled up?
Are There Any Performing Chances For Children And Teenagers Backstage?
Definitely! Backstage, you'll find many projects looking for child and teen performers for roles in movies, TV series, advertisements, stage musicals, and more! Their casting staff examines all the aspects for legality and correctness, guaranteeing that you and your promising youngsters are protected!
How Can You Get A Job On Backstage?
You can also email Backstage's team with the subject line "I Got Cast Through Backstage" at editorial@backstage.com. I Got Casts articles are a terrific method to demonstrate casting agents and others not only what kind of work actors can find through Backstage but also who you are and what you're capable of.
How Do I Qualify For A Role On Backstage?
To apply for a project, go to the casting notice you want to apply for, choose your role from the selection in the top right corner or beneath the 'Key Details' column, and click the 'Apply' button. You can also subscribe to a show by looking at the role descriptions in the Casting Notice section.
How Much Does It Cost To Have A Pass For Backstage?
The Backstage magazine is available for $149.95 per year as a subscription, or you can grab a copy at a bookshop or newsstand that sells it. You can also join the call sheet in print, which is released twice a year.
Is It Possible To Apply For Backstage For Free?
You can avail of the services free for the first six months; no credit card is required.  Backstage is an online job board where actors can post tryouts, casting calls, and acting jobs. So sign up today and get your first six months free.
Is It Worthwhile To Pay For Backstage Access?
Yes, Backstage is a legitimate company with over 50 years of experience. You don't go with the monthly contract if you don't want to; in fact, the annual plan saves you roughly $50 more every year. For new subscribers, there are also welcome bonus prices.
Our Summary
Backstage is the top casting website in the world and the largest professional platform for actors. Thousands of casting announcements have been posted on Backstage by casting filmmakers looking for talent for their shows.
Every day, talent seekers scour the Backstage talent database in search of the ideal performance for their project. Singers, actors, voiceover artists, dancers, and other performers, on the other hand, rely on Backstage to help them discover jobs that match their skills and interests. Backstage also serves as an educational and industry news resource in addition to assisting performers in finding work.
Meta Description
Are you wondering if it is worth signing up for Backstage.com or not? You can hit this article to unfold the reality.