Is Evernote premium worth it? There are a variety of note-making apps; however, all of them have some pros and cons. Please go through the features of Evernote premium to decide its worth.
Let us dive into the article to learn is Evernote premium worth as I have analyzed its different features and shortcomings.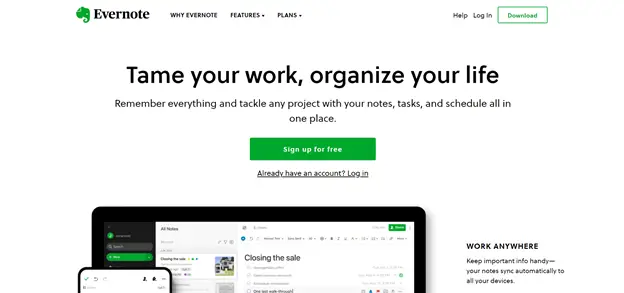 What is Evernote?
It is an app widely used for organizing notes in the form of books. Moreover, you can browse different images and attach them to your document for your ease.
Best of all, Evernote is straightforward to use, and it has a very user-friendly interface. Moreover, you can watch the tutorial of every function that you cannot understand as they have guided their users' step by step through the tutorials.
Note tags and Evernote web clipper browser extension are two worth praising features. Note tags work like hashtags. Thus organize your notes with them later. It will be easy for you to search through them.
Secondly, it has become straightforward to make notes on Evernote premium by using a web clipper browser extension. You can directly copy the text, images from the browser to Evernote.
It is not only for the text. You can even copy the whole web page. Is not it amazing?
Evernote is not the only player in the market. There are a number of players out there in the market including Hive Notes, Notion, OneNote, Google Keep, Zoho Notebook, Hugo, Fellow, and Hypercontext that offer the similar products and services.
What are the Features of Evernote?
It is used worldwide as it has innovative features. Here is the list of its unique features to help you know is Evernote premium worth it.
Al-suggested Content
Evernote has introduced the feature of artificial intelligence and machine learning. It is an innovative feature known as the Evernote context. You will be amazed by its working, and it is not available on the free version.
The most significant benefit you will get is you will not duplicate your notes. When the app finds similar content in your previous data, it will suggest you.
Moreover, it will suggest different articles and journals relevant to your topic. Thus you can get ideas about your topic from top leading publishers.
Clipping and Capturing
It is one of the fantastic features, and it will create much ease for you. You can clip documents, images, pdfs, images directed from the web and attach them to your notes.
Thus, a file will be completed, and you can read everything from a single place. This feature is present in the free version as well. However, there are different innovations in premium.
Once you have prepared the account, you can send it directly to your Evernote account. However, fermium users cannot do this. 
Moreover, if you are using premium, you have the right to comment and interpret pdfs. You can create an account from a scanned business card if you have an Evernote premium.
Integrations
The primary purpose of Evernote is to help the users in gathering information and learning it. You can integrate different content sources into it.
Thus if you want to integrate different sources and make learning easy for you, get its subscription. In other words, if you want an app that is much more than a simple app writing notes, Evernote is best.
You can link your account to google drive files, Microsoft outlook content. Best of all, you can also integrate with Slack and Microsoft teams.
Organization
If you cannot organize things and it is challenging for you to manage such significant content, you should use Evernote premium.
However, you can organize and save data with your name, tags, date in all plans. But if you are a premium user, you can search text strings in pdfs and Microsoft office documents.
Revision history has a lot of benefits, and you cannot use this feature in a free plan. So get subscribe to its premium to make thig easy for you by using revision history.
Sharing
All features of the free plan are available for premium users with some modifications. You can share the content with your friends; thus, everybody does not need to compile separate notes.
Best of all, you can control the person's access by setting permissions and authorizing only a specific person to specific articles.
But the most significant benefit of Evernote is that you can convert your notes into the presentation form in just one second. However, you cannot get benefits from this spec in a free plan.
Evernote Premium Pricing
Evernote has impressive features that will provide you with many benefits; moreover, they are time-saving. A work that many take 6 hours to completion you can do it within an hour with the help of Evernote premium.
Its premium is very affordable, and you have to pay only $7.99. When you can get many impacting advantages in a bit of amount of money, do not hesitate to buy it.
Drawbacks
However, it has many unique and unique features, but it has to face backlash as it lacks team administration and collaboration tools. Thus if you want to work with the team, it is not possible with Evernote.
Is Evernote Premium Worth Buying?
It is a long debate, and you cannot declare within a few words is Evernote premium worth it. It depends on your needs and your priorities.
This is not for you if you have a team and need an app to collaborate and work. It does not have any features that can benefit a team or organization.
But if you have to share some notes with your team member and your team consist of only a few members. Evernote is worth buying, as you can share and control a person's access to your notes.
Similarly, its Al-content feature is fascinating as you do not have to take information about your topic separately. Evernote suggests all writing prices that have information relative to your content.
You can organize your note, and the premium has improved the facility of searching the document. You can integrate your account with different sites to gather information.
If the features mentioned above fulfill your needs and you are impressed, you must invest in Evernote premium. Otherwise, cancel its subscription anytime and go for other top-rated apps.
To Sum up
It has many fascinating features that will save your time and help you make notes easily. Moreover, you can directly send the file to your Evernote account through premium.
But it is not suitable for teammates. Thus analyze your requirement, and if it fulfills your needs buy it; otherwise, go for other apps that suit your work.
If you have any query feel free to ask in the below comment section. Thank you for your visit!