Is Eros New Subscription worth it? You must be looking to get information about what is Eros new? How does it work? And whether its subscription is worth it or not.
What would you say if you could watch the latest Bollywood movies, dramas, TV shows, and many other contents on your Android phone and iPhone for free? Definitely, You will go for it. But if you want to get premium features, then you will have to subscribe to them.
Here I have discussed all the premium features, subscription plans, and also that is Eros Now subscription worth it?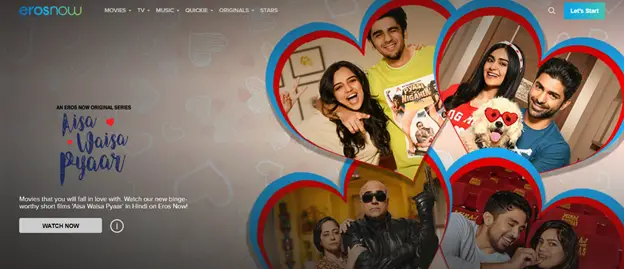 What is Eros Now?
Eros Now is an Indian on-demand video streaming, entertainment, and media platform that is subscription-based. It was launched in 2012 and owned by ErosSTX, Indian-American multinational company that provides digital content, films, movies, and exciting TV shows.
It lacks western content but offers top-class Bollywood, Hindi, Tamil movies, music videos, TV shows, and much other content. As a bonus, it also provides Orignal Sound Tracks of top Bollywood movies.
Lets us talk about Eros subscription plans, then we will move forward to conclude, is Eros subscription worth it?
Eros Now subscription plans
There are 3 types of subscription membership plans depending on duration.
Monthly plan
Quarterly plan
Yearly plan
Monthly plan
This plan costs INR 49 per month, and it offers you unlimited movies on your PC, android, iPhone, Mac, or iPad. It allows you to watch standard quality streamings without functionality. It does not allow you to offline downloads. This monthly plan is also called the Basic Plan. In this plan, content is accessible only for Indian viewers.
Quarterly plan
This plan costs INR 99. after subscribing, you get access to unlimited streaming videos with functionality. You also access HD streaming and other features like offline downloads and a playlist with many movies. This Quarterly plan is also called a plus plan, and this plan is only accessible for Indians.
Yearly plan
This yearly plan costs INR 399 per 12 months. After subscribing the membership of this plan, you get access to high-quality content with a set of all features. This plan is also known as the Premium plan, and this plan opens the way of Eros Now to international viewers. The prices of the plan vary from country to country.
For example, the UK viewers will pay £4.99 per month, US viewers will have to pay $ 7.99, the viewers of Malaysia will pay MYR10, and the UAE viewers will pay AED20.
The Eros Now trusts the  following three Indian payment providers:
Paytm
FreeCharge
MobiKwik
Is Eros Subscription Worth It?
To know, is Eros Subscription worth it? We should know about the content and all the features it is offering to its users.
What Content Eros Now Provide?
Eros Now offers 11,000 titles for premium members, including TV shows, movies, videos, and over 2.5 lacs music tracks. Eros Now also includes blockbuster films such as shubh Mangal Savdhan, Mukkabaaz, Munna Michael, Bajirao Mastani, Tanu Weds Manu, Bajrangi Bhaijaan, English Vinglish, Sellvandhan, Zindagi Virat, Maine Pyaar Kiya, and Padosan.
This platform also has a collection of international shows of Hum TV and ARY TV and shows in 10 other regional languages of India. Eros Now also has a wide range of partnerships that also play a crucial role in its publicity.
Since early 2018, Eros Now has also been fiddling with its original content, starting with short films. Following this then Eros Now released Meri Nimmo and then released original series like side Hero and Smoke.
Eros Now Partnership with other Organizations
Eros Now on-demand video platform has built partnerships with ZEE TV, Salman Khan Films, and Dharma Productions for content provision. A distribution partnership for cash transfer has been created with Vodafone, U Mobile, and idea cellular to ensure that Eros Now offers better data plans and runs smoothly on the 4G network.
In November 2017, Eros Now entered the South Africa market through a partnership with Telecel Global Pty, the leading telecommunication provider. In August 2016, Eros Now made relations with Reliance Jio, that this partnership helped Eros Now acquire more subscribed members from urban and rural regions of india. Eros Now also made its connections  In Feb 2017 with BSLN for offline availability of content.
Compatibility With other Devices
Eros Now is compatible with a wide range of devices and desktop browsers. It is compatible with android and iOS, but iPhone users will need iOS 7.0 or above.
 Android device compatibility varies from device to device, but usually, the user will need at least Android 4.4.2. This Eros Now will help you decide, is Eros Now subscription worth it or not.
 Eros Now supports its compatibility with Apple TV, Amazon Fire, Amazon Fire Stick, Chromecast, JadooTV, Roku, Android TV, and Opera TV.
Eros Now Offers Free Trials
The worth of any online platform depends on its features that attract people. Is this free trial before subscription not enough to decide Is Eros Now subscription worth it?
It offers accessible trails to its users, but first, you must enter your personal information and payment details. After this, you can try this free trial for 14 days, and this is very exciting to know that you can enjoy premium features without paying a single penny. The worth of any online platform depends on its features that attract
 You can enjoy unlimited movies, TV shows, streaming Videos, Blockbuster movies, sounds, and Eros Now, original content on your smartphone or your PC. You will automatically get charged when you are out of your free trial unless you cancel the subscription beforehand.
Benefits of Eros Now Subscription
Benefits of Eros Subscription tell about, is Eros Now subscription worth it? The answer is yes, a subscription worth it.
Reasonable prices for basic, plus, and premium plans.
A free trial of 14 days is provided before the subscription
You can download HD streaming and videos.
No advertisement while watching the movies, TV shows, films, and music videos.
Eros Now also offers a free yearly premium subscription to special events.
You can cancel the subscription at any time you want.
Final Verdict
The most popular entertainment and media platform of Indian content, Eros, has fabulous features. Now, After reading all the subscription plans and the features Eros Now provides, it is straightforward to conclude, is Eros Now subscription worth it or not. The answer is yes. It offers many discount offers and free premium subscriptions to its users to compel Indian content lovers to subscribe.