How to cancel a Crunchyroll membership? You must be in search of a complete guide about what Crunchyroll is.
Which services is it providing?
How can you cancel the membership? All the information is here.
Animation series in Japanese style are one of the best categories of TV content. Many fans of Japanese animated content rush towards it when they get easy and quick access to the internet.
Let's talk about the content that Crunchyroll is providing. Then we will move forward to learn how to cancel Crunchyroll's subscription.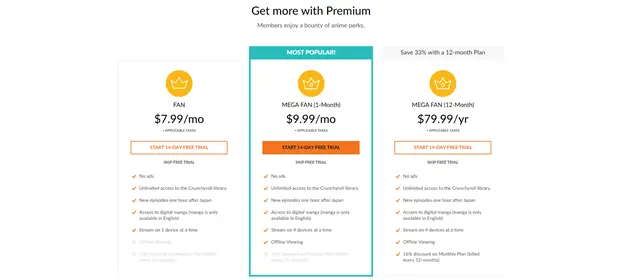 What is Crunchyroll?
Crunchyroll is an American international online company that provides an on-demand Anime streaming service. It's free if you are comfortable with advertisements during watching shows, and it has the most extensive catalog of licensed anime.
The Mangas ( Japanese comic) is the craziest opportunity for those who cannot wait for their new anime shows or episode to appear on their screen.
You can read Mangas based on it. The library of Crunchyroll has a great Mangas collection, and a lot of titles are for free.
In 2006 students at the University of California, Berkely (the city of California) launched this community and magnified the Anime content in the animated Television series.
In 2016 Susan J. Napier announced to the whole world the saturation of Anime content in television series in his book "Anime from Akira to Howl's Moving Castle."
In Dec 2020, Crunchyroll announced its sale to Sony, the competitor Funimation Anime platform owner.
There is no announcement on how the intermix affects the two sites, but Crunchyroll is the best powerhouse of anime, and all the fans love to come and know about it.
Subscription plans for Crunchyroll  
Crunchyroll premium subscription gives an excellent opportunity to their user to be the first to watch the exciting content on the Crunchyroll website without ads.
Following are the two premium subscription plans
Monthly Plan
FAN and MEGA FAN are the two monthly plans and cost $7.99 and $9.99, respectively.
Yearly Plan
This premium plan costs $79.9 for 12 months.
it has reached 70 million registered users and 3 million active customers because of its incredible services, but everyone is not happy with it, and some of them want to cancel their membership, so here we start how to cancel Crunchyroll membership
How to cancel a Crunchyroll membership?
Here is the answer to your query about how to cancel your Crunchyroll membership. Usually, there are two situations, whether you are a free member of Crunchyroll or a pain member, that is why the cancellation method depends on your membership status.
 Let us discuss how to cancel the free membership of Crunchyroll.
How to cancel the free membership of Crunchyroll?
Follow the following steps to cancel your free membership
Step#1
 Go to the web browser on your device
Step#2
Login to your Crunchyroll account by entering your username and password.
Step#3
Go to crunchyroll.com/nuke.
Step#4
A quick survey will ask why you want to cancel the Crunchyroll account, and your response will help you improve your services.
Step#5
A pop-up will confirm whether you want to delete your account permanently.
Step#6
Then you will be supposed to enter your password.  
Step#7
Then click on the deactivate account button.
We will move forward to know the method of deleting the account if you are a paid member of Crunchyroll.
How to delete paid account on Crunchyroll?
This method differs from the free account cancellation because this involves your account billing page. Follow the steps listed below to cancel your paid account
Step#1
 go to the Crunchyroll website by opening a web browser.
Step#2
Login to your account by filling in your username and password.
Step#3
Go to the Homepage.
Step#4
There will be an option for a profile at the top of the homepage.
Step#5
Find the setting option and click on it.
Step#6
Go to account settings.
Syep#7
Click on the premium membership status of your account.
Step#8
Find the cancel subscription button and click on it
Step#9
A pop-up will appear to confirm that you want to cancel your paid subscription.
This was the step-by-step guide to canceling Crunchyroll membership, but there is also another method to cancel your subscription via payment method.
Let's discuss it.
How to cancel the Crunchyroll membership via payment method?
 Suppose you have paid your subscription charges via PayPal, so you can cancel your membership via the payment method.
Follow the following steps to cancel your Crunchyroll paid subscription.
Step#1
Open the web browser and go to the Paypal website.
Step#2
Here you need to log in to your PayPal account.
Step#3
Find and click on the Crunchyroll subscription.
Step#4
Go to the manage Crunchyroll payments.
Step#5
There will be the option of canceling. Click on it.
Step#6
A pop-up will appear to confirm your payment cancellation of Crunchyroll.
Step#7
Click on yes to stop payments.
Step#8
The description status of the billing page will show as canceled.
Now you are familiar with how to cancel a Crunchyroll membership. But there is a need to know about some precautions that you should take before canceling your account.
Precautions
You are eligible to cancel your subscription within after first 24 hours of your renewal.
There is no refund policy for subscriptions.
If you want to cancel your account after free trials, make sure you cancel your subscription before the trial period ends to save yourself from being charged.
If you face any problems after canceling the membership, contact the customer service representative and tell your queries.
To avoid billing due to the automatic renewal of the subscription, disable the recurring payments on your premium subscription.
Reasons for canceling the Crunchyroll subscription
After knowing how to cancel a Crunchyroll subscription, we understand why people go for cancellation.
Crunchyroll has over 1,000 shows to watch, and unfortunately, when people have watched all the shows, they cancel because there is no new content to watch.
Crunchyroll is not the only community for anime content. Still, there are also other services providing the anime series. When the services of one company become better than to form the other company, then people go for the better one. So completion is also the reason to cancel the subscription.
Final Verdict
Crunchyroll is the best platform for people who love Korean content and new animation series.
Still, technology is the name of revolution, and now many communities are providing the platform for animation series.
When people find something better in other platform features, there is a need to know how to cancel the Crunchyroll membership.