How to cancel HelloFresh and refund? You must be looking for complete information about the meal delivery service, its working, and the refund policy.
Having a healthy meal on your table after a long working day is a struggle. Most people are short on time to do grocery and meal planning because of their busy life and their interest in grocery shopping, and if Hellofresh does not fulfil all your requirements, cancel it.
Here I have discussed the whole process of cancelling its subscription and refunding step by step.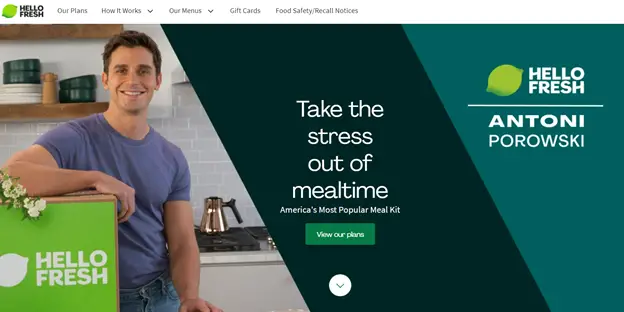 What is HelloFresh?
But HelloFresh provides the meal delivery service in the United States; it presents weekly shipments of ingredients and recipes. By taking advantage of this service, you can make healthy and appealing foods at your own home without worrying about grocery shopping if you don't have enough time.
HelloFresh delivers boxes of fresh ingredients along with recipes, and you are only left with cooking. The boxes also contain sauces, seasonings, and garnishes.
HelloFresh provides this great service at very reasonable prices because you can choose different meal plans like how many meals you will receive per week, which diet type you prefer ( vegetarian, low calorie, low carb), and explore different weekly recipes to follow.
You can also choose more than 20 recipes to make a rotatory custom menu. Not only these are all at reasonable prices, but also you can skip the week of meal delivery at any time if you change your mind.
How does it Work
Here is its working process
Meal plan Selection
There is the following meal plan that HelloFresh offers.
Meat and Veggies Plan: This includes meat and vegetables.
Family-Friendly plan: the meals that are easy to prepare and kids approved are added to this meal plan.
Veggie: the plant-based meals are included in the meal box.
Quick and Easy Meal Plan: the meal that you can cook within 30 mins.
Calorie- smart: the meal box is adjusted with only 650 or less calories food.
Pescatarian: the different kinds of seafood are added to this plan.
Pricing of Meal Box
HelloFresh costs 8-11 per person per meal. You can save your money by choosing the largest size plan, for example, five recipes in a week for four people.
The most popular meal plan is three recipes in a week for two people, and this will cost around 55$, including shipping charges, which is about 8.99$ per box. There are also free shipping and discount offers for the new users and on several shipments.
How to Cancel HelloFresh and Refund
If you select the Calorie-Smart plan, but now you find the Family-Friendly plan more appealing, you can swap out the plan to add to your shipment. But how to cancel HelloFresh and refund when you don't want any meal delivery.
If you want to cancel HelloFresh, then follow the following steps.
First login to your account.
Click on your name located at the upper right corner and then click "Account Settings."
At the bottom of the plan page, there will option of Cancel Plan; click on this from the status section.
Complete the short survey and proceed to the next step.
Click on the "close" button.
You will receive the confirmation email of your meal delivery cancellation from HelloFresh. Make sure you show the reason for cancelling the delivery. This will help them to improve their quality of and food and delivery system also. I hope you understand how to cancel HelloFresh and refund.
Cancelling through DoNotPay
The easy way to cancel the HelloFresh Subscription is by using DoNotPay. DoNotPay is an App that is used to cancel subscription launches in the UK. Follow the steps to cancel your meal delivery.
Go to your web browser and open DoNotPay.
Click on the find hidden money option.
Then will have to enter the service that you want to cancel
Enter the HelloFresh service here.
After you complete the above process, DoNotPay will send you a notification as soon as your HelloFresh Subscription is cancelled.
Do you want to skip the Weekly delivery?
Most people don't want to receive a meal every week. This is not a big deal because our service provides a self-managed subscription to our users. You can skip the shipment of meals boxed for up to 8 weeks.
If you want to skip a delivery, then follow the following steps.
First login to your account.
Click on "Account Settings."
Then click on "My Menu."
Here you can see next three weeks.
Now you can click on skip this week at the bottom of the page.
At the right corner, there will be a calendar icon.
By clicking this, you can see the next 8 weeks.
At the top of the Menu, there will be an option of "Edit Delivery."
Now you can click on the date and " skip this week" to cancel the delivery.
The date will turn red.
You will receive the confirmation email from HelloFresh.
Refund Policy
The subscription of HelloFresh is automatically renewed each month until you cancel it by yourself or the company discontinues it. If you want to finish your subscription, make sure you do it before the time and days of your corresponding delivery date and time.
Unfortunately, if you miss the deadline, the charges of the following additional week will be added to your account. HelloFresh does not deny to cancel your subscription at any time, you have complete freedom and can cancel the subscription at any time you want, but you must be careful about the deadline.
When the orders are already processed, they cannot be cancelled if you want to stop getting meals from the HelloFresh, so you should cancel the subscription before 11:56 Pm according to the specified standard time and five days before your next delivery shipment.
If you are unhappy with the HelloFresh services and not satisfied, you should contact the support staff via email or phone. The critical point is that you must contact them within 5 days after you receive your meal box. Sometimes you receive partial or complete returns, and sometimes you receive credits for the meal parts you are unhappy with.
To receive a refund, HelloFresh may ask you to return an unsatisfactory ingredient or meal kit or a photograph of the delivery product you are unsatisfied with.
If the refunds are issued, they are payback in their original form, and this process may take 5-10 working days to accomplish. The funds are added to your debit card, credit card, or gift card that you link with your HelloFresh account.
Pros
You receive a meal box at your doorstep.
A variety of meal plans.
Reasonable prices.
Cons
No gluten or allergen-free meals.
Every user has to pay 8.99$ per box.
No meal plans like keto, paleo, or vegan for diet-conscious people.
To Sum Up
There are just a few steps you have to follow for cancelling the subscription and refunding the money. Moreover, there are some applications you can use for cancelling the subscription. Make sure you are following all steps of the process.
Thank you for your visit!