Nowadays, eMeals is very famous among people due to their delicious meal plans. Is eMeals subscription worth it? Can you fulfill all your nutrient needs with their meals on a limited budget?
Here I have discussed its working process, subscription plans, and worth.
Let us start reading!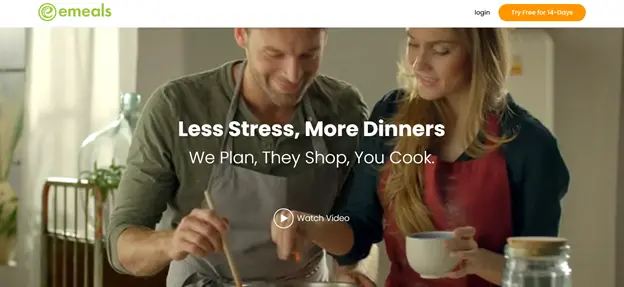 How eMeals Works?
It is a web-based service and is also available in the form of an app. It is very beneficial for people who cannot make healthy food plans as this app helps them in everything.
Once you sign up, provide data, for example, what kind of food you prefer, nutrients you want to take, and your budget most importantly.
Now the app will give you many diet plans, including your breakfast, lunch, dinner and snacks. Moreover, you can add the number of people for which you are preparing food.
Thus after subscribing to eMeals, you do not have to do much work as they will provide you with many delicious food recipes every week.
Once you get the recipe, go to the market and buy all the ingredients. However, if you do not want to go outdoor, you can order them from Amazon, Walmart, Kroger.
Create a Meal Plan with Meals
You will get a vast variety of plans on the eMeals website, and they're divided on the base of
Size of family
Dietary preferences
Budget
Following are the meal options
30 minutes
Budget-friendly
Diabetic
Gluten
Kid-friendly
Low carb
Vegan
Vegetarian
Slow quick
Kid
Keto-friendly
Low calorie
Gluten-free
Heart-healthy
Mediterranean
Clean eating
How much does eMeals Cost?
They have two plans one is three months, and the other is yearly. Its three-month plan costs $29.99, and the yearly plan costs $59.99. Thus the yearly plan is more affordable.
But never buy a yearly plan if you think you cannot stick to their recipes for a year.
Moreover, you get a 14-day free trial, you must get it, but you have to input your debit/credit card details for getting a free trial. They will charge a fee when the free trial ends.
So use the free trial to the fullest and check the plan. If you think it will be good for you, continue it; otherwise, cancel your subscription by contacting the eMeals support team.
Is eMeals Subscription Worth it?
The following points will clarify that there are many benefits of eMeals, and you must subscribe to it.
Budget-Friendly
Their most significant benefit is that you get high-quality meal plans at a very affordable price. Many people provide food services, but their rates are very high.
 eMeals has experts who will set your meal with inexpensive ingredients, but they will be rich in nutrients according to your preferences.
You will save a lot of money if you use their weekly meal planning for the long run.
We are so busy in our daily life, and due to such a busy lifestyle, we ignore our food. So if you also do not have time to plan your meal, get the subscription to eMeals.
They will send you weekly meals, recipes and grocery lists. Thus you will not have to do anything on your own.
Is eMeals subscription worth it? Yes, it has a straightforward user interface, and you do not have very juggle much in learning it. You can easily access meals, their recipes that are elaborated very much.
Moreover, you have all required grocery items.
We do not eat new things every day in our daily life and often have to eat the same food. Thus if you are tired of eating the same bland food, get the subscription for eMeals.
They prepare new plans every week, and rarely is there repetition of recipes. You will have such a considerable variety of food options. Thus you try new things that will be healthy.
Best of all, you do not have to search for new food items as they are available.
If you are suffering from a disease and follow a diet plan, there is no better option than eMeals. As they also prepare meal plans according to their customer preferences.
Thus you can tell them the nutrient you want to take in large amounts and ask them to avoid specific vitamins, minerals, etc. I hope you have got the answer of is eMeals subscription worth it.
Cons
Following are a few drawbacks of eMeals.
They prepare meal plans for their customers and deliver all the grocery items they use in their recipes. You will have to prepare your food, which is a time taking process.
So if you do not like cooking and do not have enough time, do not go for eMeals and try the other services where you can get cooked food at your door.
Only two eMal Size Options
eMeals prepare high-quality food plans, but they have limited meal sizes. You have only two choices. You can order food for two members of the family consisting of 4-6 members.
Thus if you are alone and want to get their meal plans, you shouldn't subscribe eMeals.
If you no longer want to use eMeals, cancel your subscription. You cannot cancel the subscription by just messaging them. You have to call them and request them to cancel the subscription.
If you want to cancel the subscription or your trial is about to end, and you do not want to use eMeals, cancel their subscription. Most people forget to cancel the subscription, but eMeals have auto-renew subscriptions.
They will charge money from your card, so never delay the process of cancelling the subscription.
FAQs
Can I Try any of the Meat Plans?
Yes, their services are very flexible, and you can change the whole module of your diet. Thus if you want to change your meal planning from low carb to low, low calorie, you can do it within a few minutes.
Do I have to Get my Groceries Delivered?
No, it is not mandatory to order groceries from them. It is all up to you you can order them online and buy yourself from the nearby market.
Is there any App, or have I used a Website?
Yes, they have an app that is available for both Android and iPhone users. Once get their subscription, log in to the app. They have a website, but the app is easier to use.
You can also check it Twitter here,
Final Words
In a nutshell, it is best for people who want to feed themselves and their families with delicious food full of nutrients. Similarly, if you do not have enough budget, always choose meals as their prices are affordable.
However, if you do not like cooking, then do purchase their subscription. Moreover, they have a limited size of the meal.
If you still cannot sort out is eMeals subscription worth it, feel free to ask in the comment section.
Thank you for your read!