Mental health must be dealt with sensitivity, and you cannot rely on all apps. Is a calm subscription worth it or not? Calm has good ratings, and it is very versatile
Let us discuss all calm, and it's worth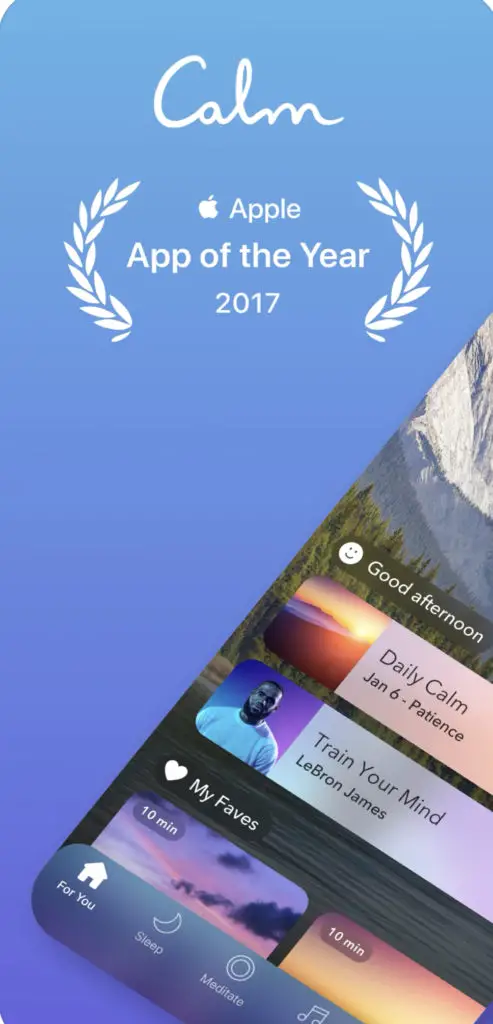 How do Calm Works?
When you open the app, you will be requested to take a few deep breaths. Then a notification will pop up on the screen, in which there are different questions.
They ask different questions to know your goals and purpose for downloading the app. For example, they may ask you are looking to increase your happiness or reduce stress.
Do you want to get better sleep or reduce anxiety? All of the above? Read all options and choose one option carefully which fully depicts your condition and purpose for joining the app.
Moreover, it has a meditation section organized into different sections: stress, focus, anxiety, and relationships. You can meditate with its help and calm yourself.
However, if you want to meditate under the guidance of an expert, choose the option of guided meditation. Must meditate with this app for 3-30 minutes.
Best of all, it is not a released biased app. You will not be using religious and spiritual themes on this app. However, mindfulness-based stress reduction (MBSR) is available on it.
With its help, you can learn how to control stress and pain with innate resources. There are different techniques: body scan, breathing exercise, waling meditations, shifting from focus to awareness.
It has two plans.
Free plan
If you have never used the app, sign up and start using its free plan. However, only a few functions are present in its few plans, but you will get to know if is calm subscription worth it or not.
You have access to daily meditation, breathing exercises, a mood tracker, music tracks, sleep stories, and a few guided meditations in the free plan.
Paid Plan
Once you get their subscription, you have access to hundreds of innovative features. Its monthly subscription costs $14.99; however, when you buy a yearly subscription plan, then monthly its cost you $5.83.
Thus if you love it, go for a yearly subscription as it is economical and money-saving. Before subscription, get 7 days free trial and check its unique features.
 You have access to large numbers of guided meditation, master classes taught by experts, music tracks for sleeping and relaxation.
Features
Following are its main features
Meditation
The calm app is well known for its guided meditations. These meditations aim to build self-esteem, gratitude, better sleep, and alleviate anxiety in the listeners.
These guided meditations are differentially categories such as sleep, anxiety, emotions, beginners and inner peace, and personal growth. Each category has specified sessions guided by expert instructors. The sessions Panic SOS and Calming Flight Anxiety are included in the anxiety category to help you sleep.
There is a wide variety of session programs. There are two types of sessions: one session for 7 days and the other for 21 days.
The beginners are advised to start with "7 Days of Calm" and then " 21 days of Calm" to improve their skills.
Sleep Stories
The sleep stories in a calm range from fairy tales to non-fiction stories. The sleep stories list is updated constantly to increase the content. These stories are narrated by celebrities like Harry Styles, Scottie Pippen, and Kelly Rowland. These soothing stories help you to drift into dreamland quickly.
Music
 Calm music contains a list of music tracks varying in length. The purpose of these soothing sounds is to keep you at ease while working, walking, and going to sleep.
Everything about calm is divided into 6 categories: focus, lullabies, relax, sleep, soundscapes, and Nature Melodies. The background music is also playing while you are scrolling the app. This music is customizable. You can choose the music that you like, and you can also adjust the volume
Calm Masterclasses
The most significant benefit of a subscription is that you get an excellent chance to get classes from top-notch experts.
You get complete courses on different topics, for example, discovering conscious happiness paren, bad breathiness habit, etc. In short, you get knowledge on different topics that can save you from diseases like depression in the future.
Calm Kids
Calm is not only for kids but has different sections for kids as well. They have meditations, sleep stories, and music tracks for kids. Thus if your children are bad at sleeping, try to sleep them with calm sleep stories.
Moreover, their meditation session will have an excellent effect on your children's health as it will install calmness deep in their minds and diminish stress.
Calm Body
There is a strong relationship between mental and physical health. If you are mentally healthy, you look physically fit. Stress and depression have a very adverse effect on your body processes, such as the digestive system and hormonal balance.
Currently, calm is offering 9 body sessions, and they are designed b keep mindfulness in mind. Best of all you do not have to invest a significant amount of time, as their duration is only 10 minutes
Morning Wake Up
Afternoon Reset
Mindful Warm-Up
Mindful Cool Down
Evening Wind Down
Morning Stretch
Evening Stretch
Back Care
Pros of Calm
The following points will clarify to you is calm subscription worth it.
The calm team has expert instructors with high experience in specialties areas.
Enough information, content, and guidelines are available for the users on their website, disregarding the membership status.
The calm app is updated regularly, and you are also notified.
The interface of the calm software can be used efficiently both by adults and kids.
Natural sounds are realistic app graphics.
Mood tracking is also done over time, and it is very beneficial for the improvement of mental health. This positive psychology technique includes analysis, recording, and stalking of the mood.
Not only is your mood analyzed, but this software also records the statistics like how many sessions you attended, minutes of meditation, and the consecutive days you used the app.
Reminders for meditations.
Discounts are available depending upon the workplace or corporate setting.
Compatible with Android and iOS.
Cons of Calm
You cannot enjoy this platform with your homies and friends because you cannot add your friends.
Some nature sounds are bothersome.
The user has to spend a long time listening to the too-long sleep stories.
They have limited free resources.
The users are limited in selection for music and stories.
Is Calm Subscription Worth it?
Yes, it is the best app for people who are suffering from stress and depression. However, if you do not have any mental illness, still get the subscription.
It will calm you mentally, and you will feel more relaxed. It has very versatility, and you will feel very fresh after subscribing to it. Best of all, you meditate under the guidance of experts.
Moreover, you get masterclasses on different topics as well as exercises for the calming body. In short, the app is more worthy than its price.
Best of all, it is not for certain aged people, people of all age groups can use it as it offers services for kids. This is all about is calm subscription worth it.
Final Words
In short, calm is a fantastic app, especially for people who have mental illness and struggle with sleeping calmly. Moreover, it offers meditation, sleep stories, and soundtracks for kids.
Thank you for your visit!