eMeals is not new to the grocery delivery and meal planning business; it was formed in 2003. It helped millions of people to make billions of meals by saving time and keeping them healthy with delicious dinners.
They have millions of happy customers, but due to some reasons, they also want to cancel eMeals. For all users who want to know how to cancel eMeals and refund, we discuss steps that will surely help you.
For further details, keep reading this article!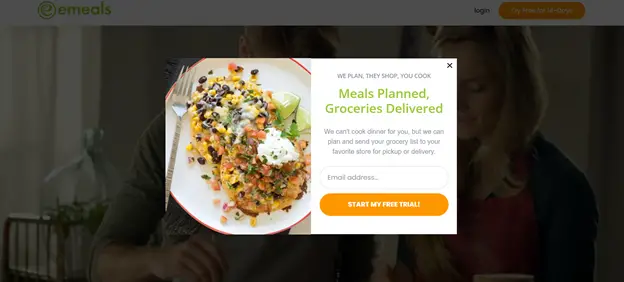 What is eMeals?
eMeals is an online meal planning service designed to help you plan hassle-free dinners and save money and time. Each week, they deliver a new meal plan to your mobile app or inbox that you can personalize dietary restrictions or taste.
eMeals create a smart shopping list from the recipes you select. And you can also send that list to one of our grocery partners to shop, and your groceries may be delivered or may be ready to pick – up.
In addition, you can try two weeks free to observe how much time, effort & money you have spent and saved. You get to know delicious recipes full of nutrients; moreover, you do not have one food again and again.
Best of all, you can easily customize your meal plan according to your budget and nutrient requirement and can switch from one mode to another.
Steps How to Cancel eMeals and Refund
Fortunately, the steps you need to cancel your eMeals subscription are very simple and easygoing. You have to follow these steps to come, and your account will be closed in less time.
1. Make a Note of Information Relating to Your Account
Anyone can call and request to cancel the account, but for this, they will need to verify that the right person is calling. So, you have to tell them all basic information like your proper name, phone number, address, and anything else required to make an account.
2. Call their Cancellation Department on (205) 721 – 8820 or toll-free at (855) 328 – 2674
As EMeals contain two numbers, you can call their cancellation team at (205) 721 – 8820 or toll-free at (855) 328 – 2674. An important note is to make sure that you cannot cancel EMeals by only sending voicemail.
You must speak to them maybe with their one representative.
3. Tell them You Wish to Cancel eMeals and What are the Reasons?
They have a bunch of tricks and offer you many things to keep you on board. If you like these offers, you are more than welcome to take up their offers, but you have to keep your eMeals account open.
 If you are not engrossed in their offers, you must remember why you are canceling and stick to it till the end.
4. Confirm your eMeals Account Is Cancelled by Checking your Billing Status
Once the representatives have confirmed that your eMeals account has been canceled on the phone, you should log back into your eMeals account and double-check your billing status.
When your next payment was set to do, you must check to ensure that they have not accidentally charged your account.
Other Ways to Cancel eMeals
eMeals are one of those companies that require you to speak to one of their staff if you want to cancel your EMeals account, or in simple words, you can say that you have to go through a procedure to cancel it.
And there are no other ways to cancel eMeals. For example, you cannot cancel through email, text, sending a message through live chat, or even by logging in to your account on the eMeals website.
There is only one way to cancel: call either of the two numbers mentioned above. They recommend you cancel more than two days before your next billing date. Otherwise, they will end up charging your account in that case.
One of the popular food services that recommend that you cancel quickly to avoid being charged is Instacart. Because it is one of the biggest grocery delivery services and has millions of happy customers, many are unhappy.
Can you get a Refund from eMeals?
Yes, you can get a full refund within 14 days after a charge has been made. And you have to call the company to request a refund. Another essential thing to note is that eMeals do not prorate cancellation, but you can use the service until the paid period.
Any charge that is made up to your bank account contains a digital signature. All the refunds are transferred to your credit card that was originally used for purchase within 10 days. So, you must request a refund at (205) 721 – 8820 or toll-free at (855) 328 – 2674.
Why Do People Cancel eMeals?
Emails have been providing a pretty good service as their millions of customers have already agreed with and thousands of people cancel their subscription.
Sometimes, business and customer do not set fit together, and they both part ways. There are some reasons why people cancel eMeals which help you how to cancel eMeals and refund for others.
One of the most important reasons is that they have signed up for a free trial and decided that it is not simple. Many other companies also offer free trials for the sole purpose of letting people find out whether they would like to stay on board for a longer time.
Some people decide to end up canceling because their life has changed. Everyone's life changes with time, whether they like it or not, and the idea to sign up for meal planning and grocery delivery service before is not a good idea anymore.
Instead of being charged non-essential for a service they no longer want, so they give eMeals a simple call and cancel their account without any harm.
Many people mentioned that when they canceled lightroom, one of Adobe's most user-friendly photo editing apps.
A recent survey discussed that many people who signed up for eMeals gave Thrive Marketplace ago; it is a membership-based platform that offers you a great range of healthy food options.
Is eMeals giving you Trouble? Sue Them with DoNotPay
In recent days, DoNotPay has received the praiseworthy ABA Brown Award for outstanding accomplishments in advancing the public's access to justice. That is precisely what we all want to do for you.
If any company like eMeals is flaking your rights and continuing to bill you every month for a service you do not use or may you have already canceled. You can take eMeals to short claims court and get the justice that you deserve.
It helps you file a complaint & also supply a script that you can use in court. For your ease, we have discussed everything related to how to cancel eMeals and refund.
Final Words
eMeals is a great meal planning application that provides you with many recipes to create your custom menu.
Suppose you want to get some more information about canceling your eMeals account or have any other questions. In that case, you can ask in the below comment section.
I hope this article is informative to solve all your queries about how to cancel eMeals and refund.  Thank you for visiting us!