With many potential threats on the internet, you always want to make sure your internet is secure. Due to these threats, you ask is Eero subscription worth it and research it.
So, we can say that with even a nominal cost of $2.99 per month, and Eero subscription is worth the money. Eero provides you with advanced security, ad blocking, and advanced parent controls for the Eero network.
Eero Secure can cover every device that is connected to the network through Ethernet and Wi-Fi. If you are wondering is Eero subscription worth it, read this article for more information.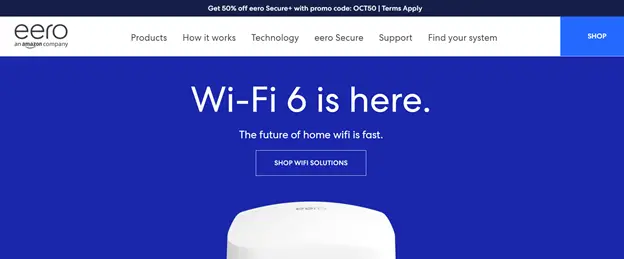 Why Do I Need an Eero?
The first thing to do before spending your money on an Eero router is to know your requirements.
Are you looking to expand your WIFI coverage? Or are you planning to use Eero for gaming?
How much customization do you need? Or how many devices do you plan on having on the network?
How important is customer support? Or do you care for intelligent home integration?
So, without overthinking, I must say that Eero is the best solution to cover all these requirements. Each beacon/ router adds 1500 sq. ft. of wireless coverage in your house, while Eero Pro adds 1750 sq. ft. of coverage.
In addition, it ensures that daughter streaming Netflix does not affect gaming.
How Customizable Eero is?
In customization-wise, Eero is making progress daily about its counterparts, making Nest WIFI look like a toy. Some of the features of the Eero router are locked behind a Paywall in the form of Eero secure.
If you have used Eero, then after using Eero pro, you will see improvements and results that come.
Is Eero Subscription Worth it?
Eero is very conscious about security, and they also offer an additional subscription plan option for added protection. As discussed above, with a bit of $2.99 per month, Eero Secure is worth it.
Eero offers you two subscription options, one is Eero secure, and the second one is Secure+. The more you know about these subscriptions, the more you will take time to make the right decision about Eero subscription is worth it for you.
Let us discuss them in more detail.
What are the Features of Eero Secure?
Eero secure has additional layers of protection to you already secure with the Eero Wi-Fi network. That extra protection you get with Eero Secure is automatically extended to all devices connected to the Eero network.
For more information about is Eero subscription worth it, there is a brief overview of Eero Secure features.
1. Advanced Threat Protection
This advanced threat protection helps stop you from accidentally visiting sites along with threats or malware by blocking those sites from loading. It can also be disabled or re-enabled at any time in the Eero app, like "Security & Privacy."
2. Safe Search
It is an excellent filter that tells what your children see online. You can specifically filter nudity, illegal activities, sexual themes, and other harmful activities, like hacking, drugs, and excessive violence.
If you want to turn on SafeSearch on someone's location, then that person must have a profile on your Eero account. Please turn it on in the Eero app.
3. Ad Blocking
Eero's ad blocker is used worldwide, and it blocks most ads, including many in-app ads. Most Eero users have reported that ad blocking has many great features that make subscriptions most worthwhile.
4. Activity Centre
Eero Secure's activity Centre weekly analyzes your internet data and creates easy-to-understand graphs. In this Eero app, under "activity," you can see what sites were already inspected and filtered from all connected devices.
What is Eero Secure+?
The security and parental control of secure+ is the same as that comes with Eero secure. What makes secure+ superior to others is its extra features: password, VPN, and other anti-virus software. It is $9.99 a month or $99 a year.
This is expensive subscription contains 1 password Family account so that you can manage, monitor, and share it with other various accounts with up to 4 other family members. Here, you can also get a VPN from Encrypt. Me. This membership covers up to 5 family members.
Malware bytes is an anti-virus software that can be secure+ used. Your subscription provides excellent protection for up to 3 devices.
Is Eero Secure is Right for You?
Eero WIFI networks are specially designed to be secure even without any secure subscription. For those having a tight budget, Eero Secure is not necessary. It makes a profile for each family member and turns Internet access off & on for specific profiles in the Eero app.
Here, you can also continue to receive automatic updates. Eero secure is highly recommended for those who have kids because of its advanced parent control option.
It is an excellent option for those paying for anti-virus software or password manager already because it decreases the number of subscriptions you have and saves your money. If you are not interested in any of these features, then secure+ is not worth it for you.  
Does Eero Speed Up WIFI?
Yes, Eero can speed up your internet connection or WIFI if your existing WIFI equipment is the cause of your lack of speed. Plenty of modem routers or Gateways given by ISP do not provide high-speed internet or WIFI.
This issue can be solved by using Eero. Moreover, it is worth remembering speeds on WIFI will be almost slower than the wired internet. So, if you want to be gaming, connect your PS4 or computer to your Eero using an Ethernet cable to increase internet speed.
Another essential factor, test your Eero with CenturyLink Fiber on 3 different locations of your house and then record its speed.
Does Eero Collect Data?
If you are concerned about your privacy, you may be relieved to know that Eero is not intrusive at all in the type of data it collects. It also collects anonymized information regarding your network, which helps you improve the network and the device's functionality.
It does not collect information regarding the websites you visit and does not sell its customer data for ads. Eero is a great secure router out there, and Eero's support is just incredible.
Final Words
Security is a number one priority of Eero, and it also offers a plan, especially for added protection. Eero secure provides many significant features, including threat security, ad blocking activity center, and another safe parental search, and it has extraordinary performance with your Eero device.
Eero has more than enough speed and remains one of the great wireless routers you can get. While Eero pro will handle more devices and has more raw speed, it does not depend on having an entire house with data-hungry users, and the standard Eero should be plenty.
Eero secure is just a cheap subscription that you can purchase monthly or yearly. At $2.99, you can get all these valuable features making Eero secure and worth the money. So, stop wondering about whether is Eero subscription worth it, as this article briefly describes its worth.
Suppose you have any queries feel free to ask in the below comment section. Thank you for your visit!