If you're a foodie, you would have ordered food from different food delivery services many times. You might be a regular customer of Seamless, GrubHub, Uber Eats, or DoorDash. Each food delivery service has its own distinguishing features and unique selling point.
As a food lover, you're always looking for a trustable, convenient, and affordable food delivery service that is available to deliver at your doorsteps, even at odd hours. Although different customers rate varying factors as their favorite feature, affordability is one that is common across all types of customers.
If you love to order food frequently, DoorDash has something exciting for you as a customer. DoorDash is one of the most popular food delivery services across the USA, Canada, and Australia. Today, we're going to explore what DoorDash is offering to its regular customers and how you can save money on your orders with DoorDash.
We will talk about DoorDash, its history, and how the company is achieving milestones after milestones to facilitate its customers and the riders.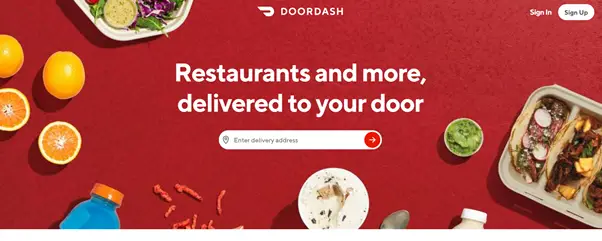 What Is Doordash?
DoorDash is a food delivery service chain that operates across different USA, Canada, and Australia. You can order food from your favorite restaurants, cafés, do virtual groceries, or other edibles by connecting yourself to DoorDash.
DoorDash identifies itself as a food-tech company that is connecting people with the best eateries and restaurants around them. This on-demand food delivery service connects the local drivers who don't belong to a single restaurant. The drivers choose their availability in their specific areas and then deliver orders to customers on behalf of local hotels in that area.
A Little About Doordash And Its History
Let's talk a little about the launching and evolution of DoorDash in the American food scene and Canada, Australia, etc. Students of Stanford University in 2012 incepted the idea of DoorDash. Tony Xu, Stanley Tang, Andy Fang, and Evan Moore are the names behind today's successful food delivery service. The company was founded in Palo Alto, California, and is headquartered in San Francisco, California.
The company holds a 56% market share in the USA, making it America's largest food delivery company. The company also holds a 60% market share in convenience delivery services. In January of 2013, PaloAltoDelivery.com was launched by the company. By December of 2018, DoorDash had surpassed Uber Eats and grabbed the second position in total food delivery sales of the USA.
Operations
We've already mentioned that the company is operational in America, Canada, and Australia. They opened their first ghost kitchen in October 2019, with four branches in California and Redwood City.
After the global pandemic of Covid-19, the company changed its food delivery services to contactless delivery and became the fastest-growing company. In 2020 October, the company resumed its operations by launching the 'Reopen for Delivery' program to operate the physical restaurants.
How Does It Work?
The working of DoorDash's food delivery service is very simple. You can use DoorDash's mobile application or website to look for the local hotels in your surroundings, browse the menu, and the in-app tracking of your order.
Once decide what you're going to order, add the items in your bag, pay for the order, and track your order in real-time. Once the dasher delivers your food, enjoy the food!
When we talk about the payment of your order through DoorDash, it includes the price of your food, delivery charges, optional dasher tip, and the mandatory service fee.
DoorDash For Customers
Most food delivery companies are capitalizing on the convenience of buying food for yourself without moving out of your comfort zone. That convenience for sure has a price you pay. You might be ordering a cheap meal from a neighboring restaurant, but the delivery charges, service fee, driver tips, and other hidden charges can make that cheap meal an expensive one.
DoorDash has moved forward to facilitate its customers and find a way out that works best in the interest of customers and the company. DashPass is a company service that offers customers to order food unlimited times in a month by paying a fixed monthly charge. We will talk about the DashPass and whether it is worth spending your money to get the Pass in the coming sections.
Doordash Pass
DoorDash pass is a blessing for the people who love to order food or grocery through DoorDash every other while but are sick of the charges every time. DashPass is a subscription service launched by the company to provide premium value to its customers at great affordability. The subscription costs $10 per month and gives you unlimited freedom of ordering food and enjoying free delivery at many hotels.
Benefits Of DashPass
With the minimal fee of $10 per month, you get the following benefits:
Service fee is reduced to a great level
Free delivery on all orders of $12 or above from specific hotels
High-priority customer service
Exclusive DashPass member promotions
Facility to redeem benefits on DoorDash and Caviar
How Does DashPass Work?
If you're a customer who frequently orders food through DoorDash, you can purchase a DoorPass through the mobile application or website. The best feature about the subscription is that you can get a one-month free trial before you actually start paying for the monthly subscription.
Whenever you place an order after purchasing a DashPass, make sure to order from eligible restaurants to enjoy discounts and promotions. Your discount is automatically applied to your orders if you order from specific restaurants.
Eligible Restaurants
Every restaurant listed on the DoorDash platform is not eligible when you have subscribed for monthly DashPass. You can make sure that you're ordering from the eligible restaurants by confirming Green Checkmark against the restaurant's name on the app or website.
Can You Get DashPass for Free?
Many people ask how they can get the DashPass for free. Fortunately, there are different ways to get the Free DashPass before you decide to become a regular subscriber.
Trial Subscription
When you go to the website or app to purchase the subscription, they offer you a one-month free trial to enjoy the benefits of the Pass. Once you're satisfied, you can continue to pay the monthly fee and enjoy food from your favorite restaurants. If you think DashPass is not for you, you can cancel the subscription before the free trial expires.
DashPass Through World or World Elite MasterCard
The company has recently partnered with MasterCard to extend its premium services for free to the users of MasterCard. The World MasterCard and WorldElite MasterCard holders can enjoy a free three-month subscription to DashPass.
DashPass Through Chase
The company has partnered with Chase to provide the DashPass for free to Chase members. If you signup for Freedom, Slate, or Sapphire branded credit card, you would get a free DashPass.
The holders of Chase Sapphire Preferred membership can have the DashPass subscription for up to 1 year. However, the offer can be extended to 24 months too. Freedom users of Chase get a three-month subscription to DoorDash.
Note: you must pay with the same card when ordering food to enjoy the benefits.
How Can DashPass Help You Save Money?
By getting your DashPass, you can save a lot on the delivery fee of your future orders. However, be sure that the DashPass doesn't cover the taxes, service charges, dasher tips, etc. The only cost that is reduced is the delivery fee. You can cancel the DoorDash subscription any time when you feel it is not your requirement anymore.
As mentioned above, there are some exclusive benefits associated with ownership of DashPass by the members. The most enticing feature is member-exclusive promotional bonuses. You can not expect magnificent discounts on your favorite food. However, it can include free eateries with your order from specific restaurants. Or you can get a discount on spending a specific amount, etc.
Final Verdict: Is DoorDash Subscription Worth It?
The subscription cost is considerably low, which is probably the most appealing point when considering to subscribe. We would recommend subscribing to DashPass to anyone who is ordering food from local restaurants every other day. It can be a cost-effective way of lowering your food delivery charges to a lower end. Besides, you can keep the subscription of the DashPass to enjoy the exciting promotions and bonuses.
However, the final verdict is to check the free-trial subscription before you start paying through your credit card for the subscription.