DashPass is fantastic, but it has some drawbacks and limitations. There are different methods you can use for cancelling it. You must be here to know how to cancel my DashPass subscription.
Here I have discussed 5 methods to unsubscribe DashPass step by step and the foremost reason why you should cancel it. Let us start!
What is a DashPass?
This subscription is offered by Doordash, and it is one of the best services for food delivery. You can connect with all nearby restaurants, check their menu list, and order your favorite food through this platform.
Moreover, they deliver food free of cost when placing an order worth $12 or more. You can transport goods and many other items from merchants to the customers.
It has spread its network all around the United States and in Canada also. In a short while, it will be available in other markets as well.
How much does DashPass Cost?
It is very affordable, and you have to pay only $9.99 per month. Once you have paid this fee, you will get your all food at the doorsteps.  You must get a free trial before purchasing a subscription.
Assess its all feature in the free trial and get a lot of benefits. Once your free trial ends, they will charge you. However, if you do not want to subscribe to its services, always cancel the subscription before the billing date.
Otherwise, they will charge you, and you can enjoy its benefits till the month ends.
Why should you Cancel your DashPass Subscription?
DashPass provides good services; however, if you are having some issues with it, you should cancel it as soon as possible.
Here is the list of all possible reasons to cancel the subscription.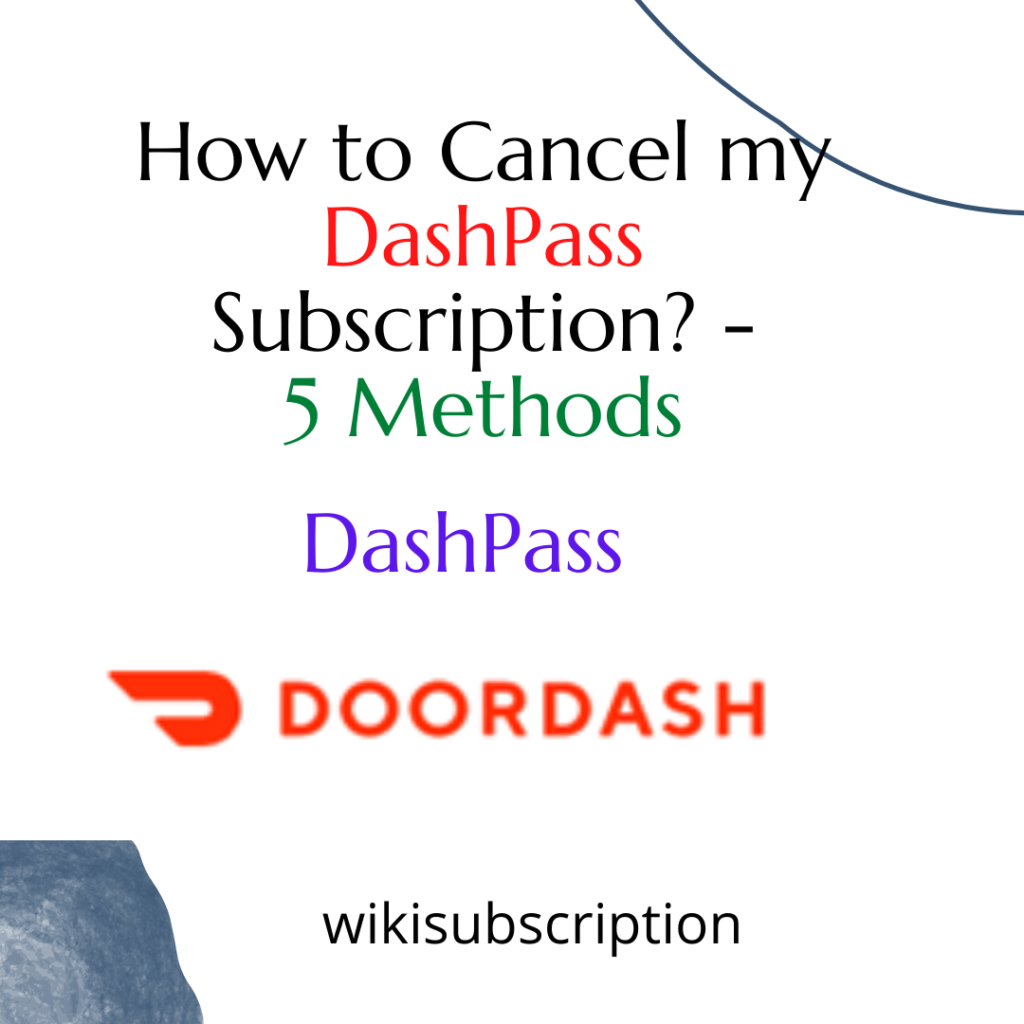 1.  The Location does not Match
If you live where DashPass does not deliver, obviously there is no need to pay for it. Thus it would help if you are looking for other services that deliver to your current area and have an affordable price.
2.  Restaurant Eligibility
DashPass have set some benchmarks for restaurants for delivering through their platform. They do not deliver food from a restaurant that does not fulfil their criterion.
Thus if your favourite hotels and cafes are not on DashPass, there is no need to get its subscription.
3.  Price
If your monthly delivery fee is $9.99, it would be merely a waste of money to get a subscription as you will be paying extra to them.
4.  Free Delivery
If you know restaurants that order food free of delivery charges and you like their food, why should you get a DashPass subscription? It is absurd!
5.  Order Qualification
You cannot get any order at footstep through DashPass. So if you think that the order you are going to place will not fulfil their criteria, it is better to cancel the DashPass subscription.
How to Cancel my DashPass Subscription?
There are many ways of cancelling a subscription. You can use any of them to cancel the subscription.
Using the website
By app
By phone call
With the help of an email
How to Cancel my DashPass Subscription Via the Website?
It is the easiest method for cancelling a subscription. So if you are a beginner and do not have enough information about mobile and computer functions, use this method.
Here is the step by step guideline
Login to your dash pass account.
Press the menu button
Now click on the DashPass subscription
Select end subscription
Now press the option of confirm.
How to Cancel my DashPass Subscription through the App?
If you have downloaded its app on your phone, you can cancel the subscription through the app. However, if you do not have an app, you can download it.
It is available on both android and iPhone.
Follow these steps to cancel the DashPass subscription
Open the app and log in with your dash pass account.
Open the account tab
Here you will see the option of managing DashPass. Click on it.
In the end, click on the end subscription option.
How to Cancel my DashPass Subscription Via Email?
If all the above methods feel hectic and you do not want to opt for them. Here is the simplest method. You do not have to do anything. Just send them an email at help@doordash.com.
However, always write professional emails and mention everything. They will not consider your request until you have answered their all questions.
Write your account details to clear your identity and request them to cancel the subscription. As soon as they receive your email after a few processes, your subscription will be cancelled. You may receive a confirmation message.
How to Cancel my DashPass Subscription via Phone Call?
Some people do not like even to write an email and think it is a long process. Such people should move towards the oldest method for cancelling the subscription.
You are provided with the numbers, and you can call them any time during working hours and ask them to cancel your subscription.
Here is their number (855) 973-1040. Dial it and have greetings. Then ask the representative to cancel the subscription.
Try DoNotpPay
It is time taking to visit different apps for cancelling their subscription. Moreover, some apps and websites are not user-friendly. It is time taking process for some people to understand each app.
DoNotPay is the best website for such people. You can cancel any subscription through this. Follow these steps to cancel DashPass subscription through it
Open the app in your web browser.
Search for the hidden money option, click on it.
Here we have to type the service name we want to cancel. Write DashPass here.
Now confirm the process, and within a few seconds, your subscription will be cancelled.
What if I have already Paid for the Month?
When you cancel the subscription between the month, your request will proceed, and they will not charge you anything when the next billing date comes.
However, you can benefit from their services for the current month.
Final Words
In short, there are 4 methods for cancelling the subscription. You can choose one method which you have found easy. Moreover, you cancel the payment through DoNotReply as well.
It does not deliver in all locations. Moreover, products and restaurants have to go through their benchmarks. That's why some people have to cancel it.
If you have any query feel free to ask in the below comment section. Thank you for your visit!