CarePass membership is the easiest paid membership program. Most of the people stay worried and ask many questions like how do I cancel my CarePass membership? If you are worried, this article will completely cover this topic.
Here we have discussed two methods step by step. Let us move towards them!
What Is CarePass?
It is a paid membership program run by CVS pharmacy. From this, members get a lot of in-store and online benefits like free 1 – to 2 – day shipping, free prescription delivery, availability of pharmacist helpline 24/7 in a small monthly fee of $5.
It gives customers more ways to access health-focused care and other products when they are looking for and looking for in just $5 monthly membership or yearly membership in just $48.
Moreover, it is the first loyalty and membership program that offers national pharmacy delivery on the eligible prescription.
What Is Included in a CarePass Membership?
As discussed above some benefits of CarePass, but here we are discussing some detail about Carepass membership. It provides many surprises perks & bonus offers to members available at critical times throughout the year.
This paid membership program includes many benefits; some of them are discussed here for your ease.
It offers you free 1 – to 2 – day delivery on many prescriptions and most cvs.com purchases with no minimum purchases required.
Full access to a 24/7 pharmacist helpline to speak about your health problem with a pharmacist who has secure access to the customer's prescription history with your CVS pharmacy. He can answer all questions about medication and also suggest other additional tools, services and resources.
There is a 20% discount on eligible CVs Health brand products, including over the counter medications, supplements, vitamins, and other personal care items online and in-store at CVS.com.
A CarePass promotional reward of monthly $10 can be used for many items online and in-store. This promotional reward is automatically added to the customer's ExtraCare card at the beginning of each month.
How Do I Cancel My CarePass Membership?
CVS comes with outstanding membership on a paid program, and it also allows its members to enjoy various online and other in-store benefits with free shipping of 1 to 2 days.
There are many other advantages, but sometimes you wish to cancel membership on CVS CarePass. You often do not have enough time to use it, or it may no longer seem beneficial to you.
Due to these reasons, we bring this guideline named "How do I cancel my CarePass membership" with methods available as members most easily and simply so that you can cancel membership.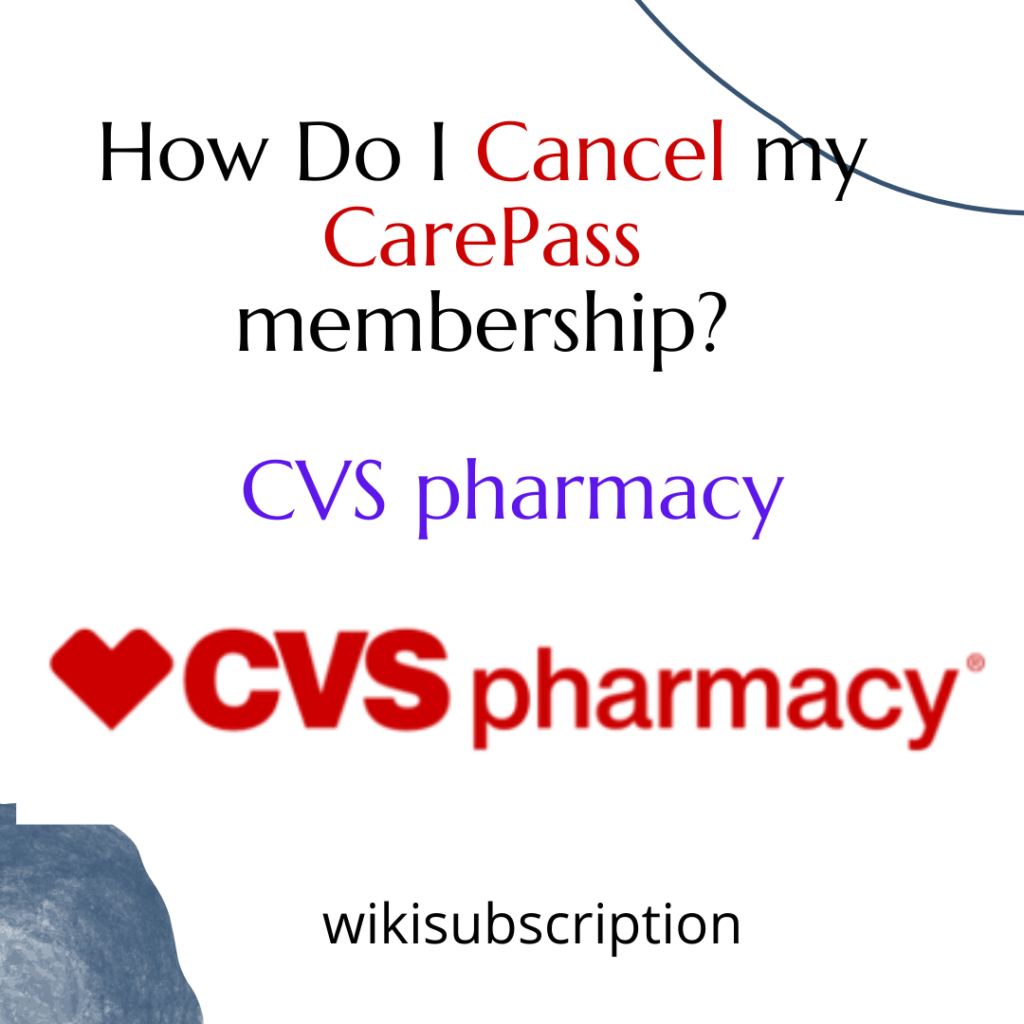 Steps to Cancel Carepass Membership
There are two usable methods to cancel CarePass membership, named as:
CVS CarePass cancel the plan over the phone.
Cancel CVS CarePass online via the website of the company
Let us learn about these methods in detail below:
1. How to Cancel CVS CarePass Plan Over the Phone
Suppose you are interested in to cancel the CVS CarePass membership plan via phone through the CVs CarePass phone number. In that case, this seems to be some time taking and needs some patience as this process is simple but a little complicated.
This is also named a traditional method for the cancellation of membership. Let us discuss steps to cancel CarePass CVS via phone:
First, you must dial the customer support number, calling upon CVS CarePass customer service phone number at 1-833-320-CARe.
CarePass CVS customer care support services are available on weekdays from Monday to Friday time 8 am to 11 pm, on weekends like Saturday and Sunday from 8: 30 mornings till 9:00 pm.
You have to show patience and hold for a while to receive a response from the agent.
When the agent gives you a response, you need to make a humble request for the CarePass CVS to cancel.
Now is the time to furnish information on your account as you need to provide complete information about your account if they ask for it. Therefore, you must keep your personal information and details ready so that you can give them the required details whenever they ask for any information.
In the end, you make sure to ask the agent about the confirmation email or number that would be proof of your successful cancellation.
2. How to Cancel CVS CarePass Online Via the Company's Website
It is the second method you can use to cancel CVS CarePass; it does not need any interaction and can cancel CVS membership manually through CVS.com CarePass cancel the plan.  For further detail, go down, read, and follow these steps:
First, you must go to the company's website. At first, move to the company's official website @www.cvs.com cancel the CarePass plan through your desired web browsing site.
Log in to the account with the required credentials like username and password etc.
Go to visit the page of plan cancellation
Now, select the "cancel" tab so that the subscription on your CVS CarePass membership gets cancelled successfully.
Cancellation of CVS CarePass Before the Date of Arrival
Before doing anything, you must note that requests for the cancellation of membership should be delivered 3 days ahead of the renewal date.
Why Do You Cancel CVS CarePass Membership?
One of the significant reasons to cancel is because some people do not see any value in it, or the benefits must be the same for quite some time, or they do not have time to use it as much as they used to. If you do not see any value in it, then it is not worth paying.
Therefore, they go for how do I cancel my CarePass membership and cancel their CVS CarePass plans.
What Happens After the Cancellation?
When you have canceled your CarePass account, this will be no longer active, or you will be no longer receive its benefits after the effective cancellation date. Always check your bank statement for unwanted CVs charges on the next billing date.
You cannot pause your CVS CarePass account. If you cancel your CVS CarePass membership, there is no need to sign up for another account. CVS does not issue a refund after canceling the CVS CarePass account if your payment method has already been charged.
Final Thoughts
CVS is one of the largest pharmacies in different states and has more than 10,000 locations around the country. To increase its value and expand offerings, they created a CVS CarePass plan for the customers with many benefits monthly or yearly.
If you have any questions related to how do I cancel my CarePass membership, you must read this article thoroughly.