How many devices you can access if you have subscript Crunchyroll premium? It is a common query of people as people look for ways to reduce the monthly cost of the subscription.
Crunchyroll has introduced monetarily benefiting features for its users. Here, we will discuss all plans of Crunchyroll, its working, device compatibility, and how to share access to its premium.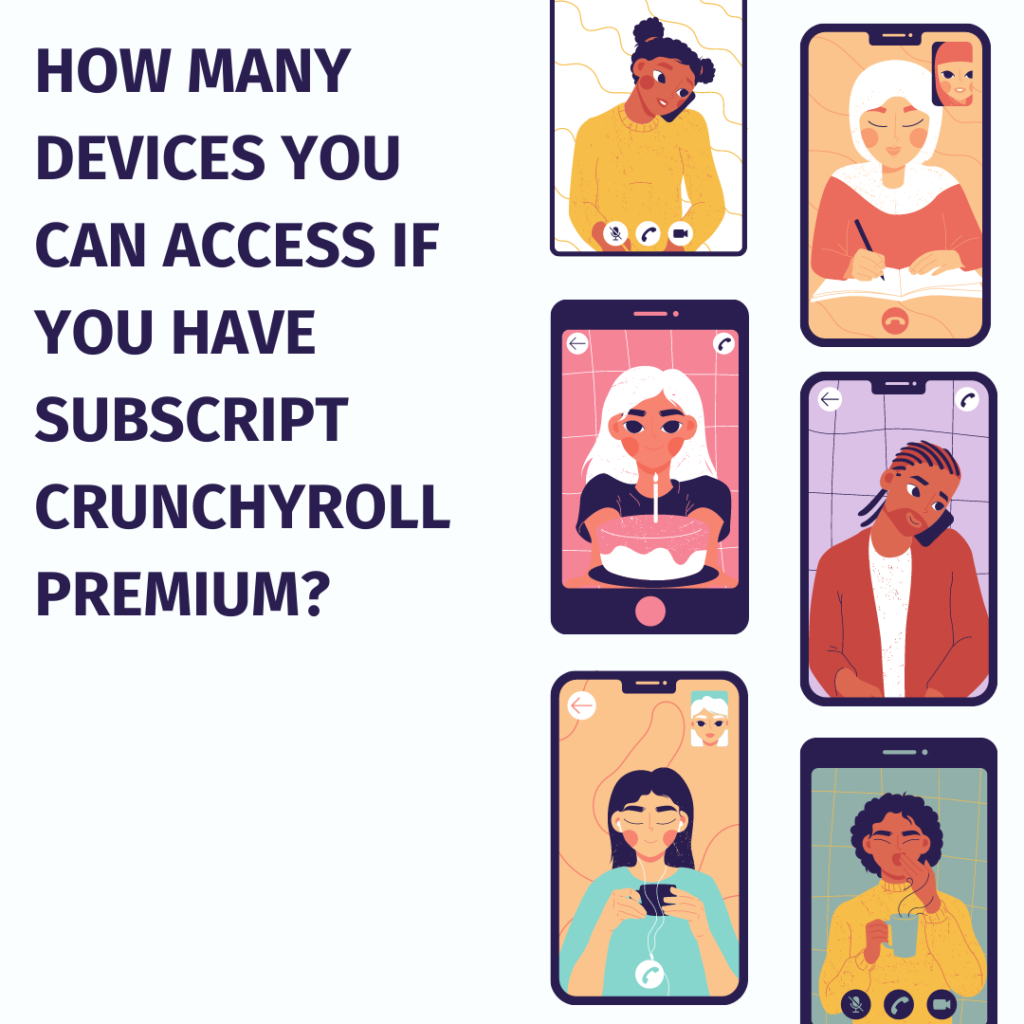 Let us start!
What is Crunchyroll?
Crunchyroll is a dedicated anime streaming service means it is entirely dedicated to anime TV shows. It is a popular and free service with an ad-supported option to stream without any cost.
And for anime fans, it is a niche service where you know what you are in for. It provides you paid premium options, too, with some payment if you want to ditch ads. There are many streaming sites, but Crunchyroll and Funimation provide huge anime libraries for the fan.
Crunchyroll is a little more expensive than Funimation but has an extensive collection of anime. You will get all the same access to Crunchyroll's more than 700 libraries of many popular shows like Demon Slayer, Attack on Titan, One Piece, and Dragon Ball super.
How does Crunchyroll Works?
You can make your account on any device like a mobile phone, tablet, and iPad and get access to its streaming services.
However, if you have a streaming device, for example, amazon fire tv, apple tv, or Chromecast, you can watch and get access to Crunchyroll on them as well.
It will benefit you very much if you watch streaming on different platforms, as you can switch from one platform to the other without facing any interruption. But you must not log out before moving to the other platform.
They offer free singing up, and you can watch inaccessible anime mode as much as you want. But the display quality is 720 p; moreover, there is a delay in streaming anime on it.
If you have premium, you can watch anime just after one hour of their streaming; however, you have to wait for 1 week to watch the show on the free plan.
However, if you are not a japan active, do not worry. Crunchyroll offers both dubbed and subbed content; thus, if you want to enjoy the actual voice of anime, turn to the subbed more and enjoy the anime with English subtitles.
Crunchyroll Device Compatibility
Crunchyroll is fully compatible with iOS, Android, and computers via most web browsers.
Moreover, it is also available on specific devices, for example, Apple TV & Chromecast applications, apps for Android TV devices, Xbox consoles, PlayStation, Sony, and Samsung smart TV.
Following are the most popular devices used with Crunchyroll.
iOS, Android smartphones, and tablets
computer via a web browser
PlayStation 4
Sony smart TV
LG Smart TV
Google Chromecast
Apple TV
How much does Crunchyroll Cost?
Crunchyroll has different paid plans, and a free version is also available. All plans have their prices and unique features. Let us discuss them in detail
1.  Free Version
You do not have anything for making an account on it. Just provide your information, for example, name, last name, and email account. After confirmation, you will get access to the count.
However, anime is streamed on it after 7 days when they are aired. Similarly, display quality is also not very high. Moreover, you cannot search for anime easily. Worst of all, there is a display of many add-in-free versions, which are very annoying.
2.  Fan
It is their first paid plan, and it costs $7.99 per month. You will love buying it as it will give you a good experience. There will be no ads in between the streaming to distract and disturb you.
Moreover, you can watch it just after one when it will on air. Best of all, they have improved the quality of searching for different anime.  When you buy its premium, you also get access to Crunchyroll's digital library of manga.
In short, you get access to many innovative features. Best of all, a fan subscription offers a very high-quality navigation system. You can find the anime by using general keywords.
3.  Mega fan
It costs $9.99 per month, and besides fan subscription features, there is a long list of other very beneficial features. How many devices you can access if you subscript Crunchyroll premium?
You get access to 4 devices. Thus, you share the account as well as the monthly charge with other participants.
These features have made it very affordable. Internet service is not available everywhere, so get a mega-fan subscription if you're about to visit a place where the internet connection is not stable.
Because no, you can download anime and watch them offline. Furthermore, if you want to buy merchandise at a discount, get a mega-fan and visit the Crunchyroll store.
Best of all, mega-fan subscribers get immediate access to the Crunchyroll expo.
4.  Ultimately fan
After signing up for the ultimate Fan tier, you will get a great package of features, including ad-free viewing, access to the Crunchyroll digital manga, access to the Crunchyroll library & simulcast titles, offline viewing, and access to 6 concurrent streams.
You will also get an annual ultimate Fan member swag bag, and members can also purchase exclusive merch and a unique benefit for Crunchyroll stores that provide you $25 off a purchase of $100 after every 3 months.
In case when you are all signed up and do not see new features yet, do not worry; updates will be rolling out soon to Crunchyroll iOS and Android apps this week. And all new benefits must be available to fans around the world in early September.
How many Devices you can Access if you have Subscript Crunchyroll Premium?
You can access 4 devices if you have subscript Crunchyroll premium. Following are the steps for accessing subscription Crunchyroll premium
You have to register and click on "become admin." If you have already purchased a family Crunchyroll subscription and want to make it available, you do not use the available account.
Form a Crunchyroll sharing group after indicating many people you want to share with. In addition, you can share a maximum of 3 accounts.
Once this group is created, each participant will send you their shares to take advantage of your subscription. As a result, you will get up to a maximum of $7.49 per month if you have shared 3 accounts.
Summary
How many devices you can access if you subscript Crunchyroll premium? In a mega-fun subscription, you can get streaming of 4 accounts. Thus, you can share it with 3 people.
You have to follow three steps to share it premium; first, become an admin of the group, add all participants, and then get payment from them. Its premium is worth buying as you have to pay less. Moreover, you enjoy ad-free streaming.
If you have any queries feel free to ask us in the below comment section. Thank you for your visit!