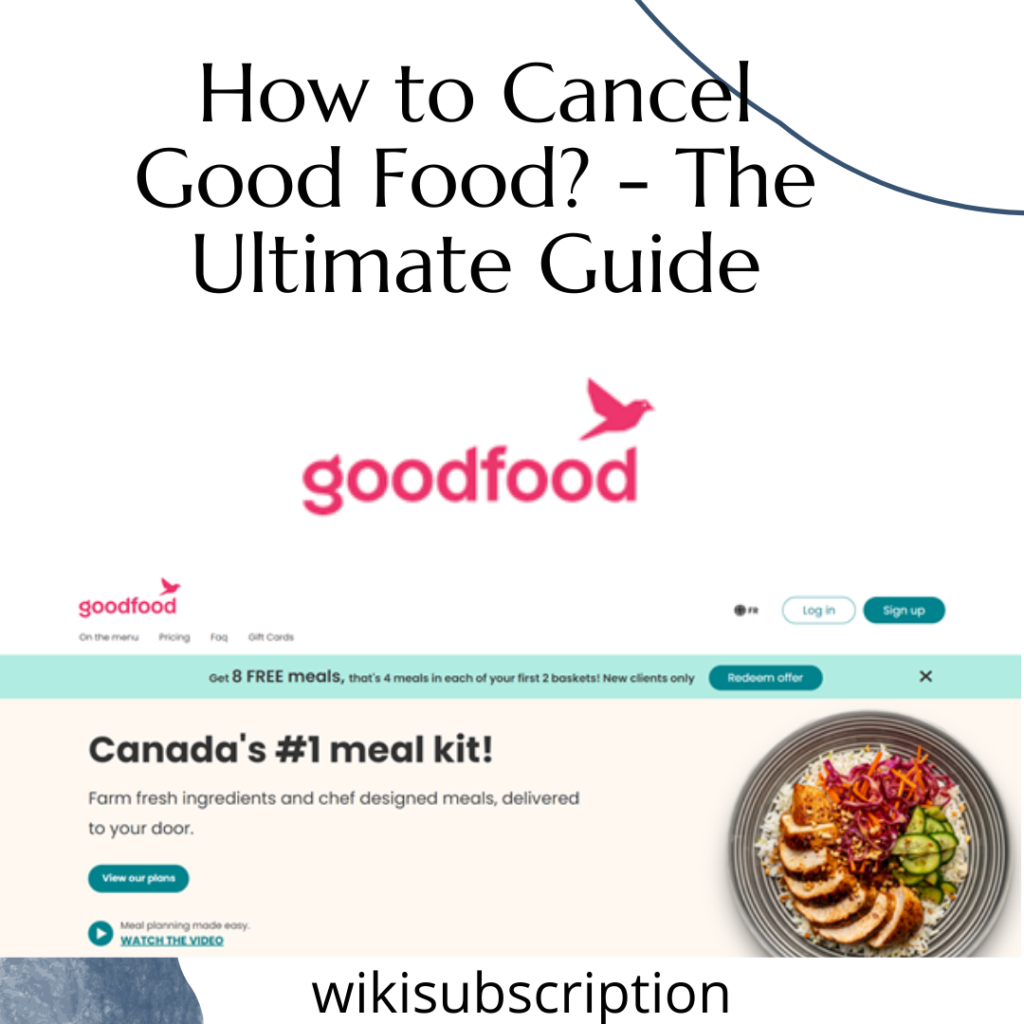 Good food has excellent meal plans, but you want to change your taste and look for how to cancel good food. It is not a long process as you can cancel the subscription within just 5 minutes.
Let us discuss the whole process
What is Good Food?
It is the best platform to order food for couples, families, vegetarians, and calorie watchers.  You can get them to deliver food to your home and office. However, if you want to change your taste for a week, you have the option of skipping a week.
Best of all, their packaging is reusable, and their prices are also affordable.
Good Food Plans and Meals
They have 5 main plans best them they have many customized plans. For example, if you take a low-carb diet, it is available. Similarly, you can get meals for vegetarians. Best of all, they have meals for kitchen beginners.
So if you do not know anything about cooking, you can take it and learn to cook delicious meals having simple recipes.
Good Food Classic Basket       
This meal kit is available for both vegetarian and non-vegetarians, and here you get different varieties of the meal. Some of them are easy, but some recipes take time. They provide your 4 recipes for preparing the meal of 2 or 4 persons per week.
You will get 4 servings, but you can get a customized number of meals. Best of all, recipes are kid-friendly. There is no need to worry as you will be getting a different dinner plan four 4 times per week.
Good food Easy-prep Breakfast
It is the best plan for beginners as all meals can be cooked quickly in a short time. Furthermore, you get you can order two or four servings of two, three, or four meals per week. Is not it amazing?
Good Food Clean 15(low-carb)
In this, you get meals that have low carbs, and you can cook them within 15 minutes. These include pork chops, grilled chicken, shrimp scampi, etc. if you have this, plan to order two or four servings of two, three, and four recipes per week.
Good food Vegetarian Basket
You get recipes that are based on vegetables, and there is almost no meat in them. You have to pay just $10 per serving. Moreover, you can order 3 meals for 2 to 4 persons per week
How to Cancel Good Food Subscription via Email?
It is the most straightforward process for canceling its subscription. Write an email and mention all your details in it so they can verify your account and request them to cancel your subscription.
Now send the email to thef@makegoodfood.ca; if you want to cancel your subscription, send them an email 2- 3 days before your scheduled food days. If you send them an email, they will still send you food.
How to Cancel Good Food Subscription via Call?
Do not want to write an email; here, I have an alternative. It is their number 1-855-515-5191. Call on it and ask the representative to cancel your subscription. If he is not attending, call try after some time as there can be a technical fault.
Always call them on working days and during working hours; otherwise, no one will respond to your call.
Goodfood Refund and Cancellation Policy
You have to notice a few days ago before cancellation. Suppose your food is scheduled on Monday, Tuesday, Wednesday, or Thursday. But now, you do not want to get this food, so you must notify them before Wednesday of your cancellation. Then you will get your money refund.
If you notify them late, they will not consider your cancelation, and your order will be delivered, and you are charged.
How to Cancel Good Food Subscription via Social Media?
In this modern era, there are different apps that you can use for canceling good food subscriptions.  Here is the link to Facebook and Instagram accounts of good food.
https://www.instagram.com/goodfoodca/
You can message them on any app, and they will reply within a few hours.
How to Confirm Good Food Cancellation?
The representative has asked you to cancel the subscription, but you want to confirm the cancellation, log in to your account, and check its status. Similarly must check your bank statement to know if there are any charges.
Why do People Cancel Good Food Subscriptions?
More than 95 % population of Canada uses good food, and people love their services; however, some people do not like to go with it. It can be due to multiple reasons, and some of them are discussed here.
At the start, people love it as they get ingredients they need to make a recipe at the doorsteps. However, over time, it does not make sense to them. As they miss doing groceries themselves thus, they cancel the subscription.
Similarly, most people get their subscription because they want to learn cooking as it is the easiest and quickest way of learning cooking. So once they learn how to cook food, they cancel the subscription and start cooking on their own.
How to Delete a Good Food Account?
If you are no longer interested in good food and want to delete the account. Here is the step by step guideline
login to your account
In the subject line, write request delete to account.
Now write an email and mention all the necessary details
It would be better to write the reasons due to which you want to delete your account.
Request them to remove your data and account
Send the email to chef@makegoodfood.ca.
They will start processing your account and verify your identity and cancel your account. You may receive a confirmation email.
FAQs
What happens if I am not at home and food gets delivered?
If you are not home, your order will be left at the doorstep; however, you can ask them to hand it over to your neighbors or deliver it to your office.
How quickly do I have to get my food in the kitchen?
Food is closed in low-temperature boxes, and you can place the food outside the fridge for 24 to 48 hours. You can get the food preserved for a week but must cook fish and kinds of seafood within three days.
Can I skip a week?
Yes, you can skip meals for a week. For this, open your account and find the skips a week page.
Is good food produced pre-washed?
They deliver unwashed food, so dirt and pesticides are attached to them. Please wash all vegetables thoroughly before using them. Otherwise, you can become a victim of infectious diseases.
To sum up
You can cancel good food through email, call, and social media. After completing the whole process must confirm your subscription. However, they have perfect meal plans and recipes, but still, people cancel their subscriptions.
Once people learn how to cook meals, they cancel their subscriptions. Notify them of cancellation a few days before your food scheduled day.
If you want to inquire about something, feel free to ask in the below comment section. Thank you for your visit!