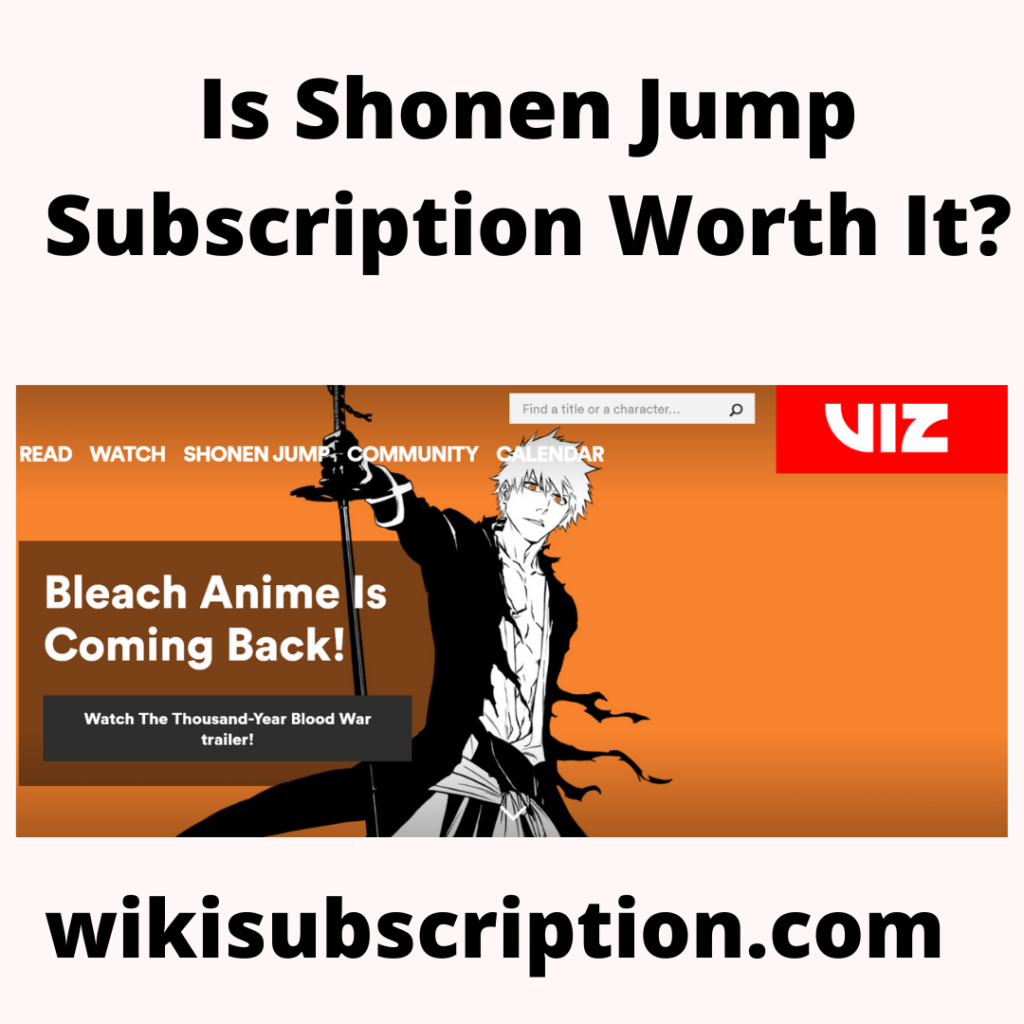 Manga, comics, and animes have been a favorite pastime for people of all ages. In the 90s and beyond, manga and anime used to be printed as comic books, magazines, etc. However, the digitization revolution has made comics and manga much more accessible without visiting stores to grab your favorite series. The race of digitization has brought so many options that it is hard to choose which one to go for.
Manga refers to the animes or comics that originated from Japanese culture. They're a favorite genre of comics in West. You might be confused about which manga magazine subscription to get and which magazines offer the best series. Or you might have crossed by the name of Shonen Jump but are confused about subscribing to the magazine. You might have questioned yourself, 'is Shonen Jump subscription worth it?'
If you're new to manga, comics, and animes and trying to find something that you can start from, even then, you're at the right place. Regardless of your experience with manga, you will get the right advice here. We will answer all the questions and doubts about the world-famous Shonen Jump subscription, who it is for, and if it is worth your money or not. So let's get into it.
What Is Shonen Jump?
As we have already discussed, Shonen Jump is something related to manga and anime comics. It is an online platform that makes it easy to read different manga series online. Shonen Jump or Weekly Shonen Jump is not something that has bud in the past year or five years before. Instead, it has been a popular manga anthology since 1968.
The hard-printed form of the manga magazine looked like a telephone book filled with different manga series and content. The classic series like Dragon Ball was also introduced by Shonen Jump. Therefore, it won't be wrong to say that the magazine is a manga and anime pioneer. It is not a name new to comics and anime fans around the world.
With the pace of digitization, the Shonen Jump also upgraded itself and started offering online content through its online interfaces. The magazine covers a wide array of genres from romanticism to sci-fi, drama to comedy, horror to fantasy, and superheroes to sports. The content is just unending, and you always have something new to read.
How Much Is Shonen Jump Subscription?
Unlike many online subscriptions and services, the pioneer Shonen Jump has kept its subscription very low. The theory behind the low cost of subscription encourages the readers to subscribe to the original content and keep them from falling to the pirated content of Shonen Jump.
They have just won the hearts of manga fans by offering a cheap subscription of only $1.99 per month. The subscription is just a treasure box that unlocks so many apps, websites, and Viz Media app features. You get unlimited access to all libraries having more than 10,000 chapters, an in-built document reader, and a lot more. Another enticing thing is that the company decided to publish Japanese and English versions simultaneously that is an absolute delight for the English readers.
How To Access Shonen Jump?
There are actually many ways to access the exclusive content of Shonen Jump. They offer multiple-platform access to the subscribers. Here are three ways to read the enticing manga series of your choice:
Shonen Jump App
Shonen Jump's dedicated app is the most convenient and best way to access unlimited content and series library. Shonen Jump app is available on Android as well as iOS, and it costs only $1.99 per month. The app allows you to download manga series and read them offline. You also have the option of buying a specific manga that makes it easy for you to decide about unsubscribing Shonen Jump in the future.
Shonen Jump Website
If you're not a big fan of mobile screen reading and enjoy reading on your desktop or laptop, you can access the Shonen Jump website of Viz Media website. It is free to browse the website, but you need a subscription for reading manga on the website. It works similar to the app, and you can download, purchase, or read the chapters of different manga series online and offline.
Viz Media App
Viz Media is the publishing company of Shonen Jump. Therefore, you can also access Shonen Jump content through the app of Viz Media. Although you will mostly be recommended to buy digital copies of non-Shonen Jump content, you can also read Shonen Jump content. It also costs you only $1.99 for the subscription of Shonen Jump material. However, the app is completely free to download.
Which Series Do You Get On Shonen Jump?
As a manga fan, you might question which series you get access to with Shonen Jump. Well, there are hundreds, in fact, thousands of series on Shonen Jump. Let's talk about the latest ones you get access to:
My Hero Academia
One Piece
Demon Slayer
The Promised Neverland
Jujutsu Kaisen
Dr. Stone
Chainsaw Man
Blue Exorcist
Boruto: Naruto Next Generation
Dragon Ball Super
RWBY: The Official Manga
Assassination Classroom
Hell's Paradise: Jigokuraku
We Never Learn
Hell Warden Higuma
Haikyu!!
Food Wars
Black Clover
ACT-AGE
Ne0;lation Hikaru no Go
Bleach
Death Note
Nisekoi
Rurouni Kenshin
D.Gray-man
Claymore
Rosario Vampire
Boys Over Flowers
World Trigger
Seraph of the End
Genkaku Picasso
And a lot more.
Who Is It For?
All manga and comics fans, irrespective of age, gender, and region, can enjoy the enticing and thrilling comics from different genres by subscribing to the affordable and best manga magazine, Shonen Jump.
Best Features Of Shonen Jump App
In most cases, you're reading the manga series and comics by utilizing your mobile screen. Therefore, it is kind of important to talk a little about the best features you get when you access Shonen Jump content through the dedicated app.
A Vast Range Of Content
Imagine yourself in a library having 10,000 chapters of different manga series and comics. The thought is indeed very thrilling if you're a die heart fan of comics and animes. Reading the manga series with the Shonen Jump app is similar to the experience of a library with thousands of anime options. You get unlimited access to all series and exclusive free access to the latest three chapters of any three series you love.
Convenient Document Reader
The document reader of the Shonen Jump app is very convenient. Why?
You can bookmark your favorite chapter, offline downloads, enjoy your content in landscape or portrait mode, and a lot more. Even you can get updates and notifications about the latest series and newly released chapters, reminding you of what you've to do on your weekend or in your free time.
In-Built Reading Is The Cherry On The Top  
The other best thing about the Shonen Jump app is that the document reader is not only effective but also in-built. You don't have to wander to find a document reader to read your manga series. Instead, you can read it within the interface of the app.
How To Get Started?
Why Shonen Jump Is Better Than Other Manga & Comics Apps
As a new subscriber or potential subscriber, you can question why I should choose Shonen Jump over any other manga magazine.
Before we discuss any of the best things about Shonen Jump, the pricing of the subscription is the deal maker. No other manga comic magazine offers you such a premium service for only $1.99 per month. Even if we talk about Marvel Comics, online content costs you $9.99 per month.  DC Universe is another comic service that costs around $7.99 per month. Therefore, Shonen Jump is far better than the other comics in terms of pricing.
Besides, you get the manga comics in Japanese and English versions, making them readable for all audiences. The manga series on Shonen Jump covers many genres, including romance, sports, fantasy, comedy, horror, drama, superheroes, and whatnot.
Final Verdict: Is Shonen Jump Subscription Worth It?
What is the final verdict about the legitimacy and worth of subscription?
Indeed, it is a great value for money deal in every aspect. You open the doors of unlimited hours of reading your favorite manga series on yourself. You get access to the latest three chapters of any of the three series you love. You have to pay only $1.99 per month to get access to a library of 10,000 manga chapters. Above all, you can download and purchase the manga series to read them offline and read them for a lifetime. Therefore, the answer to the question, 'is Shonen Jump subscription worth it?' is a big YES.