Unbreakable home security is essential because you can be one of the 271 cases out of 100,000 people who become burglary victims.
Using home security devices and systems has increased, resulting in decreased reporting of burglaries and break-in reports.
Whether you live in a city with high or low crime rates, keeping your home safety intact should be a priority for every homeowner and tenant.
Unfortunately, most home security solutions offered in the days were targeted at homeowners and businesses, requiring yearly, two-year, or five-year subscriptions. There was nothing to protect the renters and tenants.
Simplisafe introduced itself as a home security solution targeted to tenants, apartment owners, and renters who can't find an affordable security solution without obligations of yearly subscriptions.
The home security solution was developed by students of Harvard in 2006, but it was welcomed warmly in the home security solutions industry.
Simplisafe is considered a good home security solutions provider, along with long-time industry leaders like ADT, Vivint, etc.
Today's article will discuss the Simplisafe subscription, who it is for, and whether the home security solution subscription is worth it.
What Is Simplisafe?
Simplisafe is an America-based home security company having its headquarters in Boston, Massachusetts.
The company was founded by two students of Havard, Chad and Eleanor Laurens, to provide a solution for apartment owners and renters who can't find affordable security services. The company got financing of $57 million from Sequoia Capital in 2014.
Let's talk about the solution of Simplisafe. It is a complete home security system with company-made equipment, monitoring, and reporting system that allows homeowners to stay ahead of robbers and thieves.
Besides, the security system of Simplisafe also integrates well with different sensors, including flood, smoke, fire, etc.
How Does It Work?
When we talk about the working of the SimpliSafe security system, it's better to start with buying the equipment.
How and Where To Buy?
Unlike many home security solutions that only provide online buying services, SimpliSafe has the luxury of physically checking and buying the kit from stores like Costco, Best Buy, and Sam's Club.
However, you can also get the system ordered and shipped online.
When it comes to upfront costs and financing options, there are no financing options available as of now. You have to pay the total price of the equipment at the time of buying it.
How to Install SimpliSafe?
Among many other positives of SimpliSafe, the effortless installation process is also worth mentioning. You don't need any unique hacks to install SimpliSafe on your property.
SimpliSafe has a base station, wireless keypad, motion sensor, indoor camera, entry sensors, and yard signs and decals.
The base station looks similar to Amazon's Alexa and connects to WiFi or cellular data. Previously, it would just work with cellular data.
You can choose to have a self-monitored (unmonitored) or monitored subscription, which we will discuss in later sections.
To start with system installation, you will plug in the base station and power it on. Once you hear the voice 'Welcome to SimpliSafe' with blue light illuminating, you will have to connect the wireless keypad to the base station.
Once connected, create the Master PIN. The next step is to connect the device to your home's WiFi.
You are all set and need to mount your sensors and set the device name accordingly. Since it is a wireless keypad, you can keep it with you when mounting sensors and name each sensor according to its location.
You can also control your security system with the SimpliSafe mobile app. No matter if you are 100 meters or 100 km away from your property, you can always keep a check on your home.
Features Of Simplisafe App
The main features of the SimpliSafe app are as follows:
Arming/Disarming
It allows you to arm and disarm your security system remotely with the SimpliSafe app. Regardless of your subscribed plan, remote arming and disarming are possible with SimpliSafe home security solutions.
You can also choose from different arming modes like off, away with 24/7 professional monitoring, or at home.
Cloud Storage
You get unlimited cloud storage to access camera recordings and videos with a self-monitoring and interactive plan offered by Simplisafe.
Smart Voice Assistant
You can integrate your voice assistants like Alexa and Google Assistant with an interactive or self-monitoring plan from SimpliSafe.
Live Streaming
Regardless of which plan you subscribe to, you get live streaming of the security camera recording installed with the SimpliSafe security system.
Smart Platform Integrations
The mobile app of SimpliSafe also allows smart platform integrations in self-monitoring and Interactive plans. It includes Nest thermostats and August smart locks.
Subscription And Pricing
Let's talk a bit about the subscription and pricing of SimpliSafe. Here are the different subscription plans available to homeowners:
Monitoring Plans
When choosing the monitoring plan of SimpliSafe, here are the options you get:
Unmonitored
The unmonitored plan doesn't cost you anything every month. Once you have bought the SimpliSafe equipment for your residential property, you must track the system.
You can adjust and change their device settings, check the 7-day history of your security system, and lock/unlock the intelligent lock, if any.
Self-Monitoring With Camera Recording
The second plan is a self-monitoring plan with a camera recording. The subscribers must pay a monthly fee of $9.99 and get access to the security camera's live feed via the SimpliSafe app.
When it comes to tracking, you will have to track your system on your own.
Other perks of the plan include 30-day access to your security camera recordings, downloading the recordings, and manually recording the camera footage from a live feed.
Standard Monitoring
Standard monitoring subscriptions include 24/7 monitoring for fire, medical response, and burglary.
In case of any trigger, you get fire dispatch, medical response dispatch, and police dispatch with a Standard monitoring plan. The cost of this subscription is $17.99 per month.
The standard monitoring system also allows you to detect any water leaks, receive live security video updates, and remote control your security system with the SimpliSafe app.
Interactive Monitoring
Interactive monitoring is a high-end subscription requiring subscribers to pay $27.99 per month. The monitoring subscription gives you access to intelligent person detection services, secret phone alerts, integration of your security system with Smart Voice Assistant, camera subscription, and priority police dispatch in case of a burglary alarm.
Home Security Plans
SimpliSafe also offers complete Home Security Plans where you can get the equipment and monthly subscription cost depending on your home size and security needs. These plans include the following:
The Beacon
The Lighthouse
The Haven
The Knox
The Hearth
The Essentials
The Foundation
Pros And Cons
If we conclude the pros and cons of SimpliSafe Home Security System and subscription plans, here are the key points:
Pros
The DIY system doesn't require you to call technicians and engineers
There is no obligation of long-term commitment to the company
The upfront costs+subscription costs are lower than other solutions in the market
It comes with a 60-day money-back guarantee
The SimpliSafe equipment comes with a warranty of 3 years
Customizable home security solutions with different sensors and cameras
Integration with smart home assistants and intelligent platforms
Cons
The working of the system gets affected at low temperatures. Therefore, make sure to know the ins and outs when installing in an area with low temperatures.
The performance of indoor cameras is not impressive
The Home security system doesn't integrate with Apple Homekit
No touchscreen panel
The sensor size is more extensive and can be difficult to hide
Is Simplisafe Subscription Worth It?
If we have to give a short answer to this question, it is 100% yes.
You can trust the subscription to SimpliSafe as it is the most affordable compared to other options available in the American market.
However, consider the pros and cons of the SimpliSafe, so you know what to expect from the home security solution.
Does Simplisafe Have a Monthly Fee?
Yes, SimpliSafe does have a monthly fee associated with its home security systems.
Depending on your chosen features, different plans are available, ranging from $9.99 to $27.99 a month.
The base plan starts at $15 per month and includes 24/7 professional monitoring with police, fire, and medical emergency response.
This plan also gives you access to mobile control of your system, which allows you to arm or disarm your alarm remotely using a smartphone or computer.
The more expensive plans offer additional features such as doorbell and camera surveillance, remote automation of lights, locks and thermostats, text alerts, and more.
All SimpliSafe plans come with no long-term contracts or commitment fees. So while there is an upfront equipment cost when purchasing SimpliSafe's equipment, the total cost of ownership is much lower than other home security companies, which require ongoing contract fees.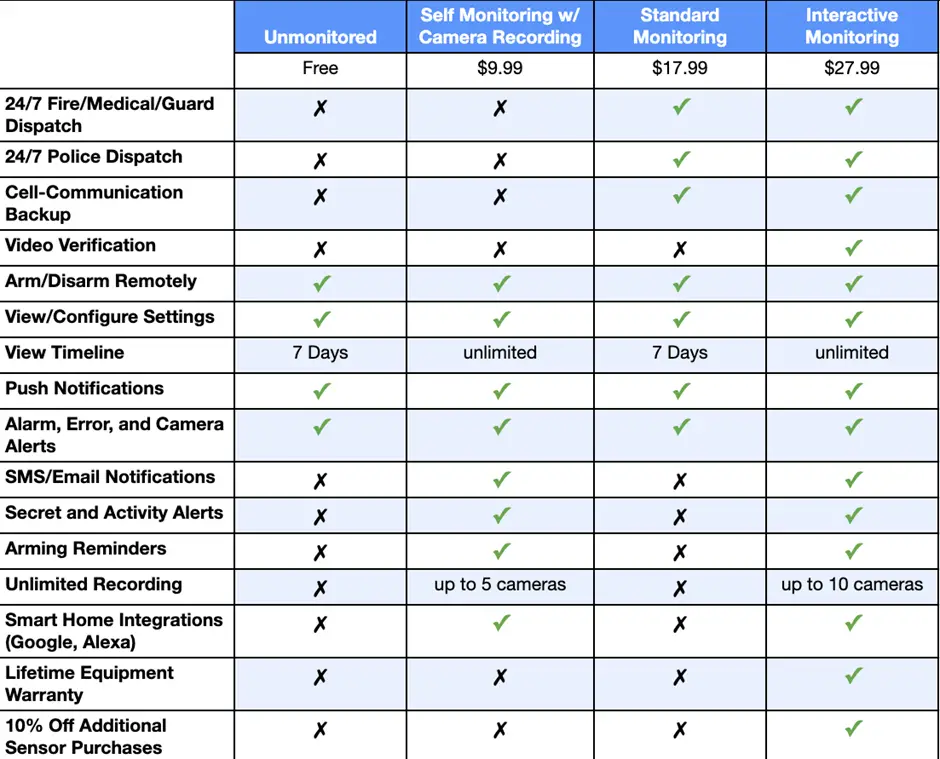 Does Simplisafe Work Without Subscription?
Regarding home security systems, Simplisafe is one of the best. It's an affordable DIY solution that you can install and use without a subscription or monthly fees.
Plus, it comes with pre-programmed settings, so you don't have to spend time setting it up yourself – everything is ready to go right out of the box.
With Simplisafe, you get a reliable home security system that works even without a subscription plan.
All your features will still be available and fully functional at no extra cost. The system also offers additional features like motion sensors, smoke detectors, sirens, and more which you can add as needed.
So if you're looking for a straightforward and cost-effective way to protect your home from intruders or other dangers, then Simplisafe is worth considering.
With no subscription fee or hidden costs, this security system gives you peace of mind without breaking the bank.
Detail SimpliSafe Vs. Ring: Which Is Best For You?
Regarding home security, two of the top brands are SimpliSafe and Ring. Both offer a range of features to keep your home safe and secure.
While both provide quality products and services, some differences may make one better for you than the other.
In terms of design, SimpliSafe offers a comprehensive system of sensors, sirens, keypads, and cameras connected wirelessly through a central hub.
The easy-to-install components come in various sizes and are aesthetically pleasing and highly functional.
On the other hand, Ring has focused more heavily on its video doorbells than its security packages.
Their CCTV systems have similar features to SimpliSafe, with cameras, motion detectors, and sirens featured prominently in all packages. However, Ring does not have a wide range of sensors available, nor does it integrate seamlessly with its smart devices, such as doorbells.
SimpliSafe is ideal for homeowners looking for comprehensive protection with low-tech installation requirements.
Ring's security system packages can be attractive if video surveillance plus facial recognition technology is more important than coverage by multiple types of sensors.
Customer service is also worth considering when choosing a home security package. SimpliSafe has been praised for its customer service reps, who are often helpful and quick to respond, while Ring's customer service reviews can sometimes be spotty depending on which customer you ask.
Ultimately when deciding between Simplisafe or Ring, the best thing you can do is consult with a professional who can take into account your individual needs and help you figure out which system would be best suited to keeping your home safe.
Will Simplisafe Work Without Monitoring?
SimpliSafe is a home security system that protects customers against intruders and other threats.
In most cases, SimpliSafe will require monitoring to be effective. However, the system can work without monitoring services.
Without monitoring services, the SimpliSafe system will still protect against intrusion.
The sensors will still detect when someone has entered the house, and an alarm will sound if needed. Additionally, SimpliSafe's motion detectors will still be active in detecting movement inside the home.
The main difference without monitoring services is that there won't be anyone on call to contact emergency services if there's an issue.
This means that response time would be delayed if there was a break-in or another emergency.
Another downside of using a SimpliSafe system without monitoring services is that customers won't have access to remote features or mobile apps to control the system from their phones or tablets.
This could make responding to notifications more difficult as users couldn't quickly arm or disarm the system from their phones or tablets.
Customers may get some level of protection from SimpliSafe without monitoring services. Still, they should understand that this type of setup comes with certain compromises and limitations compared to having a monitored service.
Top 10 Alternatives to Simplisafe Subscription:
Vivint Smart Home: Vivint Smart Home offers a wide range of home security products, including home cameras, alarms, and door locks. They also offer 24/7 professional monitoring services for customers who want added protection.
Frontpoint: Frontpoint has been providing innovative home security solutions for over ten years. Their packages include sensors, doorbell cameras, and more, with their technicians' choices for DIY or professional installation.
ADT Security Systems: ADT is one of the industry's oldest and most established names. It provides a comprehensive suite of intelligent home security systems that can be monitored from an app on your phone or through its customer care line.
Ring Alarm: Ring Alarm is a relatively new home security solution that easily secures your entire house with just one system. It comes with motion detectors, a siren, contact sensors, and all the pieces you need to protect multiple entrances into your home.
Xfinity Home Security: Comcast's Internet service offers Xfinity Home Security. If you already have their services, getting this added protection layer will be simple and seamlessly integrated into your existing setup.
Abode: Ease-of-use combined with advanced features make Abode one of the top choices for innovative home security systems today. The company offers an intuitive app and accessories like door/window sensors, key fobs, smoke detectors, etc., to ensure top-quality protection for your space.
Scout Alarm: Scout Alarm allows users to monitor their homes from anywhere by using WiFi or cellular connection to access real-time notifications sent directly to their smartphones or tablets in case any unusual activities are detected at home while they are away.
Brinks Home Security: BrinksHome Security is another well-known option when it comes to SimpliSafe alternatives due to its expansive coverage areas, mainly found in larger cities across North America, as well as its wide range of different home automation features such as live video monitoring, lighting control and remote lock control which can all be accessed remotely via mobile apps available for both iPhones/ iPads/ Android devices, etc.
Protect America: With Protect America, you get great value packages without compromising on quality – excellent customer service & 24/7 monitoring come standard no matter what package you choose.
Link Interactive: Link Interactive offers affordable yet comprehensive home security packages featuring state-of-the-art equipment such as motion sensors & alarm sirens complemented by interactive services like remote arm/disarm & text message alerts, meaning total peace of mind anytime from anywhere.