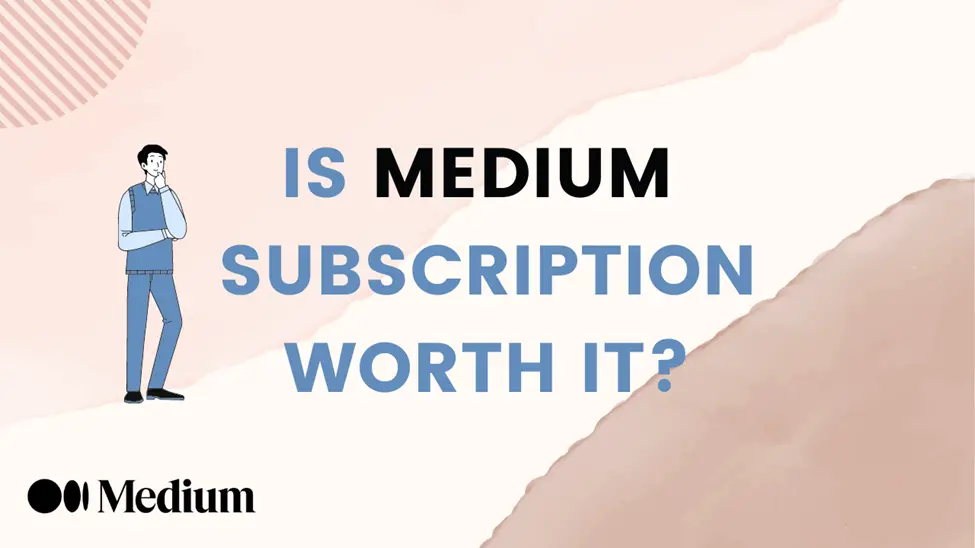 Medium is a great platform to spend your time reading quality material or publishing your stories with the world. Yet, there are two versions you can take advantage of free and premium. The latter, of course, comes with a fee which makes most users wonder if a Medium subscription is worth it or not.
So, today, we will explore the answer to whether or not you should become a Medium member. First, we'll see how a Medium subscription works, including the cost and benefits it offers. We'll go through the pros and cons and if Medium membership is worth it for writers and readers. And at the end, you'll also find how you can become a member.
So, without further ado, let's dive deep in!
How Much Does a Medium Subscription Cost?
Medium offers its audience two subscription modes: monthly and yearly. The monthly premium price costs $5 (which becomes nearly 3.74 Pound sterling), while Medium would charge $50 (£37.38) if you subscribe for a year. On the fair side, $50 per year saves you $10, which, otherwise, would be charged if you pay $5 every individual month.
To simply state:
Medium Subscription (monthly): $5 per month
Medium Subscription (yearly): $50 per year
What Benefits Do You Get With A Medium Subscription?
The first privilege exclusive only to Medium members is unlimited access to all the stories and articles on Medium, even those who come under the category of Premium.
To say, Medium has two types of posts/stories: free ones and the others behind the paywall. The term "paywall" refers to the locked space where stories are accessible but for a fee. Writers can put their articles behind the paywall if they don't want them to be accessed for free. And by subscribing to the Medium subscription, you get the advantage of reading any story on Medium. 
Also, the premium content is available for free but has a limit of three articles per month. Meaning, if you choose not to upgrade your basic account, you'll get access to read any of the three premium articles for free in one month. The subscription lifts this limit, and you can read all the stories marked with a star icon (premium).
Another benefit Medium subscription gives you is the ad-free experience. Since reading requires concentration, any pop-up ad just ruins your focus in the middle of a story. Also, it disturbs the whole format of the article and interrupts it again and again.
However, you can finally indulge fully in reading stories from your favorite authors without facing distraction, thanks to the ad-free feature a Medium subscription offers.
Reading is a sacred hobby, and so does writing. When the words connect a writer and reader, you may feel closer to an author for their quality content. And Medium offers you an opportunity to financially support your favorite writers by becoming a member as a part of your subscription charges are transferred to the writers.
Medium Membership Program Pros & Cons
The answer to "is medium subscription worth it" is difficult to lay down in a particular statement unless both the privileges and downsides of using the platform are thoroughly discussed. The framed criteria apply differently to every individual according to their needs, but, at the same time, it is also better to explore the pros and cons of medium subscription to analyze for yourself.
And thus, here we go!
Pros of Medium Subscription
1.   You Get To Opt The Exact Medium Style
Writing one Medium doesn't mean just putting up words together and publishing them on the platform. Like all the other social media and journalism platforms, Medium has a specific style, and readers who spend more time here get used to its writing style as well.
If you want to thrive on Medium as a writer, you'd have to write the way readers are interested. It requires lots of reading as the more you read, your writing style would adapt to the required "Medium Style." And since a Medium subscription would give you the leverage to read any article you want, it can be worth it. 
2.   You Can Earn A Decent Amount
Medium is one of the highest-paying platforms for writers, and though you can do well without a subscription, investing in the platform increases your chances of getting discovered. It also puts a plus on your credibility and content, not forgetting the positive response it'll leave on your readers.
Every week, thousands of writers publish their content, and having your work outstanding in the crowd is easier when you are a Medium member. It doesn't seem a bad idea to invest as little as $5 per month and get way more than that in return.
On a further note, you can also consider buying the subscription as a way to market yourself. Unlike the other platforms (Facebook/Instagram), it offers a better strategy for having your website where you'd be spending more than $5 to reach other people.
3.   You Can Get Access To The Deep Back Catalog
In case you are wondering, Medium has an abundance of articles, even from years ago. If you like the writing style or content of a particular writer who has been writing for years, you can read it all with a Medium subscription.
Medium's deep back catalog also contains articles that are highly valuable but have been pushed back. For subject-related research or simply wanting to get more information on a topic, being a Medium member can give you access to all the premium articles it has.
4.   You Get Ad-Free Access to All Medium Content
Reading is not just a hobby; it's a mindset, and the most annoying thing that can happen while reading a blog on Medium is a pop-up ad. As mentioned earlier, you can enjoy an interruption-free Medium experience by paying $5 a month, which is excellent since you can scroll with no accidental taps on the unnecessary ads.
Moreover, you get to view the blog/article written in the exact format by the writer without any ads causing distraction in between.
5.   You Can Support Your Favorite Writers
If you feel like loving a writer's content, it is fair that you gift them something for their efforts and time they put in writing it. And for that, the Medium subscription program is a simple yet excellent way to support your favorite writers as a portion of every article you clap generates money for the author.
Cons of Medium Subscription
Medium is indeed a great place to start a blog or quench your thirst for reading, and the membership program gives more of that. However, there are also some downsides that you should know before you consider purchasing the Medium subscription, such as:
1.   Subscription Means Commitment…
When you join the membership program, it also means you must be fair to what you are paying. It increases the responsibility, and you may feel the burden of reading more just because you are investing your amount.
Similarly, if you have become a member to get more inspiration for your writing, you can lose focus if you force yourself into reading and writing blogs. A subscription can feel like a commitment you must fulfill if you don't want to waste your money, but spending can feel like a waste if you fail to utilize the membership features.
2.   You Are Still Earning The Same Way
A Medium Subscription lets the readers access all the content, but if you plan on adopting it as a way to earn some money, you still have limited options. Traditional advertising means and sponsorships aren't allowed, which means you can only earn through the basic way. Yet on the positive side, you can write better than your non-member competitors by accessing and learning from the content they cannot read.
3.   Full Access Doesn't Mean Quality Content 
Getting access to everything doesn't mean everything you'd read will be of the same quality. Earlier, you could read only three premium articles per month, and you wouldn't just waste those three content options unless required.
Yet when you get full access, you will find that the premium Medium works just the same way: there are both good and bad writers. It's frequently like looking for a needle in a haystack, with low writing quality and mere commentaries disguising as credible information.
Now that you've read all the cons, you should also note that they aren't really negative as long as you keep doing what you paid for, make better content, and not just read, but read wisely.
Is Medium Subscription Worth it for Readers?
Becoming a member on Medium as a reader can give you a lot, and as stated above, unless you don't benefit from full access, it is always worth it to subscribe.
The best thing about Medium is that it doesn't pay its writer for a number of views but for how much "time" the readers have spent reading the content. On one side, if it encourages writers to come up with better content, you, as a reader, also get the chance to learn from someone's experience.
Also, writers put their stories and content behind the paywall because it contains something that others cannot offer. Thus, you can get more knowledge and read about any topic from real-life experiences.
If you are concerned about the inconsistent quality content, you should remember that you can always follow your favorite authors to read your preferred content.
Lastly, Medium's deep catalog is always an excellent place to find solid facts and different perspectives for your research paper or essay if you are a student. And even if you just want to read content to gain knowledge, you can save yourself from getting interrupted by pop-up ads again and again by signing up for an ad-free Medium version.
Is Medium Subscription Worth it for Writers?
A Medium subscription gives readers ad-free access to all the content, but for writers, the choice of whether or not they should become a member is a bit hard to make. You can earn money both with and without the subscription, yet the focus here is not on writing but reading.
If your long-term goal is to earn a decent amount and make your content exceptional in the market, you have to know what your competitors are offering. Yet you cannot access and analyze everything unless you have premium subscriptions because writers often put their best content behind the paywall.
On another note, it may not be an excellent idea to invest without getting more or at least the same in return. Newbie writers can feel pressured if their content isn't making the expected revenue even after becoming a member.
So, the simple answer to whether or not you should consider investing in a Medium subscription is first to try all the free resources as best as you can. And when your blog starts to pay you back a little, you can consider upgrading your account and get inspiration from the premium content (and, by the way, you don't have to pay a single penny to join the Medium Partner Program).
An unpopular perspective for writers to become Medium members is that you can help others as a portion of the reader's subscription amount goes directly to the writers. While you are getting inspiration from others for your writing, you can also contribute to the overall community by paying as little as $5 per month. Yet still, it's all up to the writer's choice.
So, in a nutshell, the Medium subscription for writers is indeed worth it as you can stay updated with top trends, find what the audience truly wants, and stay alert of your competitors. At the same time, you can write better content by reading quality content from skilled and proficient writers. However, it is also essential to know when to subscribe as you don't want to bribe your writing skills for an additional payment.
How to Become a Medium Member?
You can sign up for the Medium membership program from both your laptop and phone; here is how if you have a:
●     Laptop
Follow these steps:
Go to Medium.com
Log in to your account
In the top bar, click on "Membership"
Click on  "Get Unlimited Access"
Now, you have to select your membership plan ($5 per month or $50 per year)
Once you choose the payment method, select the payment mode (credit card or Paypal)
For credit card, enter the details and click on "Start My Membership"
For Paypal, click on "Paypal Checkout" to become a Paypal member.
●     Phone
Whether you have an Android or iOS, the process will be the same; just follow these steps:
Open the Medium app
On the bottom bar, tap on your profile picture
In the top-right corner, find the three-dot button and tap on it
Go to "Settings"
Open "Account"
Select "Become A Member"
Select your membership plan ($5 per month or $50 per year)
Select your payment method: credit card or Paypal
Enter details; Click "Confirm"
You can cancel your Medium membership anytime from the "Settings" page on the web using a laptop. Or, if you have a phone, you can cancel the subscription from the Medium app on iOS/Android.
Also, canceling a membership plan doesn't instantly lose access to all the privileges until the billing cycle ends. It means canceling the subscription in the middle of the month won't take away the access to premium, ad-free content until the month's end.
It is also important to note that you may face problems initiating a recurring subscription because of the banking restrictions. An easy solution is to gift yourself a Medium membership card (costs $50) which functions similarly to a standard yearly subscription. Note that it is a one-time payment and not a recurring one yet allows you to purchase gift cards if recurring payments aren't supported by your credit or debit card.
Wrapping Up
Hopefully, now you know how to judge for yourself whether or not a Medium membership would be best for you. At the bottom, a Medium subscription is worth it for both writers and readers as you are getting ad-free, unlimited access to all the stories and articles.
If you are a writer, you can also explore other people's premium content, polish your skills and give your audience even better content than before. However, it is recommended first to use the free Medium and apply to the membership program when your blog begins to pay you off.
A Medium subscription can also benefit students since you can write a well-researched essay by accessing the quality content behind the paywall. As Medium is full of articles on every niche, it is always excellent to increase your knowledge and become proficient in your field.
Readers can also support their favorite authors by becoming a member, as some portion of your subscription fees will be paid directly to the authors. It is an excellent way to contribute to the community while gifting the writers you admire some reward for their efforts!