For business news, you have different options and before any subscription, make sure their content has high quality. Is the Economic Times subscription worth it or you should go for another source?
It is a commonly asked question as people want to invest their money in a good place and make sure they will benefit in return.
Here I have discussed all features of ET prime the premium version of Economic Times to help you know its value.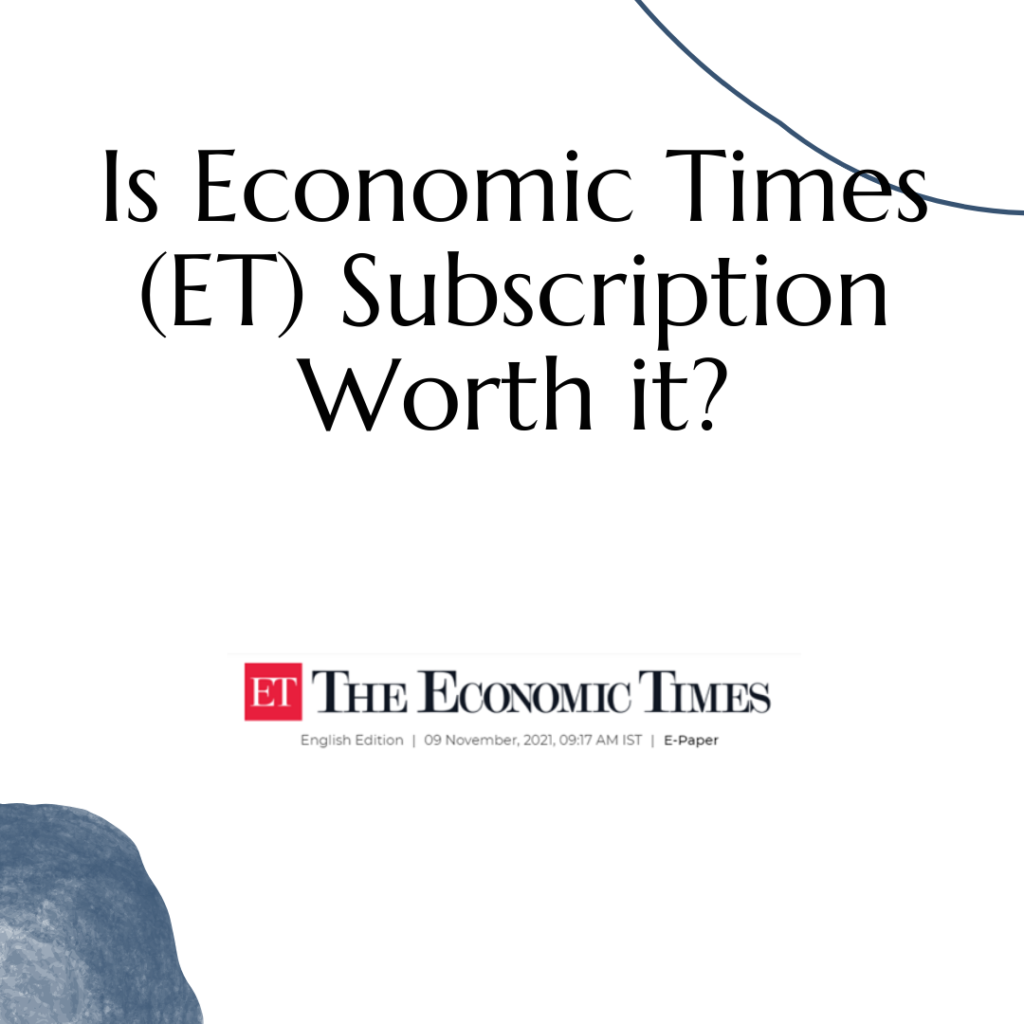 Let us start!
What is Economic Times?
The Times Group runs it. It is the most famous and prominent business newspaper in India moreover it is trusted worldwide. Thus content is thoroughly approved before publishing.
The new paper started in 1961; in 2012, it was the second widely read English new paper. Thus you can guess from this information, is Economic Times subscription worth it.
What are the Features of Economic Times Subscription?
Many innovative features are only for Economic Times premium holders. Let us discuss all fascinating features that you will be able to enjoy after ET prime one by one
1. Locking of Content Inventory
They have introduced two packages. The first one is quarterly, in which you get access to 150 articles. Moreover, you will have access for the quarter only if you have a quarter membership.
Which include the current month and last 2 months, and upcoming 2 months. It is a strange feature, but it has a large number of benefits. The most significant benefit is that things will not pile up.
Moreover, you will not waste your time reading and analyzing the same articles that may not have any purpose of reading in the current scenario. In short, you do not waste time reading past articles.
Their other package is annual, and in it, there is no restriction on articles. You have access to unlimited articles. Thus if you are researching a project or a topic, this annual package is best for you.
You will have access to the articles for a year. Thus you can read them thoroughly again and again. Moreover, you can move back to previous articles when something is confusing you.
2. Gift Articles
It is a very innovative and beneficial feature. You can share up to 5 articles of Economic Times with your friends who do not have its premium subscription.
Suppose you are working with someone on a project, but your partner has no premium subscription. But you want him to see that article, then use this feature.
Share that article as a gift to your friends. They have introduced this feature for their marketing. A person can read the premium article without paying anything. After reading a few articles, he will most probably get premium to read further.
Now there will be no such question in your mind is the Economic Times subscription worth it.
This feature is worth praising because we have to give your account and email in other cases. Thus the other person has full access to your account and personal detail.
But gifting articles has limited the number of articles. You can share only 5 articles. Thus you can maintain your privacy and make other people read that particular article.
3. Cannot Print the Complete Article
If you post articles in Economic Times, there is no need to worry that your content will be copied as nobody can print the whole article from it. People save it as pdf then print it, but it always opens in the form of a preview.
Moreover, some people save the article offline in HTML form, then print it out. Still, they fail to download the whole article.
Furthermore, you cannot copy/paste the content, and keys do not work as well. They have disabled the right-click.
4. Cross-Selling
If you want to cross-sell and represent your other products as a sample, buy Economic Times less add and premium versions.  With it, you can invite people to buy your products.
5. Content
The content of Economic Times is excellent and has high quality. You will never have to compromise on content quality on Economic Times.
It is the best news platform for people who love to study business profoundly and analyze different factors. Are you still in doubt is Economic Times subscription worth it.
Is Economic Times Subscription Worth it?
You must buy ET prime if you are very enthusiastic about business news and do analysis and a lot of research. Economic Times' premium version has many features that are worth praising.
First of all, their content is extraordinary, and you get a lot of information from it. Secondly, you can share important pieces of information with your friends by gifting articles. In short, it is the hub of knowledge, and you get a chance to read one topic from different aspects.
Moreover, you can do cross-selling on ET prime and invite customers to you. Subscribe to its less add version and premium for cross-selling. Is not it a simple criterion?
You will never find their content on other websites because you cannot print their complete article; moreover, they have disabled the function of copy/paste. So must buy its premium.
For further satisfaction, you can read their 5 articles you will be given free of cost and from their quality assess whether you need it or not.
What is the Cost of ET Prime Membership?
It does not matter in which region you live, and you can get ET Prime subscription for USD 99 only. It is mandatory for international customers to email first at care@etprime.com.
How to Get ET Premium Membership?
Follow these steps to get ET premium membership
Generate your ET Prime coupon code.
Select 'TAKE ME TO ET PRIME'
They will redirect you to a unique link with your coupon code pre-applied once.
 Click on 'Take me to ET Prime.'
Login/Register.
Is ET a Good Newspaper?
It is Indian largest English based business newspaper and is highly recommended to people who love to study business, surveys, and analysis
Final Words
From the above-discussed features, it is clear that the Economic Times subscription is worth it. You will get a golden chance to read their high-quality content and use it for further business analysis and research.
Moreover, you can give access to 5 articles to your friends, and best of all, its subscription is affordable.
Thus must buy its premium, and if you still have any queries about is Economic Times subscription worth it, feel free to contact us in the below comment section.
Thank you for your visit!