The education industry is the most affected sector in the pandemic lockdowns across the world. Whether primary and secondary education or higher education, the students had to lose their academic progress due to breaks in the education continuity.
Every student and child has the right to get the best education possible. Therefore, many online platforms appeared in the market to help students excel during the lockdown. However, many players had already been there in the market to give access to top-notch education to people remotely.
Unacademy is also one such platform committed to providing top-notch education and guidance to students from different fields across India and the globe. Unacademy is an Indian-based platform that has revolutionized remote education.
This article will talk about Unacademy and the premium subscription of platform for assessing top-notch education across all corners of India. You will get the answer to every question that might be popping up in your mind. After reading this article, you will be able to decide if the Iconic subscription to Unacademy is for you or not. So let's get into it.
What Is Unacademy?
Unacademy is a remote education platform based in India. The company has been registered as an education company in Bengaluru since 2015 as a privately held company. Stone breaking of Unacademy was done by Gaurav Munjal in 2010 from a YouTube channel.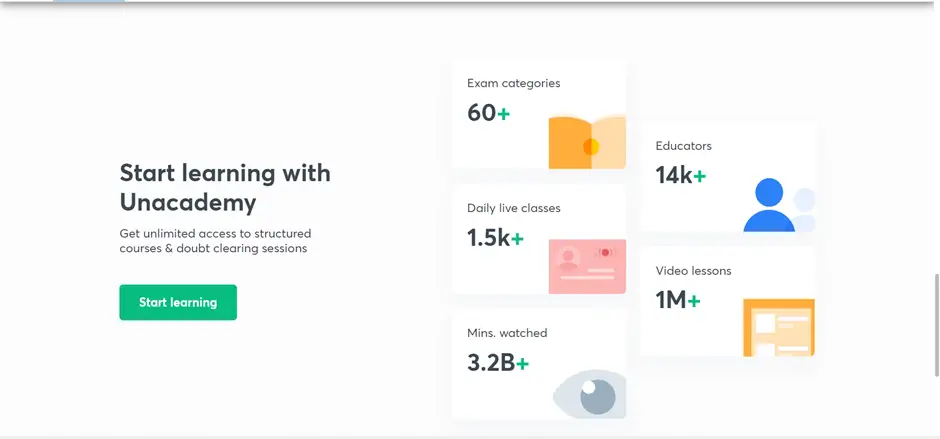 Gaurav Munjal was an engineering student, and he started the platform by uploading a short tutorial on computer graphics. The hobby was turned into a business that has become a business having worth $2.0 billion.
There are a lot of big names working to help students through the platform of Unacademy. The names include Kiran Bedi, who is the first woman IPS officer of India. The company claims, 'We are India's largest learning platform.' The platform has a monthly viewership of 2 million as per their claim.
A Little Background And Origin Of Unacademy
When Gaurav Munjal started his YouTube channel for making short tutorials to facilitate his friends, little did he know that this small channel would become a business idea? He started making short tutorials on computer graphics and kept uploading the content. The journey went on, and the enthusiast student of B.Tech degree started his first company in 2013. The name of the company was Flat, and it was a real estate platform for aspiring students coming to cities for education and jobs. The company was acquired by CommonFloor.com.
He took the initiative of Unacademy in 2015. Since then, his business flourished and became a company with 10,000 educators and 3 million learners connected to the platform. The company has positioned itself for the Indian audience preparing for different national tests in India. The company CEO was featured in Forbes as 30 under 30 in the year 2018.
In Which Country Is It Available?
Unacademy can be accessed from any country to get top-notch guidance on different subjects. But since the CEO has positioned the company as the test-preparation platform for aspirants in India, the main audience is Indian graduates and students. The platform also provides guidance and educational content for primary and secondary education that anyone can assess. However, that content is much more fruitful for Indian and Pakistani students due to a similar educational system.
What Do You Get In Unacademy?
It is an important question to ask.
Since there is a lot of information on online platforms, finding the one worth it and fruitful becomes a task. Unacademy has also covered different subjects, students, age groups, etc. Therefore, having clear expectations before entering the ecosystem is a prerequisite. Let's have an overview of what Unacadmey offers and what you should expect.
Study Materials
The study content on the website has been sub-divided into two categories: Competition exams and preparing for board exams of grades 6 to 12.
Competitive Exams
Competitive exams cover a wide array of nationally conducted exams for induction and entry in the prestigious institutes of the country. The most popular national entry test is NEET UG that all students passing out from high school have to take to secure university admission. There are many other induction competitive exams, and here are some of the most popular ones:
UPSC CSE
Govt Exams(Bank, railway, SSC, etc.)
Defense Exams
State PSC
NET Exam
NEET Post Graduate(PG)
GATE, ITT-JAM, and ESE
Teaching Exams
CAT and MBA Entrance Tests
JEE and NEET
Class 6 to 12
If you're an Indian student residing in any state of the country, you can get your course content from classes 6 to 12 through the platform of Unacademy without any hassle.
Foreign Exams
There are many foreign exams and international certifications that you can attempt after preparing through the platform of Unacademy. Some of the popular exams and certifications are:
And a lot more
Live Classes
Live classes are the best feature of the Unacademy because students can learn interactively by communicating with their instructors and guides. The teachers are available 24/7 to facilitate their students and help them in problem-solving. Students can ask questions, share ideas, clear doubts, and answer the live polls during daily live classes.
Practice And Mock Tests
Practices make a man perfect.
Unacademy is living this golden rule and provides its students with a facility to take as many mock tests and practice sessions as possible. Because they believe you only learn and preserve when you do it repeatedly. After all, success comes from repeating good habits every day.
Unlimited Access At Any Time
When you buy the subscription of Unacademy and get access to the educational content, live classes, and mock tests, it opens the door of unlimited access to all the content. Therefore, you can get back to your studies anytime and anywhere.
Mobile Learning App
Unacademy also has an interactive mobile learning app that saves you from the hassle of assessing the platform through a browser or desktop.
Who Is It For?
If you are someone who wants a platform that lets you learn at your own pace, Unacademy is for you. It is your straight path to scale up yourself geographically and academically. Whether you're an aspiring graduate preparing for competitive exams, planning to take IELTS, struggling to clear your CA exams or want a comprehensive approach to your coursework, Unacademy is for you.
Subscriptions, Plans, and Costs
The platform is offering two subscriptions, the Iconic subscription being the premium one. We will discuss features of both subscriptions besides the cost of subscribing.
Unacademy Plus Subscription
Unacademy Plus subscription is the basic one that lets you unlock the following features:
India's best educators available for guidance and learning
Live classes provide an interactive interface of learning
Well-structured courses and PDFs
Live tests and quizzes.
The cost of subscribing to the Unacademy Plus package is INR 2567 per month for a 24 months subscription. However, if you choose to have 30 months or 42 months subscription, the cost is reduced to INR 2200/mo and INR 1822/mo, respectively.
Unacademy Iconic Subscription
The Iconic subscription of Unacademy unlocks even more features besides the ones offered in the basic plan of the Plus subscription. When you subscribe to this plan, here is what you get in addition to the Plus Package:
1:1 Live mentorship from experts on exam strategy, problem-solving, etc.
Physical notes curated by the experts to help you.
Live Doubt Solving is one-to-one guidance for solving problems.
The cost of getting the Iconic subscription is INR 5417 per month if you choose 12-month billing. However, the costs can be reduced by choosing 18 months billing or 2 years billing.
Final Verdict: Is the Iconic subscription of Unacademy worth it?
Our verdict is indeed in favor of Iconic subscription as you get to learn from India's top-notch educators and professionals. If you're preparing for competitive exams, you get 1:1 mentorship from the vetted professionals who have gone through the process already. Therefore, the subscription to the Academy is worth the price. You should think twice before joining the platform and elevate yourself academically.