When you want complete information about, is HelloFresh subscription worth it? Then first, you should know what HelloFresh is, what services it provides, how it works, and its paid subscription.
Everyone is going through a busy and hectic routine in this busy world, and it isn't an easy task to get a healthy meal on your table daily. HelloFresh is an online platform providing meal and grocery delivery services weekly in the United States. To avail of these services, you have to subscribe the HelloFresh.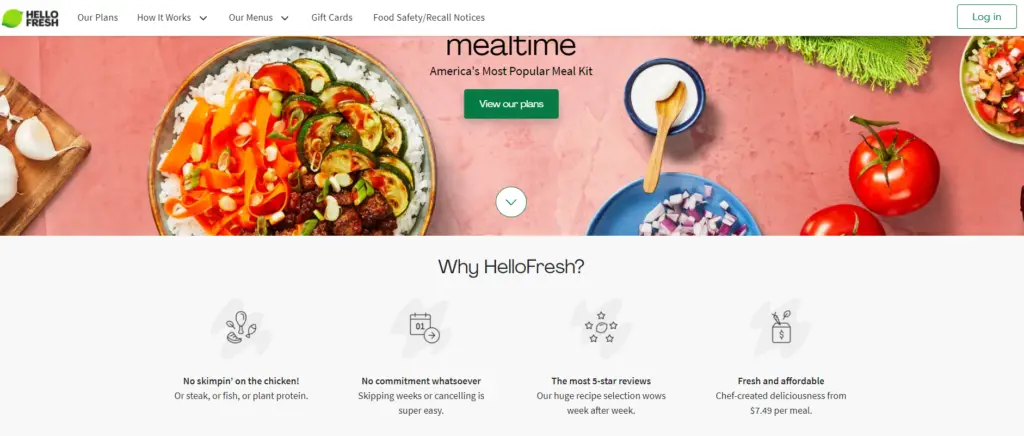 Here I have discussed the whole process of how you can subscribe to the service and its worth.
What Is HelloFresh? 
Don't worry if you don't have enough time to do grocery and meal panning daily because of your busy routine. HelloFresh provides fresh meals, ingredients, and recipes delivery at your doorstep.
By taking advantage of this service, you are only left with cooking food irrespective of worrying about groceries and planning a meal menu when you are short on time. When you receive your delivery box, you are provided with fresh ingredients with recipes and received sauces, seasonings, and garnishes.
This service provides freedom to its users because there are different meal plans that you can select depending on your need and taste. Like how many meal boxes you will receive in a week, you can choose which type of food you would like to eat, including vegetarian, low carb, and low calories. There are also different meals menu in each category.
You can customize your menu but choose more than 20 recipes available to make the rotation in weekly delivery boxes. You can also skip the meal delivery at any time you want.
Now we will discuss its subscription criteria, and then you will know if is Hellofresh subscription worth it?
Is HelloFresh Subscription worth it?                                                            
Yes, HelloFresh Subscription is worth it because everyone would like to subscribe after seeing its services. To help you decide whether the HelloFresh subscription is worth it or not, we are going to discuss the mission, reasonable rates, and versatile meal menu.
Pre Measured Quantity of Meal
If you have a family of more than 2 members, you will know food is a pretty big expense, and we also waste a part of the meal by storing it in the fridge and forgetting about it. Now you don't need to pay for the extra food if you subscribe HelloFresh.
Hellofresh makes pre-measured meal boxes for each person, so there are fewer chances of wasting the part of food due to being extra. As a result, you can make safe the for your other needs.
Versatile Meal Menu
There is the following meal menu that HelloFresh provides.
Meat and Veggies Plan: The meat and vegetables are included in this plan.
Family-Friendly plan: the meals that are easy to prepare and kids approved are added to this meal plan.
Veggie: the plant-based meals are included in the metal box.
Quick and Easy Meal Plan: the meal that you can cook within 30 mins.
Calorie- smart: the meal box is adjusted with only 650 or fewer calories food. The persons conscious of their weight prefer it.
Pescatarian: seafood meals are added to your meal box.
Fairly Reasonable Prices
If your family has more than 2 members, then the monthly food expense is around $1,200. Hellofresh costs $8-10 per box, and also, in this case, you can save money by selecting the large meal plan. One of the largest meal plans is five recipes per week for four people.
The expected costs of individual meal plans are.
For two people:
Two recipes per week: $50
Three recipes per week: $54 
Four recipes per week: $72
Five recipes per week: $90
For four people
Two recipes per week: $72
Three recipes per week: $90
Four recipes per week: $120
The most commonly chosen plan is three recipes per week for two people, and it costs about $55, which is very reasonable.
Nutrition Information
When you receive a meal box, it has all the necessary nutrition information, much like a pre-packed store product. Are you still questioning is HelloFresh subscription is worth it?
Self-Managed Weekly delivery
If you don't want to get a meal box for one week or more, you can skip the delivery week by following a simple procedure. The benefit of this freedom is that you don't need to pay for a week when you don't make your mind about getting a meal box at your doorstep, and this is not a big deal.
Cheaper than Grocery Store
According to the 10-week experience of Melina Brum, HelloFresh is 75% cheaper than any grocery store hopping.
Cancellation of subscription and refund
If you don't like the services of HelloFresh for some reason, you can also cancel the subscription at any time you want. The critical point is that you must contact them within five days after you receive your meal box.
You can also receive a partial or complete refund if you are unhappy with the part of the product of the meal box. The refund may take 5-10 working days to accomplish.
How to Subscribe HelloFresh?
If you have made your mind to subscribe HelloFresh, then follow the following steps.
Make your profile by signing up.
Go to the "Home Page" and click the "Our Plans" button.
Choose a plan according to your preference, i.e. (vegetarian, low carb, and low calories).
Enter the coupon code when you receive it.
Now customize the plan depending on the number of members in your family and the number of recipes per week you want to get.
Now you are successfully registered with your e-mail or another social media account.
Go to "Shipping Page" and fill in all the necessary information.
Do your payments
Now the last fun part comes, and you can submit the order of different meals.
Promotions and Discounts
Hellofresh offers attractive discounts on the first three orders, and it is very compelling for people to subscribe to it. Students of universities and colleges are also eligible for discounts and promotions. Hellofresh provides different promo codes, but you can avail only one at the same time.
51% discount on the first box
36.26% discount on the second box
14.51% discount on the third box
Final Verdict
This is all about is HelloFresh subscription worth it. All the users of HelloFresh love it because of its incredible services. You don't get bored because there are many choices, flexible plans, and a quick and easy meal box that you can make in 30 minutes only. By seeing these features, it is clear that the HelloFresh subscription is worth it.