Skin issues should be death with extreme care, and before online consultation, verify the source. Is a Curology subscription worth it? Is it for people of all skin types?
Here I have discussed Curology, its working process, products, pros, and cons to help you know its worth.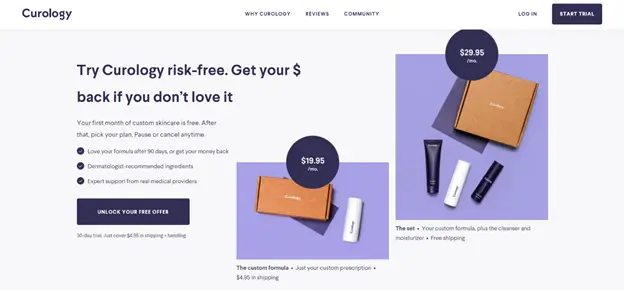 What is Curology?
It is an online skin assessment and product store, and Loertscher established it with his brother and mother. It was the first such store in the US, and it became prevalent among people in a short time.
It deals with all skin problems; for example, if you have acne-prone skin, get their subscription and work with them.
Similarly, people with other issues like dry skin, dark sport, hyperpigmentation, cystic acne, hormonal acne, dark skin, blackheads, whiteheads, and dry skin can get consultations and products.
How does Curology Work?
Check whether it is available in your area or not. If Curology is available, sign up and make your account, they will ask you for basic information, for example, your email address and birthday.
There will be questions about your skin; answer all questions and tell them your main skin problems. Moreover, also tell the Curology about your medical history, allergies, etc.
All this information will help them in finding the best products for you and recommending you best ingredients.
If there is no pending process, and you have checkout, there will match with physician or practitioner who a licensed dermatologist overlooks.
They will thoroughly assess your skin and will recommend products according to our skin condition.
Once it is done after a few days, all products will be at your doorstep. If you have their subscription, you will receive their products every month.
Best of all, they give a month's free trial. Thus all products you will be using for the first month will be free of cost, and you only have to pay delivery charges and handling.
However, if you want to buy additional products, you will be charged standard rates.
Pros
Is a Curology subscription worth it? Read on to know the answer
You will get a 30-day free trial; thus, you can check the results of all products.
To know about products and what people are saying about them, open the section of customer review. You will be amazed as people love their products and give excellent reviews.
Sometimes we order the wrong products, or you do not want to use them; you can cancel the order anytime. This facility is available in significantly fewer shopping stores.
Suppose you have some doubts and want to know more about the product. Message the provider and ask him to give you consultation credit. In short, they give importance to customer satisfaction.
You can choose the shipment frequency some people prefer after every month; however, some prefer after every 2 months.
Curology access program gives 2 years free subscription to people who are qualified.
Cons
They do not consider health insurance.
You shop everything online, and there is no face-to-face conservation with the provider.
They do brief online skin assessment, and it is not trustworthy as compared to in-person assessment.
You do not get oral medications.
They have hired physicians, practitioners, nurses that are overlooked by dermatologists. Thus you will not be dealing with the doctor directly.
Curology Products
Following products and their description will further clarify to you if the Curology subscription is worth it.
Custom Formula
Once Curology has assessed all the information you provided, they will recommend products based on your needs. These are different according to one needs.
The most active ingredients used are clindamycin, azelaic acid, tretinoin, niacinamide, and zinc pyrithione.
You are instructed to use the customer products at night because they contain ingredients that are sunlight sensitive.
Dark Sport Formula
If you have dark spots or pigmentation, use their dark spot formula for three consecutive months, then you are prescribed to give your skin 2 months gap.
Take a limited amount of cream and apply it to the dark spots. Let it be on your face for a limited time, then wash your face.
The Cleanser
They sell high-quality cleansers free of fragrances, hypoallergenic chemicals, and they do not dry out your skin.
 Their primary function is to remove dust from the skin. Moreover, Curology cleansers are formulated with planted sugar. Thus they will lock the natural moisture of the skin. It is highly recommended to people who have dehydrated skin.
The Moisturizer
When you buy a cleaner, you are provided with a choice of two moisturizers. The moisturizer and the rich moisturizer.
The moisturizer is best for people who have acne-prone or oily skin. But if you have dry skin, go with the rich moisturizer. Their moisturizers are enriched with hydraulic acid that locks the moisturizer and keeps the skin hydrated.
Acne Body Wash
If you are suffering from back and chest acne must buy this. It is a foaming body wash that consists of 2% salicylic acid, a chemical exfoliant that unclogs all pores.
Emergency Spot Patches
These are designed by keeping stickers in mind, and they are hydrocolloid bandages. Their primary function is to cover the breakout, prevent the loss of moisture. However, you can use them long-term for treating acne.
Pricing
Curology gives you a 30-days free trial; thus, you use all products free of cost. However, you have to pay $4.95 for delivery and handling charges.
Once the free trial is finished, you have to pay monthly $19.95 per shipment.  Their shipment is delivered every month or after every 2 months. They charge $4.95 per shipment.
Is a Curology subscription worth it?
It is best for people who are looking for professionals to check their skin and recommend products according to skin conditions. They will assess your skin thoroughly, then suggest your different products.
Moreover, if you are suffering from acne, it is the best platform for you, and after subscribing, you will realize that acne can be treated easily under proper consultation.
All types of skin problems, for example, acne, dark spots, back acne, and, hyperpigmentation are well treated. Moreover, their products are unique, and the results are long-lasting.
Final Words
In a nutshell, there should be no question on is Curology subscription worth it. It is a fantastic skin consultation platform, and you do not even have to move.
They assess your skin online and deliver products to your doorstep. Best of all, you get a 30-day free trial. Thus, you can check all products without investing money.
Thank you for your visit!