Even the most experienced writers can face difficulty in jotting down a piece of content. Or it might be the writer's block that is not letting you reach that point of satisfaction from your writing.
Mistakes and grammatical errors can be expected from native writers too. Because we all go through different phases when we're not able to focus the way we should.
All of us face such issues when creating a piece of writing in English, having another language as our mother tongue. Even if English is your mother tongue, you might not be exceptional when writing grammatically correct and engaging content.
Therefore, a lot of writing assistance tools are available online that let you curate perfect pieces of English writing for your assignments, online blogs, research articles, or business email writings.
Grammarly has earned a reputation as an all-rounder for people seeking help from diverse backgrounds among all the writing assistance tools.
Other tools might be good for one purpose or two or three but do not give a well-versed performance. However, Grammarly is a tool loved and trusted by professionals, students, marketers, blog writers, researchers, and business executives alike.
Why?
We will explore why Grammarly is one of the best writing assistant tools. If you want to conclude if Grammarly is worth a subscription or not, keep reading this article. We will talk about all the features offered by Grammarly and who should sign-up for Grammarly.
What is Grammarly?
Grammarly is an online writing and proofreading tool that highlights errors in any piece of writing. Not just this, but the tool also gives you suggestions on how to fix grammatical errors, sentence structure problems, and punctuation errors.
The platform offers support across MS Office, Google Chrome, Gmail, Twitter, Google Docs, and various email platforms to curate perfect writing pieces. You can also capitalize the free plagiarism tool of Grammarly to check the duplicate text problems in your written text.
There is a free version of Grammarly, and you can sign-up for it. However, if you subscribe to the premium one, it opens a whole new world with an eternal guide on creating syntactically and grammatically correct content.
Grammarly Vs. Grammarly Premium
Let's discuss the difference between Free Grammarly and Grammarly Premium. In the free version of Grammarly, the tool will detect grammatical errors, spelling mistakes, and other common errors in your text. However, you cannot get a detailed analysis of your content on clarity, engagement, and delivery metrics.
Even then, a good thing about free Grammarly is that it highlights the text with complex issues(clarity, engagement, delivery, etc.) by yellow underline. But it will never tell you what the exact problem is. Sometimes it can become frustrating, making you need the premium subscription.
However, if you're a student, a free Grammarly version is going to be enough for you to avoid basic sentence structure problems, active/passive use, spelling mistakes, and common errors in writing.
Vs.
Grammarly Premium is just love!
The premium version of Grammarly is packed with every writing assistance tool you can ask for. The Grammarly premium provides grammar correction, redundancy, consistency, synonyms to ensure engagement, and complex errors in your writing. In other words, Grammarly premium is 10x what you will get in the platform's free version.
How Does Grammarly Work?
Let's go through how does Grammarly works.
You can use Grammarly in MS Office, Grammarly platform, Chrome Extension, Google Document, Gmail, Facebook, Twitter, or other platforms.
If you want to use Grammarly when writing in MS Office, you can download Grammarly for MS Office. It brings you the power of Grammarly in your comfort during writing. The Grammarly for MS Office is complete software. You can check plagiarism, adjust writing style, goals, engagement, and conciseness. In the settings of Grammarly, you can change the dialect of the English language.

The dashboard of Grammarly in the MS Office looks something like shown in the image.
If you choose to write within the Grammarly platform, you can write, edit, modify, check plagiarism and adjust goals.
However, it might not be convenient for you because the formatting might change when you download it as a word document. We will get into what the Grammarly software offers and the perks of using it as your writing assistant.
Why Should You Use Grammarly As Your Writing Assistant?
When so many writing assistants are available online, what are the few reasons for signing up to Grammarly? Let's explore together.
Tone
When you're writing something, the purpose of writing, audience, dialect, and vocabulary are customized to that specific purpose.
For instance, if you're doing technical writing, you're supposed to use formal words and strictly follow the grammatical rules. Besides, you can not use slang in your writing when you're curating a technical piece of content.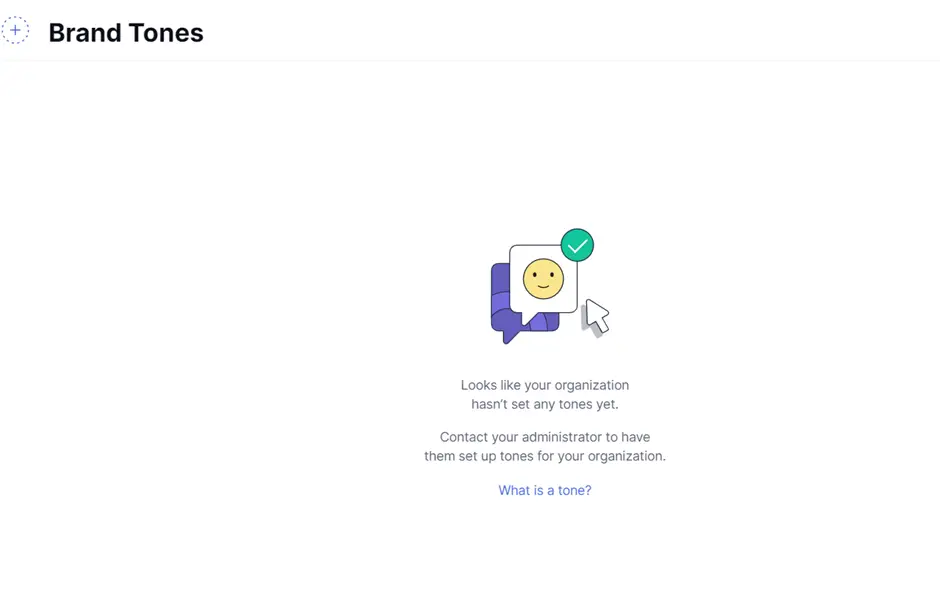 With Grammarly, you can choose your tone, formality, purpose, and audience. If you're writing a speech on a fun topic, you have the freedom to use informal language in a conversational tone, and so on. You know what we mean. Once you get into the software, you will see how you can adjust the writing goals.
Language(Accent)
Generally, English is a language spoken in various parts of the world, but the accent varies. For instance, the dialect of English in the USA is different from that of Canada, Australia, or India.
When writing in Grammarly, you can choose your region from the UK, USA, Canada, and Australia. This option lets you write fluently in the dialect of your choice.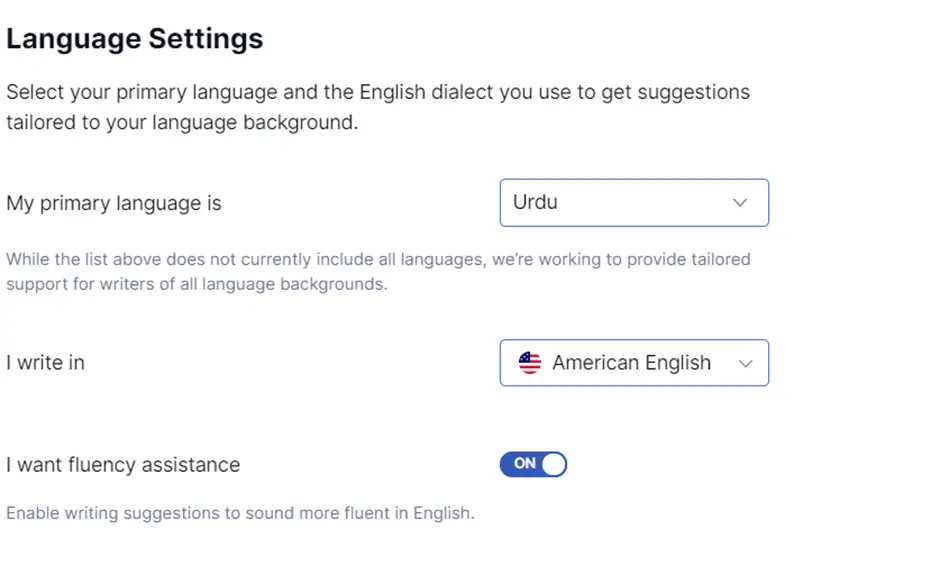 Grammatical Accuracy
Sentence structure is one of the most important aspects of writing for research, blog posts, or business emails. If you want to be just correct in the grammatical formation of your sentences, Grammarly has everything you need. Spelling mistakes, redundancy, incorrect placement of subjects, sentence fragments, etc., can be fixed in Grammarly.  
Clarity
Clarity is one C of communication, written or oral, that helps you send your message effectively. If you want your message's intended audience to get it rightly, you must make sure that your written content is clear enough to deliver the meaning.
If you're writing in Grammarly, the software gives you suggestions when you're text is getting a little bit off incoherence. You can instantly modify the sentences according to the suggested structure.
Engagement
Anyone can write a piece of content but what differentiates an exceptional writer from a common writer is content engagement. Does your content hook the readers from the first word to the last sentence?
If the answer is no, you can take the help of Grammarly to reach that goal. With Grammarly's engagement meter, the platform tells you where you can choose a better word or if a word has been used more than an optimum level. Therefore, you can create clear, concise, correct, and above all, engaging content for your audience.
Adjusting Writing Goals
We have discussed most features of Grammarly. Among all other features, the platform also lets you adjust the goals of your writing.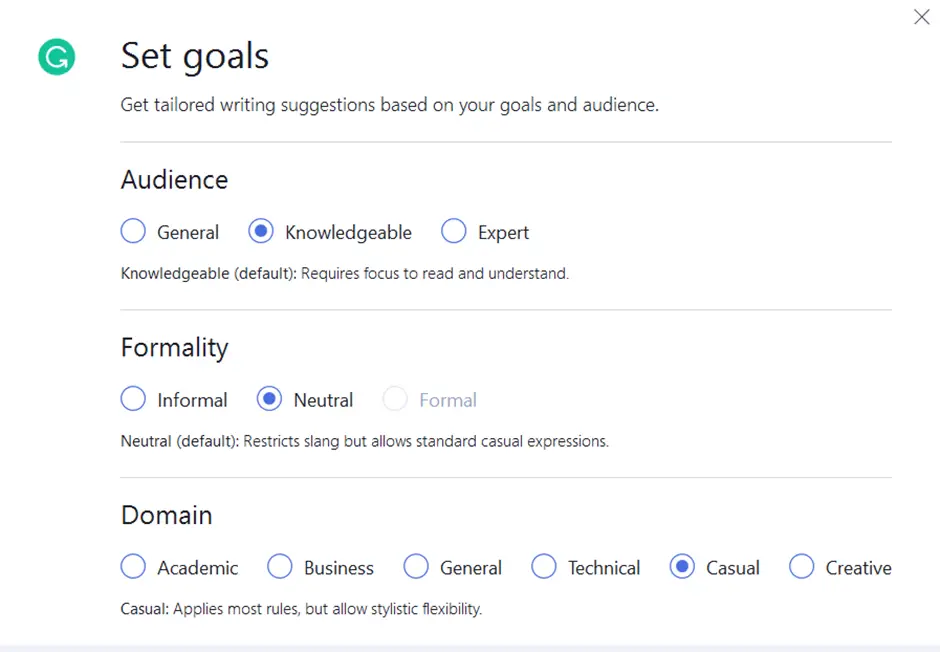 In the image, you can see that you have the freedom of setting the audience, formality, and domain of your writing. You can choose a formal or neutral tone with a knowledgeable or expert audience if you're doing academic writing.
Subscription Types
As discussed above, there are two versions of the Grammarly subscription.
Free Subscription
As a part of a free subscription, you can edit, write, proofread your documents and check plagiarism of the content. The complex issues are highlighted, but no suggestion is given in the free version.
Premium Subscription
You can unlock all the features of Grammarly for a price.
The premium subscription comprises monthly, quarterly, and annual payment plans. The monthly subscription plan costs you around $30 per month. The second plan is $60 for three months, and an annual plan of $139.95 is the most economical, costing 11.66$ per month.
Business Subscription
If you're a team of professionals who have to consult the writing assistant back and forth, you can choose a business subscription. The business subscription is for teams larger than three members. It costs you $540 per year.
Who Can Use Grammarly?
From the features of Grammarly, you can visualize the usefulness of the platform for people working in different domains. We can sum up the users of Grammarly as:
Students
Professional writers
Email marketers
Researchers
Blog writers
Copywriters
Teachers
Speakers
In short, anyone who has to do writing work frequently can go for Grammarly as their on-hands tool.
Final Verdict: Is Grammarly Worth It?
If you're someone who has to proofread work, check plagiarism, and make sure that your content is error-free, the investment in Grammarly is worth it.
If the question is asked
'Is Grammarly Worth It?'
YES! It is WORTH money to invest in subscribing to Grammarly.
If you want a guide on spelling, vocabulary, or common errors, you're good to go with the free version of Grammarly. However, if you require extensive guidance on writing style, tone, clarity, engagement, and delivery, Grammarly premium is indeed for you.