All of us want to stay informed about everything happening in our surroundings –be it politics, sports, or fashion. There are a lot of publications, magazines, and newspapers that cover all areas of life and bring a bouquet of information for us.
However, if you're someone who wants insider information and exclusive content in a specialized niche, you will want to go the extra mile to get there. For instance, Economist or Financial Times is targeted to decision-makers, business executives, and investors.
Vogue, Glamour, Cosmopolitan, Allure, GQ, Marie Claire are authorities when it comes to the fashion industry. Vogue is an all-rounder fashion magazine that has dedicated parts for women's fashion as well men's fashion. Similarly, most magazines cover fashion industry updates in general.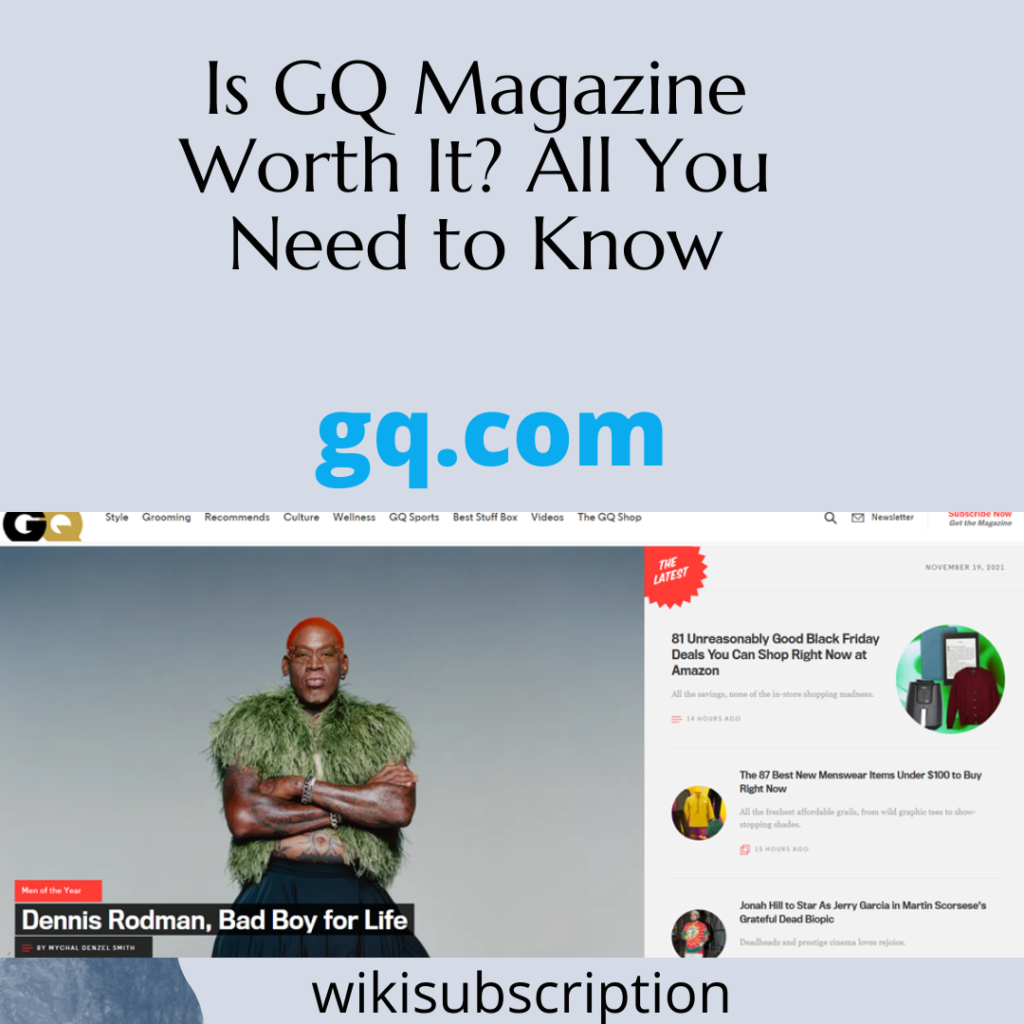 But what if you want a magazine that dedicatedly talks about the men's fashion industry and updates?
GQ Magazine is a symbol of men's fashion updates internationally. Therefore, you would love to be among the subscriber's list. If you want a clear view of if the GQ magazine is worth subscribing to, this article will open all the knots. So let's get into it and explore if GQ magazine is actually that good or it is just a conspiracy.
What Is GQ Magazine About?
GQ or Gentlemen's Quarterly is a publication that is not new but dates back to 1931. The magazine was formerly called Gentlemen's Quarterly, but later on, the name was modified to initials of the first name. When it is asked that what GQ Magazine is about, there is only one answer!
If you want to be updated on men's fashion, culture, food, movies, fitness, sex, music, ethics, etiquettes, style, etc., GQ magazine won't be a disappointment. Even topics like books, technology, and traveling are also part of these monthly publications. The publishers bring the fashion icons from all over the world together by their prestigious publications.
So next time when someone asks you about GQ magazine, tell 'em,
IT'S ABOUT MEN!
Besides bringing enticing and intriguing content on men's fashion and updates, the magazine company has been highlighting controversial issues like Russian apartment bombings, Glee controversy, Bible Criticism. We won't go into that detail as we are more focused on if you should pay for a subscription or not.
A Little About Magazine's Whereabouts!
The magazine was first published in 1931; it was based in America back then. The first name of the magazine was Apparel Arts. The publication audience was industry insiders like wholesale buyers and retail sellers of men's fashion products. The magazine became very famous among retail customers after the launch of Esquire in 1933.
The GQ's management rebranded the magazine in 1957 and launched it as a quarterly magazine for men. In 1958, Apparel was dropped from the logo of the company, and the new name Gentlemen's Quarterly was given. Later on, in 1967, the magazine's rebranding resulted in its latest name of GQ magazine.  
Afterward, the magazine publishers explored the international avenues and worked on the international editions of their magazines. Currently, the young readers are the magazine's biggest audience and are supporting most of its business.
Who Is The Audience Of GQ Magazine?
When the magazine was launched, it aimed to reach Wholesale buyers and retailers to guide their customers on the latest fashion trends. However, with the launch of its competitors, Esquire rebranded itself as a general men's magazine that works as an exclusive style guide and brings together all information for men.
There is no restriction on who should be following GQ and who shouldn't. Anyone interested in Men's style, fashion, lifestyle, etc., can subscribe to the exclusive content of the magazine.
How To Sign Up For GQ Magazine?
Signing up for GQ magazine is very straightforward. All you've to do is log on to the website and sign up for an international monthly magazine.
You have a choice of subscribing to different categories according to your choice. After choosing the services, add your contact information(name, initials, email, etc.) and proceed. The process is pretty much easier than subscribing to any other service.
Subscription Packages Of Magazines
There are many subscription packages available for people who want to get exclusive access to the content. You can compare and contrast all the subscription levels and choose the one that best suits your needs. One of the best features of GQ is its affordable pricing of under 1 dollar per month.
Annual – If you choose the annual package, it will cost you $15 per year, around 1.25$ per month. The annual renewal fee of the subscription is $24.99.
Two Years – You can choose to subscribe to the 2-years plan that becomes more economical than the yearly one. It costs $24 for two years and the renewal price after two years is the same at $24.99.
Quarterly –Quarterly subscription service is also available, but it is not an economical choice. You would be charged $50 for a quarter, and the renewal fee is $50 after every quarter. It means you will be paying $400 for one year instead of $39.99.
When we compare all subscriptions, two years subscription is the most convenient and affordable. The one-year plan is better, but it is not as economical as a two-year plan. We believe a 2-years subscription is a better choice for anyone.
Overview of What You Will Get Inside!
Let's review what will be included in the GQ magazine's subscription.
Fashion
The category of fashion covers a lot of sub-niches. You can get updates on the designer menswear and fashion statements of your favorite celebrities. The style guides for buyers are also an add-on for the subscribers. All the categories included in the fashion updates are as follow:
Catwalks
Style buyers guides
Street style
Designer menswear
All topics, celebrity style 
Culture
You can stay updated on the latest news related to film, TV, music, games, books, art, etc. This section covers exclusive updates from TV, music, games, books in different regions of the world. You won't be staying on the back foot when cultural news is concerned.
Grooming
If you're someone who wants to stay updated on men grooming all the time, there is a special category for it. You can get grooming buyer guides, guides on your favorite celebrity's style, hair, fragrances, and general tips on grooming yourself.
Watches
Watches are not just timepieces, but they're a true depiction of man's class and taste. You can always improve your taste with the latest news and updates happening in watch styles. With a GQ magazine subscription, you get exclusive content that covers the latest editions of masterpieces from different watch brands, your celebrity's favorite brand, and a lot more. You can always know what latest fashion is going on!
Men of the Year
In 1996, the publishers started the Men of the Year nomination to highlight the achievers in different domains. Men of the year are from categories like solo artists, writers, heroes, designers, game-changer, music bands, fashion icons, etc.
Lifestyle
In the lifestyle niche, a diverse range of topics is covered. You can get updates and news about cars, fitness, food and drink, technology, dating and health, wellness, and a lot more.
Pros
An all-in-one magazine that covers all the news and updates about men's fashion and grooming
You can get access to Android & Mac editions besides digital and print versions of the magazine with all subscription packages.
Style tips, new trends, style guides, etc., are covered in every edition of the magazine.
When you're subscribing, you've freedom of what you're most interested in.
Cons
There is no free version of the magazine subscription.
When the pricing is compared, the subscription cost is higher than other magazines.
You can not get to the exclusive content of the magazine without subscribing.
Final Verdict: IS GQ Subscription Worth It?
When the question of Is GQ subscription is worth it is asked, the answer is YES!
It is a prestigious magazine and gives you access to exclusive content in different niches of the men's fashion industry and other fields. If you're a heart-dying fan of GQ magazine, its subscription is not a costly deal.
Besides, if you want an all-in-one magazine, then it is a great choice. However, if a general comparison is made, the magazine is comparatively expensive. You should take time to roam around the magazine's content and decide if the content matches your needs.