Online money making has become a very popular trend among people worldwide. However, there are quite a few ways of earning some dollars effortlessly and without getting scammed. But the question is how to find such legit platforms and opportunities that can pay you off for less work!
This article will explore another platform that can help you make money without doing too much work. It is a research participant recruitment website where researchers conduct different surveys to support the research studies or companies that come for public surveys and marketing research. Cutting it short, we will be discussing Dscout in this article.
Either you're intrigued or dubious about the platform's legitimacy, we will cover every bit of the platform. By the end of this review, you'll be familiar with all ins and outs of Dscout and making money through it. So let's get started.
What Is Dscout?
Dscout is a disruptive SaaS platform that has eased marketing research, academic research, and public surveys for companies and institutions. Since data is driving most of the marketing decisions and research in various fields. Different stakeholders need reliable and sustainable tools to fully understand the experiences of customers and people for different purposes.
Dscout has consolidated the needs of researchers, academicians, and companies to provide a solution where the companies can get real participants for surveys. The company has developed the platform as a video research platform. The customers(researchers, companies, institutions) can conduct interviews with qualified participants and collect valuable input.
Dscout stands for Digital Scout, and people can access the platform via mobile app. Currently, the participants and researchers can use the platform via Android or Apple devices. There is no web version available currently. Therefore, the participants can only access the platform if they are Android users or iOS users.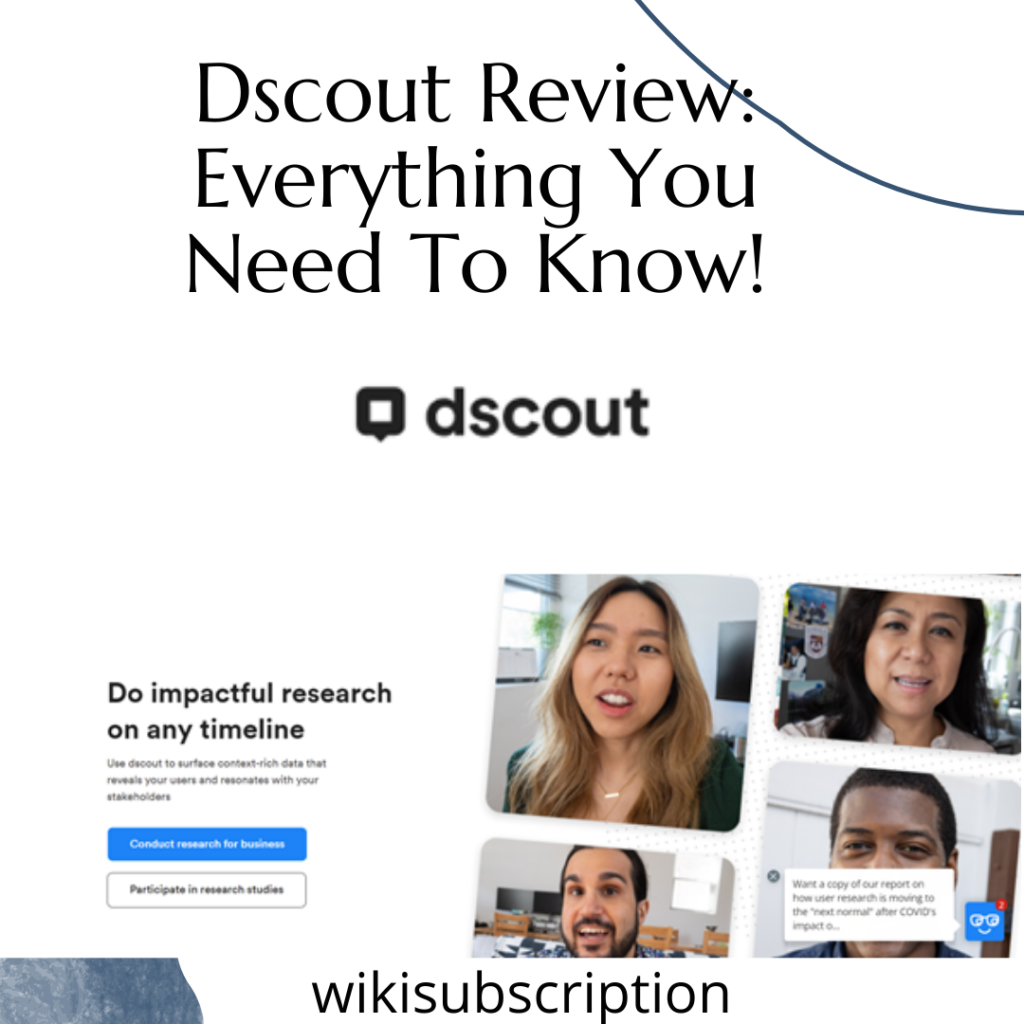 How Does Dscout Work?
Let's understand how does Dscout works for researchers and participants.
Researchers
As a researcher, you can utilize one of the many options available. Dscout recruit helps you find the ideal participants for your research. As a researcher or surveying company, all you have to do is design and build a screener as a first step. It will give you access to the pool of 100,000+ scouts(participants) from which you can invite scouts to a Live or Dairy mission. We will talk about different types of missions available on the platform.
Dscout Diary
 As the name suggests, Dscout Dairy lets you invite people to share their experiences and their happening in daily life. Diary missions are usually continuous missions that continue for many days. The multiple parts of surveys are filled by the participants. Each part of the survey might be a one-time questionnaire, or there might be a case when the same questionnaire is to be answered repeatedly in different contexts.
Dscout Live
Dscout Live is a video-interview research methodology when you can conduct detailed and contextual interviews. The participants can express themselves in recorded videos. There are many features of Dscout Live, as the automatic transcription to understand the language. On-call observer, stimuli, participant scheduling, and interactive timeline are some other useful features that come along.
Dscout Express
Finally, Dscout Express is for the researchers who want to conduct quick and short surveys. When insights from a large population sample are required, Dscout Express mission lets you scrutinize ideal participants, invite them to participate, and screen them. However, you can conduct a survey of only 20 questions having a maximum of one photo and video.
Scouts(Participant)
As a participant, Dscout allows you to take part in surveys and get rewarded for that. You can participate in missions, complete them, record videos of important moments, take pictures, or answer questions. As we have discussed that Dscouts stands for Digital Scout. Therefore, it wouldn't be wrong to say that the platform is facilitating participants as well.
Can You Make Money With Dscout?
One simple answer is Yes!
How?
We will answer it in just a few minutes.
We have already discussed how Dscout is opening new ways for researchers and companies to carry out research and development. However, the participants or scouts must be paid something in reward for the time they're giving to the companies. Therefore, depending on complexity, time, mode, etc., every mission pays the participants rewards in dollars. Participants can cash out the money via a PayPal account.
Now let's talk about how you can make money.
As a scout, you are an audience member in different missions and screening tests. Depending on your interests and profile information, you might be asked questions about the recently branded shirt you purchased, your favorite podcast, tv shows, etc. Mostly, the surveys are related to market and consumer products. You can also take part in a mission led by researchers from an academic background. Most of the missions are led by researchers working in the areas of social and behavioral sciences.
You can apply to different missions depending on the availability. Once you have applied for the mission, your application is reviewed. If the researcher or surveyor approves you, he will invite you to take part in the mission. After successfully completing the mission and approval by the researchers, the amount is credited to your account.
How Much Can You Make By Taking Part In Missions on Dscout?
The amount of money you make through Dscout missions depends on the type of mission. The amount also depends on the number of missions you complete as a scout. However, you can expect to receive anywhere between $15 to $100 depending on the mission. However, finding interesting missions that match your interests might be a time-taking job.
Even though many people have been earning a side income by participating in the missions. But it does not guarantee that you can also earn income by taking part in a mission too. You will only get paid if the mission is successfully completed. After the approval of the researcher, Dscout credits the money to your account. Besides, it might take time to become part of any mission that pays well.
How To Signup On Dscout?
Let's discuss the account creation process as a scout on Dscout. Although you can participate in the mission through a mobile application, only you can sign up on Dscout from the web, mobile, or email invitation.
Android and iOS
Follow the following steps if you're creating your Scout account from Android or iOS, and you will be ready to take part in missions.
Open the Dscout app on your Android or Apple device.
Tap on 'Create Account' and add the information required(name, email, password, etc.)
Click 'Next on the right corner of the screen and set up your permissions.
Your account will be created, and you will be directed to the page to complete your profile.
Web
Follow the following steps when creating your Dscout account from the web:
Visit the website and click on the 'Sign Up' button given on the right corner of the screen.
You will see the 'Participate & Get Paid' icon on the website. After clicking it, you will be redirected to 'Become a Scout.'
Enter your information just like you did in the case of the mobile app. After signing up, update your profile and add information. Agree to Scout Terms and Conditions, and you're ready to go.
Email Invitation 
If an external agency has hired you to participate in a research project, you can also join the platform via email notification.
Pros
Several types of missions are short and long. You can choose one that you think is suitable.
You can earn up to $200 via Diary and Live missions
A good source of Supplemental income($30+ per hour)
PayPal withdrawals are convenient and automatic
Dashboard and notification system is better than other platforms
Cons
Participating in a mission does not guarantee payment. It depends on the successful completion of the mission.
If you're camera-shy, there might be no scope for you to earn large amounts.
Most highly-paying missions are multi-days
There is no way of participating in missions on desktop due to the non-availability of the desktop app
U.S. residents are usually preferred by researchers unless the survey is related to a geographic region
Final Verdict
If the platform's legitimacy is questioned, it is indeed a valid and reliable platform for researchers. However, you can rely on the platform as a permanent income source or an alternative to a regular job. The final verdict is that you must try your luck on the platform and become a digital scout to create an extra income stream for yourself.