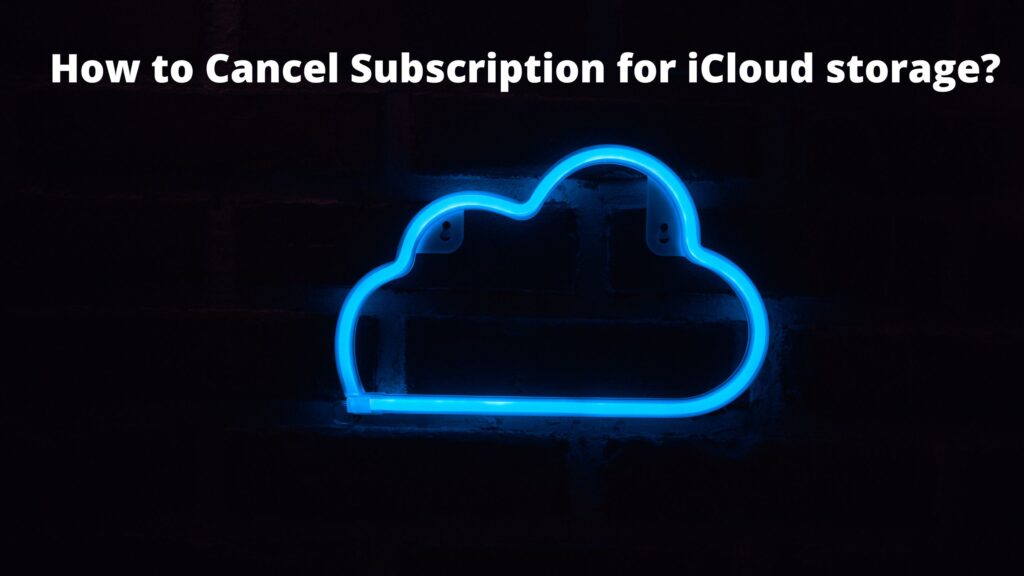 If you think you don't need iCloud storage anymore, you must consider how to cancel a subscription for iCloud storage. In this guide, you will find how you cancel your subscription and the reasons to cancel the iCloud storage?
Apple's online service iCloud offers a paid subscription with exclusive features, including enhancing the security of your data and online service.
But all the subscribers are not happy with their subscription or do not need it anymore, so they search for how to cancel subscriptions for iCloud storage. Before discussing its canceling, we will first talk about the iCloud feature and services.
Lets Start!
What is iCloud?
iCloud is specially built into the Apple devices that ensure the safety, storage, and availability of images, files, music, or more things present on your phone.
When you start using this app, you get 5GB of storage. This app was launched on 12 October 2011, and now it has reached over 850 million users, depicting its efficiency in its function.
It also has a paid subscription that provides more exciting features. But despite all the features, the people go for cancellation. Let's talk about all the cancellation methods that you can use to cancel your iCloud Storage subscription.
How to Cancel a subscription for iCloud storage?
To cancel your iCloud subscription plan on Apple's devices is simple, but the options are not easy to find. But here, we have provided you with the complete guide for cancellation.
How to Cancel iCloud Storage Subscription on Your iPad or iPhone?
Follow the following steps listed below.
Switch on your iPhone or iPad.
Go to the settings.
Click on your Apple ID.
There will e the option of iCloud; click on it.
After clicking the iCloud storage, there will be a storage capacity bar.
Below the capacity bar, there will be the Manage Storage option. Click on it.
Scroll down your mobile screen, find the Downgrade option and click on it.
 Note: if you already have an Apple One Account, you will see the Downgrade option on your screen, so first, cancel it and let it completely downturn. After that, your storage will be downgraded to the free grade automatically.
If required, sign in with your Apple ID password, and on the Storage screen, there will be the choose Downgrade Option at the bottom of your device's screen.
Click on the Free option and select it.
The device will confirm your subscription down-gradation. To ensure the whole process click on the Downgrade.
How to Cancel iCloud Subscription on Your Mac?
To cancel the iCloud subscription, follow the following steps listed below:
Switch on your device.
Go to system preferences and click on the Apple ID.
In Apple ID settings, find the iCloud option in the sidebar.
Click on the iCloud option.
Now there will be the Manage option. Click on it.
There will be Change Storage Plan in the upper left corner, tap on it.
Upgrade iCloud storage page will be open. Find the Downgrade Option and click on it.
Enter your Apple ID password. In the Downgrade Option menu, find the free option to select. Click on the Done button to confirm it.
Note: if you already have an Apple One Account, you will not see the Downgrade option, so first, you need to cancel your Apple account to downgrade storage.
After the complete cancellation of your subscription, see the summary of your Apple ID account to confirm that the changes have taken place.
How to Cancel iCloud Storage Subscription Using Windows PC?
You can also downgrade your subscription on your Pc system. If your data takes more than 5GB of storage, you can back up the data that you don't want to save in your account to back up it. But you can access this data until your next billing cycle start. To backup your data, follow the steps listed below:
Go to https://.apple.com and log in to your Apple ID on the computer.
Tap the Request a copy of your data.
Select the boxes that you want to download, or you can also select all the boxes.
Click on the Continue button.
After choosing the maximum file size, tap on the Complete Request.
In your inbox of primary Apple ID email address, you will get the instructions to download the data. This process will take 7 days to complete, and you will get the email.
Now you can downgrade your subscription. Following are the steps to downgrade or cancel the subscription.
Look at the blue icon cloud and if you don't have it, download it.
Next to the color graph, there will be a storage button; click on it.
In the right corner, there will be a Change Storage Plan option. Click on it.
At the bottom right corner, there will be the option of Downgrade; click on it.
Now enter your Apple ID password to verify your account.
Click on the Manage button.
Select the Free plan, and it will provide you with 5GB of space.
You can also select a less expensive plan if you are a subscriber of a higher plan.
Reasons for Cancellation
Following are the causes of canceling the iCloud subscription:
When the user is not satisfied with the storage feature of the iCloud.
When the subscription is no longer in use, people go for cancellation
When people need money for other things so cancel the subscription.
Subscription Plans of iCloud
iCloud storage app offers 4 subscription plans that differ according to the storage space that they provide the user. Following are the subscription plans for the iCloud:
iCloud Free Plans
It is free, and the user doesn't need to pay a single penny to subscribe to it. The user gets 5GB of storage space for your device data, and you can store calendars, notes, and contacts.
Following are the Upgraded iCloud+ has paid subscription plans.
50GB iCloud subscription Plan
It costs $0.99 per month, and this is the most popular for storing your mobile's images, photos, videos, and other content backups. This subscription also provides the family sharing feature, and you are also offered 1 security camera.
200GB iCloud Subscription Plan
It costs $2.99 per month, and it is most suitable for storing lots of videos and photos. It also offers 5 security cameras.
2TB iCloud Subscription Plan
This subscription plan costs $9.99 per month. It provides lifetime storage for videos and photos. Its features are best for home security videos, and it offers unlimited security cameras.
Final Verdict
By subscribing the iCloud storage, you can choose the amount of storage for your data and experience the powerful features and enhanced privacy protections.
But despite all the features, users are not satisfied with the subscription, or they don't need this subscription anymore, so they go for how to cancel the subscription for iCloud storage?
You will know how anyone can cancel your subscription using your iPhone, iPad, Mac, or Windows Pc. Here we have provided a step-by-step guide to canceling your subscription to downgrade your subscription from expensive to less expensive.