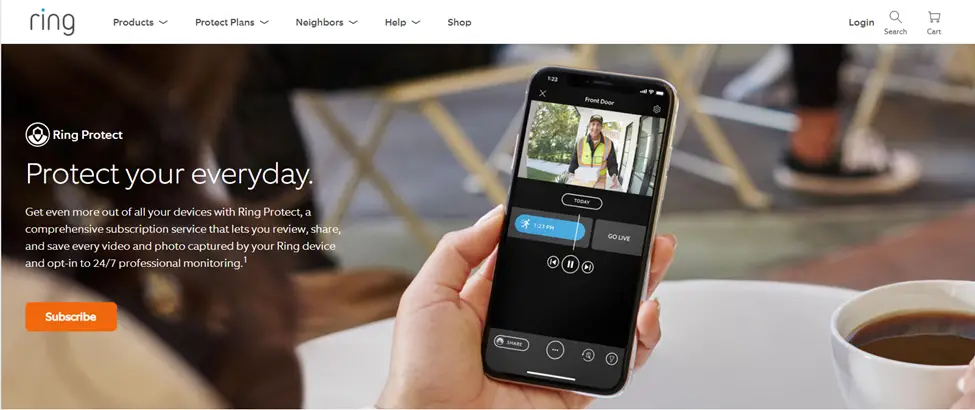 The Ring is a well-known name in security systems and video doorbells. Its quality products and software offer excellent solutions to customers.
Ring also offers three different subscription plans. Each plan offers significant benefits on top of the company's quality hardware.
Let's discuss Ring subscription plans and whether they are worth investing in.
What Does Ring Offer?
The Ring is a famous brand for security systems, cameras, and doorbells. Its most famous product is the video doorbell with software called "Protect."
Its cameras and video doorbells are the most widely sold products. Both these security system gadgets are available with batteries or wire models. The company also sells software and hardware accessories.
The broader product categories available at Ring include:
Video Doorbells
Security Cameras
Alarm Systems
Car Security Cameras
lighting
Accessories
Ring offers complete home (residential) or office (business) security surveillance systems.
These product bundles and subscription plans can save you more money than buying these products separately.
Ring also offers motion detectors, alarm system accessories, video doorbells, and camera accessories.
Apart from new products, you can purchase certified refurbished video doorbells, cameras, alarm systems, and other products at lower prices directly from Ring too.
Where to Buy Ring Products?
The easiest way to purchase Ring video doorbells and other products are to directly visit ring.com and search for the product you are looking for.
You can purchase new and refurbished products through the site directly. You can also subscribe to one of its subscription plans to save more on products and software.
The authorized retailers of Ring include:
Amazon
Best Buy
The Home Depot
Target
Costco
Lowe's
Kohl's
Bed Bath & Beyond
Electronic Express
Fred Meyer
These retailers may offer bundle discounts and packages to their customers too. However, you can find the best prices and deals from Ring directly.
Which Subscription Plans Does Ring Offer?
Ring offers three subscription plans to its customers. You can enjoy some basic features for free as well.
You can get motion detection alerts and live video footage on your smartphone, tablet, or pc without a subscription plan.
However, most of the advanced features come with a plan, with expensive ones offering more value than others.
Basic
The basic plan starts at $3.99 per month and $39.99 when purchased annually. It saves you $7.89 with a yearly subscription plan.
The Basic Plan offers the following features:
Video saving and sharing
Video recorded history for 180 days.
Snapshop Capture Feature (still images capturing).
Person Alerts – Motion detection when something comes closer to the doorbell/camera.
Notifications and alerts
50 video downloads at once
Plus
The second subscription plan from Ring is the "Plus" package. It costs $10 per month or $100 annually, saving you $20 when subscribed annually.
This plan comes with all the features that the Basic plan offers. The only additional feature of this plan is the extended warranty on Ring products.
The extended warranty is only available for products with an original warranty of less than one year.
Pro
The most expensive subscription plan from Ring is the "Pro" package. It costs $20 per month or $200 annually, saving you $40 when subscribed annually.
It comes with all the features of the Basic and plans. The additional features of the Pro plan include the following:
24/7 professional monitoring
Alarm cellular backup
Digital security by "eero secure."
Upto $100 savings on home insurance plans.
Alexa Gaurd
Is Ring Subscription Worth It?
As you can see, the best security features of Ring video doorbells come with the most expensive subscription plan that costs you $20 per month.
The subscription model is the right choice if you want a complete security surveillance system. You'll get the best features with the Pro subscription plan only.
On the other hand, if you are looking for a basic solution and need only a video doorbell, then the basic or even free plans would suffice your needs.
Considering the payment plans and the features, the best option is to choose the basic plan or the Pro version.
Then, if you purchase the annual Ring subscription plans, you'll save more than the monthly plans. Also, you wouldn't need to make recurring payments monthly.
How to Save More on Ring Products with Bundles and Promotions?
If you can't afford to pay the total purchase price of Ring products upfront, you can make installment payments through Affirm.
The program lets you pay in two monthly or four biweekly installments without paying any interest. However, if you expand the payment term, you'll incur an APR of around 30%.
Then, you can save more on an annual subscription than the monthly plans mentioned above. Ring also has some special discounts for different buyer groups.
Giveback discount
First Responder discount
Military Discount
Medical Worker discount
Teacher discount
These discounts are available to these select customer groups on purchases made through ring.com.
Since Ring has several authorized partners, you can search for bundle products or sale discounts through these retail partners.
Pros and Cons of Ring Products
Let's briefly discuss the pros and cons of Ring products and their subscription plans.
Pros Explained:
Ring offers quality products with an established market share.
It offers three different subscription plans satisfying the varying needs of customers.
Customers can save money on annual subscriptions.
Customers can purchase products without subscribing to a paid plan.
You can obtain financing through Affirm payment plans.
The products are readily available online and through several authorized dealers.
Cons Explained:
The best security features come with the most expensive subscription plan.
The free version offers limited security features.
The subscription plans are costly as compared to its competitors.
FAQs on Ring Products and Subscriptions
Let's answer some frequently asked questions (FAQs) about Ring products and subscription plans.
Can I Use Ring Products without a Subscription?
Yes, you can purchase and use Ring products without a paid plan. However, most features come with a paid plan only.
Can I Cancel a Ring Subscription Plan?
Yes, you can cancel a Ring subscription plan at any time. You must cancel the plan before its renewal date, however.
What Financing Options does Ring Offer?
You can pay in installments through Affirm payment plans. You can pay in two or four monthly installments without interest charges.
Do Ring Products Come with Warranties?
Yes, all Ring products are protected under warranties. However, the warranty period for each product can be different. You can enjoy extended warranties with the Plus and the Pro subscription plans.
Do Ring Products Support Facial Recognition Technology?
No, Ring cameras and doorbells do not support facial recognition technology yet.
Does Ring Have a Return Policy?
Yes, Ring products are protected under a 30 days return policy. You can return any product within 30 days of the purchase date.
Top 10 Alternatives to Ring Subscription
SimpliSafe Home Security System – This home security system offers an easy-to-install package with options for video monitoring and 24/7 professional monitoring for a fraction of what Ring charges.
Abode Iota – This home security system is connected to Wi-Fi and can send alerts through your mobile app for easy access.
Arlo Pro 3 – Arlo Pro 3 is an affordable home security camera that uses battery power, so you don't have to worry about cords or wiring. It has two-way audio, motion detection, and advanced night vision capabilities.
Canary All-in-One Home Security System – Canary includes HD cameras, motion sensors, two-way audio, and climate control features in one device.
Nest Cam IQ Indoor Camera – Nest Cam IQ has facial recognition technology, which helps you identify people who enter your house without needing to present themselves. The app also allows you to see live or recorded videos from anywhere in the world.
Logi Circle 2 Home Security Camera – Logi Circle allows users to easily control the camera settings from their mobile devices and watch live streams anytime they want. It also has built-in AI technology that identifies any unusual activity and sends notifications immediately in case something is amiss.
Wyze Cam V2– The Wyze Cam V2 offers a great solution on a budget, with free cloud storage and motion detection capability, all backed up by a two-year warranty should anything go wrong…
Blink XT2 Outdoor Camera –The Blink XT2 Outdoor Camera acts as both an indoor and outdoor camera thanks to its weatherproof body, which allows it to work even in harsh environments such as rain or snowfall. It includes customizable motion sensitivity ranges, 2-way audio communication, infrared night vision, and more at an affordable price tag too!
Ooma Smart Camera– The Ooma Smart Camera offers 1080p HD video coverage day or night with 4x zoom capacity for better accuracy when viewing objects far away from the camera lens; this makes it ideal for home surveillance purposes where long-range coverage is desired! Furthermore, it connects wirelessly via Wi-Fi networks, so installation won't require extra cables or tangles of wires, making setup relatively painless!
Amcrest ProHD Outdoor Security Camera Kit– Last but certainly not least on our list is the Amcrest ProHD Outdoor Security Camera Kit which not only records videos in full HD resolution but also supports remote viewing of live footage through either a computer or smartphone device with no additional cost! Furthermore, these cameras can withstand the most challenging conditions due to their IP67 weatherproofing rating, thus making them perfect companions if you plan on mounting them outdoors!