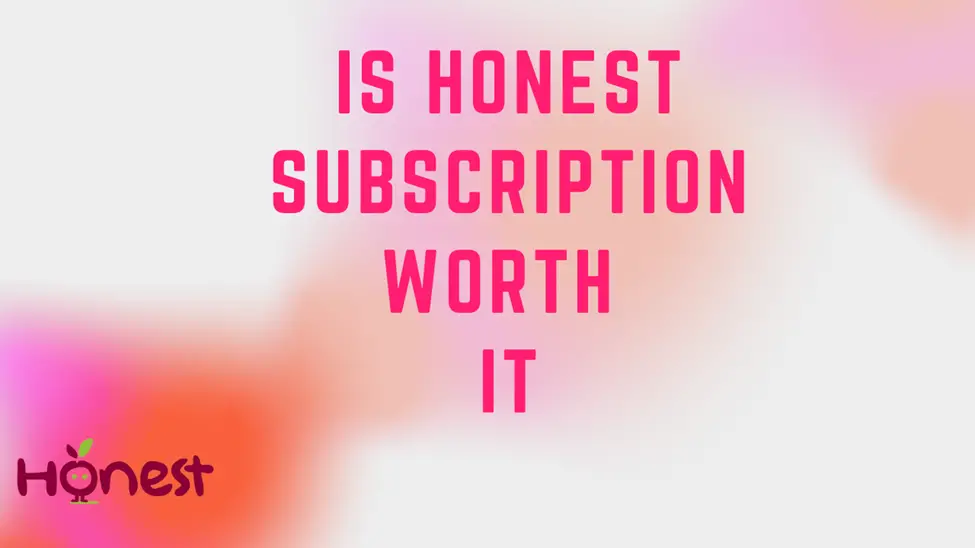 When it comes to newborn babies or younger kids, every parent becomes extra conscious and prefers to buy products that are comfortable, soft, and suitable for their babies' sensitive skin.
Baby diapers, lotions, shampoos, wipes, and other essential cleaning products are produced by multiple brands, but only a few, just like Honest Company ensures that these crucial things are chemical-free, latex-free, and free from other harmful dyes.
Honest Company manufacturers dozens of baby products to inculcate comfort and style in their childhood. You might be wondering what else the Honest brand offers? Is it budget-friendly or not? And perhaps you might be looking forward to Honest subscription – is Honest subscription worth it or not?
If such questions pop up in your mind, no need to be worried, we have covered them in this blog. So to get them to explore, you need to stick with the article.
Are you ready? So, let's go ahead!
What is Unique About Honest Brand?
Due to the production of quality, safe, and comfortable diapers, the Honest brand has earned a big name in the market. The Honest Company is a brand of wellness that empowers people to make them live happy and healthy lives; this brand was founded by a world-renowned actress Jessica Alba.
Jessica wants a safe yet straightforward range of products for her family; this is why she took the initiative of producing premium quality family products, and now there is a huge fan following of this brand.
The safety standards and transparency of Honest Company have made the parents buy more and more of their baby products, particularly diapers.
The Honest Company designs and produces a wide range of baby products, diapers, homewares, and numerous other bath and body essentials, which you can receive right on your doorstep with ultimate convenience!
So, fortunately, Honest Diaper lives up to its name!
Does Honest Brand Live Up To The Hype?
Almost everybody has heard the name of the Honest Brand due to its non-toxic diaper production, flexible subscription, and super handy delivery services for busy parents.
The diapers of the Honest Brand are designed by considering the sensitive skin of offspring that is vulnerable to rashes, redness, and soreness.
The most complementary thing is the Honest Brand's transparency as they also show the materials the diapers are made up of, so the parents feel 100% satisfied while investing for their babies.
Honest Brand is Name of Style And Comfort
Babies are sensitive and fragile; they need comfortable and chemical-free products, diapers, wipes, lotions, bedding, etc. Along with the comfort, the style can also not be compromised. Honest Company offers style and comfort in one place – every item is unique, trendy, and fun designed.
The company designs the product by keeping the child's health and vulnerability in consideration since the diapers are made up of advanced, leak-proof protection and fun design.
The Honest Company backs up the children on every step and designs the diapers in different sizes so that the child can feel calmness and protection at every stage. The rash-free and soft diapers help the child have a sound sleep overnight. The absorbency of diapers and diaper products keeps the child dry; eventually, they stay active and fresh.
There are different kinds of designs on the diaper, so the mummies can pick according to their kids' tastes. The Honest Brand also designs amazing Diaper Cakes that seem funny and are also functional decoration pieces presented on baby showers and different functions.
Everything You Need To Explore About Honest Subscription
Honest produces loads of products, wipes,  shampoo, lotions, etc., and each product is unique and high in quality, but Honest Company's diapers are the most-selling, well-designed and adorable. You might be wondering about the reason behind this fact and looking for the material, price, and subscription worth of Honest Company.
So, let's explore these factors in detail.
●     What Are Honest Diapers Made From?
The biggest test for every diaper brand is the type of ingredients and materials they use to design the diaper. Actually, it is material that distinguishes a brand from others and shows its uniqueness. Obviously, it affects the brand's name, too.
The other crucial factor is listing up the materials honestly – when parents are looking for the diapers of their baby, they check what's in and not in a diapers production. Plant-based materials, such as bamboo, are a bonus because they are sustainable.
Thus, Honest companies consider these all factors while producing the diapers and avoid using unnecessary dyes, fragrances, lotions, phthalates, and chlorine, etc. The use of phthalates and chlorine in diapers is not FDA recommended because it is harmful to the environment and can also create many health issues in children, such as eczema and asthma.
When it comes to the safety of your little ones, Honest Company is the most reliable one as it doesn't use phthalates in any of the products. As far as chlorine bleaching is concerned, this company also avoids that and uses chlorine-free wood pulp. So far, so good!
The Honest Company's diapers are predominantly made with plant-based materials and plastics – the inner layer is made up of petroleum-derived plastics, but the outer layer is made up of sustainable plant materials.
The layer structure of Honest Diaper is in the following way:
Top Sheet – Polypropylene And Polyethylene
Back Sheet – Plant-Based Plastic
The Absorbent Core – Traditional SAP And TCF wood pulp
Another plus side of Honest Company is the latex-free diapers that make them hypoallergenic. This shows that the diapers of Honest Company are safe for the skin of little babies.
The brand states that Honest's products are free of latex, fragrance, lotion, chlorine, Phthalates.
Our Take: If you are looking for safe, plant-based, and chemical-free products, Honest Company is good-to-go!
●     Are Honest Products Eco-Friendly?
The Honest Company is not very eco-friendly; the diapers it produces are not biodegradable, but they are doing a lot to reduce their impact on the environment.
Though they use plastic as the main ingredient of their diapers, they also use plant-based materials in their core.
The Honest Company's diapers are less bulky, but they are 'more sustainable.' The newer and thinner design is saving over 7,000 trees annually as compared to the previous design.
Our Take: When it comes to eco-friendly, Honest Company's diapers are not the worst; still, they are improving day by day.
●     How Well Do Honest Diapers Work?
It is completely safe to say that the Honest Company diapers are effective and comfortable; that is why it has gained a large fanbase. The diapers of this Company have super-soft liners, which are smooth and soft for babies. Similarly, a True Absorb Core of the diaper has 17 times its weight in fluid. It has a tendency to lock the moistures, prevent leakage, and very often, it also works for blowouts!
The secure elastic band of the diapers prevents leakage, and the flexibility of these diapers perfectly fits with the leg cuffs of the baby. Eventually, the diaper design keeps the moisture at bay. Though the cute and stylish diaper design has no connection with the effectiveness, it improves the diaper look. All in all, Honest diapers and other products are stylish as well as good in performance!
●     Honest Diapers Size Chart
The Honest diapers come in seven different sizes – those sizes feature different weights and units, which are mentioned below.
| | | | | | | | |
| --- | --- | --- | --- | --- | --- | --- | --- |
|   | Newborn | Size 1 | Size 2 | Size 3 | Size 4 | Size 5 | Size 6 |
| Weight | Up to 10 lbs | 8-14 lbs | 12-18 lbs | 16-28 lbs | 22-37 lbs | 27+ lbs | 35+ lbs |
| Units/ Bag | 32 | 35 | 32 | 27 | 23 | 20 | 18 |
●     Where Can I Buy Honest Diapers?
If you want to buy Honest Diapers or other products, you can visit their website or Amazon.
To buy Honest diapers, Amazon is also a fantastic place as they make pricing clear and create the perfect way to get the most in your price. Amazon gives 20% off of the baby food subscription and diaper. So subscribing to the Honest Brand through Amazon can save you a lot of money!
The Honest Company also provides a subscription service on their website, but here the discount is only 5%, instead of Amazon's 20%.
If you don't go online shopping, you can buy the Honest Company diapers from various stores – Walgreen stores, Buy Buy Baby stores, Target stores.
When it comes to purchasing Honest diapers, you get plenty of options and discounts.
●     How Much Do They Cost?
Well, like other companies, the prices depend upon the size of the diapers or the number of diapers you want in one pack.
TheHonest Brand is offering discounts nowadays, like Diapers + Wipes Subscription is $79.95 instead of $96.45. Similarly, the sale price of Honest diapers is $10.95; Overnight Diapers are $11.95; training pants are $10.95; similarly, there is also a discount on other products.
The Honest Company offers an amazing subscription service and knocks off 5% of the total cost.
So, you will get a great cost-saving option for yourself and your baby!
Depending on the diaper size, Amazon's cost varies between around 32 cents per diaper and 59 cents per diaper.
So, if you plan to use Honest Company for the long term, its subscription is definitely worth it.
●     What Do The Reviews Say?
Honest Company is versatile in its product manufacturing; thus, on the Honest Website, 4 out of 5 moms recommend Honest diapers. So it is a pretty good start for babies!
Frequently Asked Questions About Honest Diapers
Here are some of the most frequently asked questions and answers of Honest Subscription. If you also have any confusion left, you can dig out these answers!
1. Are Honest Diapers Good?
In terms of retaining the liquid and keeping the baby dry, Honest diapers are incredible as they can efficiently hold 17 times their weight in water.
The material used in Honest Brand's diapers is reliable; the True Absorb Core, Honestly Secure Fit, and Super Soft Liner of Honest diapers make them leakage-free, soft, and comfortable.
The Honest Brand has a huge fan following, and many mothers around the globe are happy with the performance of their products.
2. What Makes Honest Diapers Different?
In 2011, when the Honest Company was launched, it was a revolutionary addition to the diaper world. The company was committed to keeping the diapers chemicals-free and made a goal to increase plant-based products.
The undeniable cuteness, unbeatable performance, multiple selling options, and exceptional customer services make them unique.
Without any doubt, Honest Company beats many brands in quality and performance; still, there are various companies, which are more eco-friendly than Honest.
3. Are Honest Diapers Worth It?
Yes, Honest Diapers are worth the price as they are great in design. Children can feel dry and protective overnight; additionally, they can be easily purchased.
The material of Honest diapers is also baby skin-friendly because they are free from chlorine, latex, dyes, fragrances, and many other toxic chemicals.
However, if we consider the eco-friendly option of the market, there are many brands that lead the Honest Company.
4. How Many Diapers Do You Get In An Honest Bundle?
The quantity of diapers varies in every pack due to the diapers sizes. Here are the number of diapers and their sizes per pack:
Size N: 32 per pack
Size 1: 35 per pack
Size 2: 32 per pack
Size 3: 27 per pack
Size 4: 23 per pack
Size 5: 20 per pack
Size 6: 18 per pack
5. Are Honest Diapers Better Than Huggies?
There are many factors that make a diaper better – size, price, quality, material, subscription offers, etc. It is very rare that one brand is checking-in every quality because each brand is unique in its way.
So, it is a matter of priority! Both Honest and Huggies are popular brands and produce good quality diapers. But Huggies doesn't boast about plant-based material and doesn't talk about eco-friendly credentials, so Honest Company wins from Huggies in this category!
6. What Diapers Compare To Honest?
There are ample diapers brands in the market, and many are the competitors of the Honest brand as they are also made up of plant-based materials and provide non-toxic subscriptions.
Just like Abby & Finn and Hello Bello are two comparable brands because they don't manufacture biodegradable diapers but avoid using the toxins.
On the whole, Abby & Finn is a cheaper brand; Honest diapers are a bit expensive; Dyper and Eco Pea are biodegradable diaper brands.
7. Are Honest Diapers Made In The USA?
The business of Honest Company is American-based, but their diapers are produced in Mexico.
8. Are Honest And Hello Bello The Same?
There are ample similarities between Hello Bello diapers and Honest diapers. Both are manufactured by using plant-based and non-toxic materials. In addition, both were founded by Hollywood actresses (A-list)!
Both are steered clear from harmful chemicals and use high amounts of plant-based materials, but none of these are biodegradable. Moreover, both brands also use a higher percentage of plant-based substances in their products.
Both offer handy and straightforward subscription services for busy users.
The Good And The Bad of Honest Subscription
Pros:
Cute, stylish, and Hypoallergenic in design
They prefer plant-based materials to produce products
Their diapers are free from chlorine, phthalate, latex, fragrances, lotions, etc.
Super soft and cruelty-free
Available in-store as well as online
Offers 5% off on the subscription
Cons
Not biodegradable
Pretty expensive
Though they are manufactured plant-based, yet they end up in landfill
The Bottom Line
In this post, we have reviewed the Honest Brand, which is best for babies whose parents are concerned with the diaper design and can afford a bit pricey diapers.
The Honest brand produces a vast collection of products, and those are perfect for sensitive skin babies. They are entirely free from potentially-harmful materials but are sustainable by nature and have positive reviews overall.
On the other hand, Honest diapers are not very eco-friendly (non-compostable and non-biodegradable), but they are improving day by day.
That's all about Honest Subscription, which is not a bad choice for baby diapers or other items. However, in the end, the thing that matters is your choice and priority – the ball is in your court!