It is hectic to choose the best dating app from a list of dating apps. Coffee meets bagel is very popular among youngsters. Is the Coffee Meets Bagel subscription worth it?
Read on to clear your all confusion about coffee meets bagel subscription, it's working, profile setting. Moreover, its pros and cons are also discussed.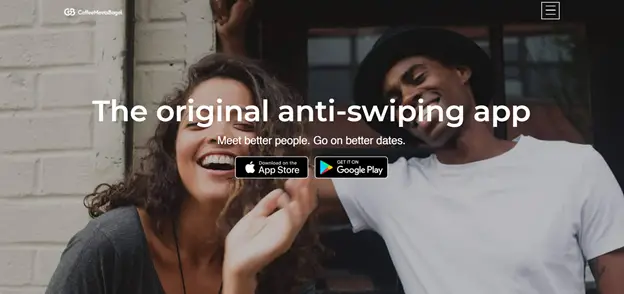 What is a Coffee Meets Bagel?
The app was launched in 2012; however, it gained fame in recent years. It is one of the best dating apps, and people find perfect matches on this platform.
You can guess its success from the ratings that people give and their reviews. Its quality match score is 9.0/10.0. Similarly, its ease of use score is 8.5/10.
Moreover, people give good reviews on its features, support, and cost. So if you want to date someone must subscribe to it and find the perfect match for yourself.
Fun Facts about Coffee Meets Bagel
Following are a few facts about this dating app that will leave you in awe, and you will get the half answer of is coffee meets bagel subscription is worth it.
More than 50 million find partners for themselves.
It has 4.5 stars on apple.
Similarly, it has 110,000 reviews on the apple store.
On google play, it has 4 stars.
85,000 reviews are present on google play
Membership Plans of Coffee Bagel
It offers two plans, each having its own set of features
Free Plan
It is a free plan; thus, sign up, make your profile and start using it. However, there are many features you cannot use in the free plan. So if you want to get benefits from its innovative features, find a quality partner for yourself to get its subscription.
Premium Subscription
For using its paid version, you have to pay $34.99 per month. However, if you get a subscription of three months, then you have to pay only $74.99. Thus they will charge you only $25.00 per month.
Similarly, if you buy the premium for 9 months, they will reduce the price of a monthly subscription to $20.00.
There are many extras of premium plans. First, of you all, you will save money on buying beans. Moreover, you can see who is sending you messages.
You can send more likes per month; moreover, they promote your profile more than free users.  With the help of an activity report, you can get access to better matches. Best of all, you can turn on the read receipt.
How to Download the Coffee Meets Bagel app?
It can be downloaded on both android and iPhones. First of all, open the play store, open the search bar, type coffee meets bagel.
The app will appear, download and install on your mobile.
Setting your Profile
The app uses Facebook to find your friends and friends of friends to find the best match for you; thus, you have to approve your Facebook account.
Follow these steps to set your profile.
First of all, upload your picture but choose the picture wisely. Always upload the picture in which you are looking fantastic; thus, you can attract people.
 Moreover, you can ask your friends for suggestions as well.
Now the app will ask you about your height, age, ethnicity, religion, occupation, employment, and education.
Always input your correct information, so if you have to meet your online partner, you do not hesitate.
Moreover, you have to go through these questions while setting profile
I am….
I like…..
I appreciate when my date is….
There is another option known as icebreakers. You can add only three icebreakers, and they appear as preprogrammed conversations that start whenever a match appears.
What are Beans?
A bagel conversation expires after some days on a coffee meeting, so if you cannot reply to a message and the conversation has expired, you can continue the chat using beans.
Beans are coffee meets bagel personal currency. You do not have to buy beans always as the app gives you free beans on matching and conservation.
Here is the price list of bagels
100 for $1.99
2,000 for $23.99
3,000 for $24.99
Pros of Coffee Meets Bagel
The following points will further clarify is coffee meets bagel subscription worth it.
They have a compatibility algorithm; thus, you get custom matching.
You do not feel irritated as you will get to see a limited list of singles every day.
In other apps, people send random messages, and it isn't delightful sometimes. However, on coffee meets bagel, not everyone can send you a message. You only receive messages from people whom profiles you have liked.
They have launched a currency, and you can earn in their currency through your activities.
The premium price is affordable for everyone. Moreover, monthly subscription charges decrease when you get their subscription for more than one 1month.
By getting a 6-month subscription instead of per month, you can save your money.
Cons
Here are a few drawbacks
If you can't wait, this app is not for you as you know about five matches per day. Thus the process is prolonged.
Both genders are not equal on this app and it is populated with females, and they constitute 60% of total users.
Some people do not like this dating app because of its algorithm, as it is not that effective.
Matching criteria are based on the following factors; age, height, distance, religion, ethnicity.
Is Coffee Meets Bagel Subscription Worth it?
Coffee met bagel is best for people looking for a match and want quality dates; thus, if you have hectic routines and cannot scroll profiles, the bagel is best for you.
This app will not deceive you as most of its users are serious and look for quality partners. Moreover, girls on this app are very sophisticated and professional. In short, you will thank your future self.
Best of all, in its subscription, you get five free tasks. It is also best for people who love to increase their friend's circle, as you can see mutual Facebook friends of bagels.
Moreover, there is an increment of 15 beans on every purchase. Is not it worth praising?
Best of all, after subscribing premium plan, you get to know if it is worth the time to send someone a message as you have their activity reports, and you can see if they are offline or online.
Thus you cannot declare coffee meets bagel subscription worth it or not. It depends on your preferences, priorities. First of all, assess your needs then decide if it will be good for you or not.
Final Words
Is a coffee meets bagel subscription worth it? It's a significant yes! As you can find long term, dating partner. Moreover, you have an activity report of the match, and you receive a message receipt notification.
However, if you are a bit aged, the app may not prove suitable for you as it is flooded with youngsters. Similarly, women have to wait long to find the best match.
If you still have any confusion feel free to ask in the below comment section. Thank you for your visit!